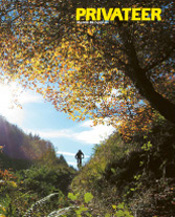 Retrobike users who attended the Old World MTB Championship at Betws-y-Coed in September were amongst the very first to see a copy of new Mountain Bike Magazine Privateer. Contributing Editor Mike Davis came down to cover the event, ride it and win the pub quiz (an annoying habit he has). A couple of copies were shown around which smelt wonderfully of ink and, unusually when it comes to magazines, most people seemed to be impressed.
The magazine, which prides itself on appealing to mountain bike riders who 'know the obvious', has plenty of content of interest to Retrobikers, although that is just a part of its appeal. Adding intelligent writing to good design and the sensitive use of excellent photography is not a new idea but it goes a long way amid the sorry slurry of MTB magazines we see today. From the Rouleur stable and edited by MBUK founder Tym Manley Privateer is, as you might expect, just that bit different.
Think it might be for you? Well it could be and to make it worth your while finding out we've arranged it so that our users can claim a free issue and find out for themselves, click here to take advantage of this special offer.