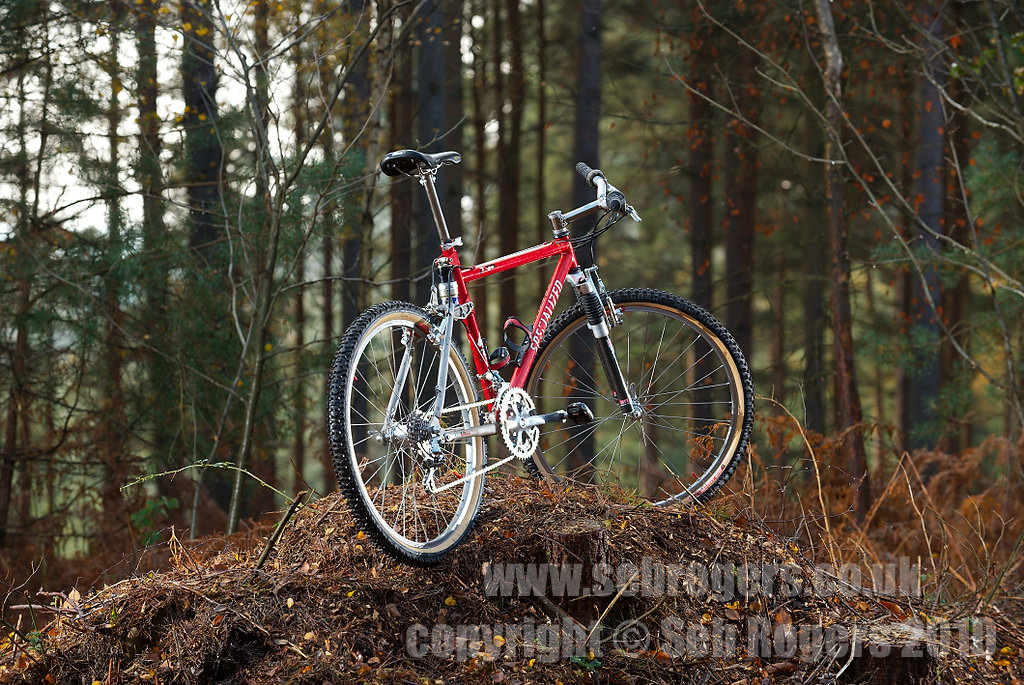 Ok so here's the story; MikeD contacted me asking if I would be interested in one of my bikes appearing in a magazine feature that he was writing that may or may not make it to press…
…after much questioning (on both sides) it was decided, my 1995 S-Works Team FSR would feature in an article comparing the new 2011 model with one of the early ones.
Well that's it, great story you might think; oh no, you see, whilst it might seem straight forward to all you folk out there with evenings and weekends to yourselves, I work Monday to Friday with long commutes at each end, have 4 of my own kids at home plus a stray. Click here to read on…
My challenge was how to transform a scattering of parts around my garage into a bike that not only looked the part but was ride-able to a level where it would keep up with a modern steed. Now when I say garage… In order to get in you have to remove one bike, a step ladder, a sledge and a couple of toolboxes, then you can get just inside the door.
Luckily this was not to be just a bitsa build, I had actually spent a long time collecting parts for this and had pretty much all of them, just no time to build it, and here I was agreeing to complete it, within a short time span and put it on show for the masses.
Step 1 – So I already had the frame, with headset fitted, forks, seat post, bottom bracket and a few other bits. Although this might sound like a good place to start, the steerer tube was far too long, so removing the fork, measuring and trimming was done whilst taking a very short break between sanding and oiling kitchen worktops (this is home diy at the weekend, not my day job).
Step 2 – The following weekend… the steerer needed to be nicely finished, forks refitting, stem, bars, grip shifts and brake levers back on. I think I was drilling holes for cabinet door handles this time.
Step 3 – Arrgghhh, I knew there must be something, I had to order some new grips as the ones I had bought previously got used on my son's Orange, once done I could at least tighten the controls up and get them roughly in the right places. Grabbed enough time to fit the cranks on too. Lots of trips to the garage this day as I had started fitting the new kitchen sink.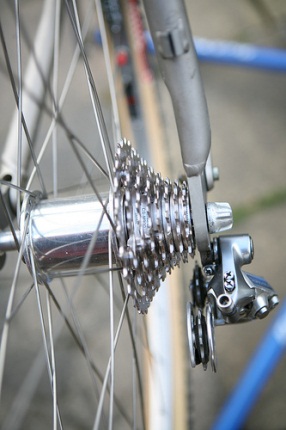 Step 4 – The wheels, thank goodness I had already built these the previous year, erm, in the back of my car during my lunch breaks at work! (I said I was a busy man!), I cut open the inner tube's sealed bags, and fitted the nos tyres, lovely. Stuck these on so the bike could now at least stand on its own. Took a few photos to send over to Mike just to be absolutely sure he was happy with what he was getting for the shoot; all good.
Seriously, I did actually have all this stuff to do before the shoot, and it was done in between all my other commitments, a few minutes here and a few minutes there. Here is a summary of the rest…
Stripped red anodising off brake spares and fitted the brakes, mechs on, nos chain on (that was a fun job), and finally, brand new fully sealed cables to a standard that I have never adhered to with cables before, and there it was, stood there in front of me just days before the shoot date Mike and I had agreed on. I was into evening work now as I was away on the coming Saturday with the shoot arranged for the Sunday; and to top it all, I had now been asked if I could ride it for the shoot as well!
Oh Shit!!!! The wheels, once shod and mounted with brakes fitted etc., were not as true as I had thought, and the dish on the rear wheel was way out, so up until 3 am on the morning of the shoot, adjusting tensions, dish etc. and then setting up the brakes as well as I could; I was knackered. The only thing left to do was to get all my kit together and get some kip.
The following day was a bit of a blur, up early, a whirlwind of getting food in me and packing some for later, it was bitterly cold outside and I knew I would need to be in full short retro gear for the shots, oh and did I mention? I had the genius idea of inviting my 10 year old son along for the day too, which even if he were a normal 10 year old would have been a challenge to get ready, but with Asperger Syndrome, getting a move on it not in his vocab. I was knackered already and there hadn't even been a knock at the door yet
What an absolutely fantastic day it was, riding, enjoying the company, the bike…I have to say, in all fairness the bike held up extremely well, remember, this was in fact its maiden voyage, I had not been able to test ride it, I had not already bedded in the cables, pads etc. so the pressure to be on form was immense, what on earth was I thinking?
If you want to know all about the back to back stuff, the stats, and see more you'll have to grab a copy of What MTB when it comes out next month. For me, although this sort of thing has nothing to do with why I got into cycling or MTB'ing in the first place, this experience has enriched for me what it is about retrobike and why I do what I do now regarding bikes and cycling
As they say, "Get out and ride!!"
All photographs reproduced with kind permission of Seb Rogers. All photograps copyright Seb Rogers.