Oury made some of the finest grips back in the day. To celebrate the release of the Oury 2009 range the UK importers Descent-Gear.com have given retrobike a pair of grips to give to the lucky winner of the November 2008 BoTM contest.
So, over to the importer for a rundown of the new range

Oury Grips have been around since year dot as you can see by their still popular 80′s retro grip designs. New for 2009 are these new colour ways for an ever expanding rider base.
Oury Grips know exactly what their doing, as you can see they have been doing it for long enough! Whether your into Moto-X, ATV's, Jet Ski's, BMX or Mountain Bikes then Oury have a grip for you.
For those of you with small hands and small things to grip onto this is the one for you whilst ripping the trails on a dry day and remaining at one with your cockpit controls.
Click for full details of the 09 range.
Oury Pyramid Grips
Hundred of small soft and raised bumps massage your hands nicely into gripping your bars. Small enough and thin enough these offer the ultimate close action control. May I suggest not using them at Fort William?
Seems the singlespeed fixed wheel fraternity are all over these Oury Grips like a bad rash. Again super soft and sticky gloves could well be a thing of the past especially on those long rides.
Oury MTB Grips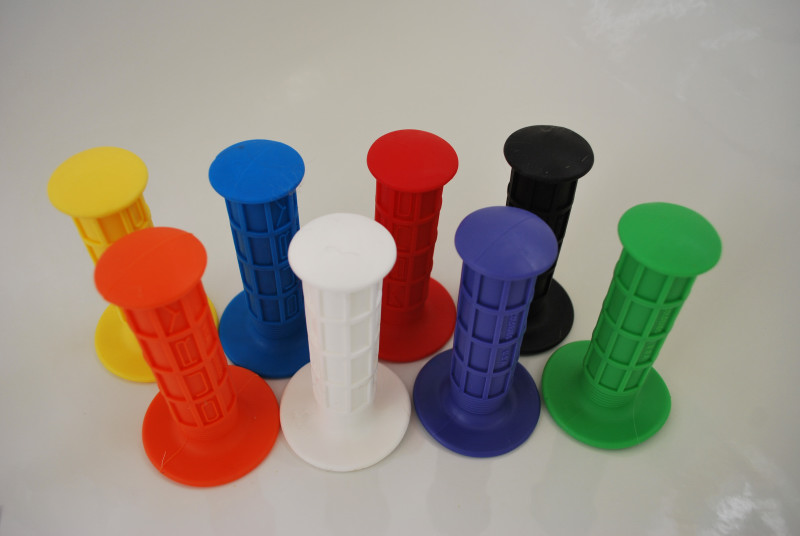 Calling all BMX Old Skoolers this is the one for you! Super sticky and soft you could still run these on your MTB with the help of a sharp blade for where the flange (the big rubber collar) would meet your shifters.
No bar plugs required as there is a thick rubber end molded on their. On this side of the pond as kids in the 80′s we stuck a small coin at the end of the bars to stop the bar eventually poking through. Have you done that?
Oury Original Grip
Surely these are a design icon?
Riding DH or XC/Enduro in damp conditions then Lock-Ons are the only way forward and you know it.
Oury Lock-On Bonus Packs come with everything you need except an allen key. That means 2x grips, 4x lock-on collars and the little bolts as well as the end screw plug. Not everyone likes wide gripping grips which is exactly what these are. What we have noticed is for those of you off to Fort William, The Alps or even Whistler bang a set on. Reports that come back are they help reduce white knuckle vibration, blisters and w4nk3rs cramp..
Oury Lock-On
Made in conjuction with ODI they actually have the identical ODI fitting clamps as well as the same packaging as the ODI Ruffians come in which is no coincidence. The large super spft and tacky rectangular blocks feel and grip like no other. They even come into their own on a muddy race day when you bin it and grab a handful of mud. Reduced slip and slide with these grips on when you finally get back in the saddle.
Oury Pyramid Grip £7.99 Each one weighs 36grams.
Oury MTB Grips £9.99 Each one weighs 50grams.
Oury Original Grip £9.99 Each one weighs 44grams.
Oury Lock-On Grip £14.99 Each one weighs 77grams with lock-ons, bolts and end caps.
Oury Grips are distributed in the U.K by Descent-Gear.com
Call: 0121 422 1032
e-mail: simon.paton@yahoo.co.uk
For the rest of you: www.ourygrips.com