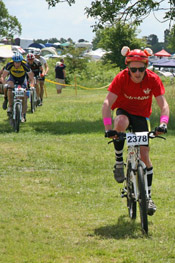 Another year and another Mountain Mayhem has been and gone. Without a doubt this was the biggest and best retrobike turnout yet with the best weather at Eastnor since records began. For full aftermath and race reports please click here to read the thread in the forum.
A few random highlights from retrobikers
• Weather warm and dry (a tidy contrast to two hours of rain on Friday evening)
• Superstrong on the 89 Mirage running (briefly) 3rd overall
• Wu-Tangled running dead last
• Tunes (eye of the tiger especially)
• BBQ
• The longest most nail biting game of garden jenga
• Great show of retro steeds being thrashed
• Quality tunes and heckling from the RB massif. "Use the beard" and "Don't climb on cheese"…
• The endless climbs, plasticine woods and the increasingly alarming braking bumps.
• Passing lots of modern full sussers on the ups and some of the downs.
• 15 minutes of oxygen in the first aid tent at 3am.
• Not letting the Kenda Klimb beat me.
See you at MM (or somewhere else perhaps
) next year….