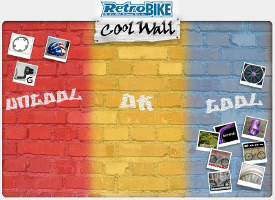 Thought it was time to bring back the retrobike cool wall .

Every month or so we will take a vote on a bike, component, style, rider, whatever. You the people of retrobike will have to decide if the article is cool or not. This will then be recorded for ever on THE RETROBIKE COOL WALL.

Previoulsy we have decided purple, kona(!), proflex(!!), manitou and fluo paint is cool.
Biopace, gripshift and etto helmets have been judged uncool.
First vote is fairly topical, check it out here!
Will return to running a monthly poll for as long as inspiration and enthusiasm lasts.