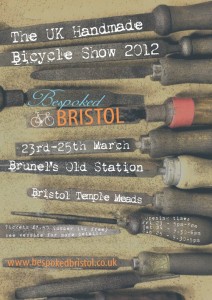 Bigger and better Bespoked Bristol rides back into town!
Bespoked Bristol, The UK Handmade Bicycle Show, returns from March 23rd to 25th 2012. With over 70 leading independent makers from the UK, Italy, France, USA and Germany coming to Brunel's Old Station to showcase some of the most beautiful and desirable cycles on earth.
Now in its second year, the event provides a platform for the public, industry and press to meet artisan bicycle makers and share ideas.
Organisers Phil and Tessa Taylor are promising a bigger and better show for 2012: exhibitor numbers have doubled since last June's inaugural event at Paintworks, Bristol, requiring a move to a larger venue. This will allow space for more stands, a dedicated area highlighting the work of up-and-coming frame builders.
Phil said: "This is the place for the public, industry and press to meet independent makers and designers of everything bicycle. We are working hard at putting together the best show we possibly can for Bespoked Bristol 2012. On the strength of last year's show, we have managed to exceed all our expectations and pull in some of the best builders from the UK, Italy, France, USA and Germany."
Among the confirmed exhibitors are UK legends Rourke, Roberts, Mercian, Mather, Condor and Argos. New young builders Donhou, Feather, Demon and Ted James. Italian maestros Pegoretti, Cinelli, Zullo (Mosquito) and US innovators Crisp, Independent Fabrication, Moots and Waterford.
A star studied panel of judges (including author and television presenter Rob Penn) will be awarding prizes to their chosen winners. Visitors to the show will also have a say in the 'Public Vote Prize'
Bicycle-riding coffee connoisseurs Look Mum No Hands will keep visitors refreshed with their pop-up cafe during the show.
Whatever material you would like your custom bicycle to be made from, be it steel, carbon fiber, titanium, wood or bamboo, there will be a framebuilder there for you!
Show opening times: Friday 23 March, 5pm – 8pm; Saturday 24 March, 9.30am – 6pm; Sunday 25 March, 9.30am – 5pm.
Advance tickets are available online from www.bespokedbristol.co.uk for competitions and current photos www.facebook.com/ukhandmadebicycleshow.
Standard Entry Tickets cost £7.50 and £12.50 for a 3day weekend pass.
*Special ticket offer* – entry for 2 for £10. Offer ends 29 Feb.
Tickets bought online are subject to a £1.50 booking fee. Tickets will be available on the door.
Full exhibitor list
13th Floor Distribution (Tim March)
14 Bike Co
18 Bikes Ltd
Argos Racing Cycles
Bicycles By Design – Landscape & Swallow
Bike Science
Brian Rourke
Brick Lane Bikes
Brooks England
Brother Cycles
Burls Bicycles
Cinelli
COFA Engineering
ColourBolt
Cyclorama
Condor Cycles
Columbus
Cotic
Crisp Titanium
Curtis
Demon Frameworks
Donhou Bicycles
Downland Cycles Ltd
Dynamo Works
Enigma
Feather Cycles
Flat Frame Systems
Foffa Bikes
Formigli (CompanyZ)
Freshtripe
Hammoon Cycles
Hope
(iL) Soigneur
Just Riding Along
Kajak Custom
Legend (CompanyZ)
Leonardi Racing
Mawis Bikes
Mercian Cycles
Milk Bikes
Milltag
Mosquito
Moots (Mosquito)
Swrve
OTM Bikes
Paper Bicycle
Paulus Quiros
Pegoretti
Peter's Bike
Pinstripe Push Irons
Qoroz
Quoc Pham Ltd
Racer Rosa Bicycles
Rapha
Reynolds
RodfordVelo – Really Useful Bikes
Roberts Cycles
Robin Mather Cycles
Rock n Road – Waterford, Gunnar
Schwalbe
Shutt velo rapide
Sideways Cycles – Independent Fabrication, White Industries
Shand Cycles
Strada Handbuilt Wheels
Swallow
Synergy Action
Ted James Design
The Bicycle Academy
Tokyo Fixed – Cherubim
Tommasini (CompanyZ)
Urban Hunter X Bagaboo Bags
Velobici
VeloBrands LLP – Cyfac
Villiers – Velo
Viner Bikes
Winter Bicycles
Zullo (Mosquito)