11th Feb 2012 Litespeed in the Snow 3
Date: 11/02/12
Owner: shaun
Views: 141
11th Feb 2012 Litespeed in the Snow 2
Date: 11/02/12
Owner: shaun
Views: 108
11th Feb 2012 Litespeed in the Snow 4
Date: 11/02/12
Owner: shaun
Views: 116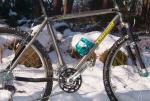 Raceface Turbine Forged
Date: 11/02/12
Owner: shaun
Views: 164
my dream set of wheels
Just picked these up from my wheel-builder. Mavic 517 SUP, HOPE Ti hubs, DT Revolutions and alloy DT nips.
Date: 04/02/12
Owner: shaun
Views: 125
DSCF9994
NOS, never fitted, ONZA L-stubbies, beautiful! These may go on the 1999 Kona 853 when I get around to the build one day.
Date: 03/02/12
Owner: shaun
Views: 123
Unrestored Kona Explosif 853 18" frame - needed work!
The state of the 1998 Kona Explosif frame on arrival - they always look in better condition on Ebay. Needed weeks of careful retouching and polishing - nearly had a respray, but now pleased I didn't.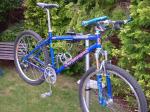 1998 Kona Explosif 853 - now fully restored
1998 Kona Reynolds 853 Explosif. Original paint, M739 XT, rebuilt Bomber 80mm forks, King headset, Thomson stem, Ringle cage, Mavic 517s, NOS WTB SST, Kore racelite post, Hope post clamp, NOS Onza bar ends, Hope skewers. My first 853 tubed Kona and th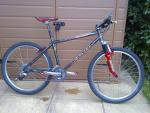 1999 Kona Explosif 853 - NOS!
My latest project - a NOS 1999 Kona 853 Explosif. Hardly used as too big for the first owner. Totally factory original apart from the grips, even the chain and tyres are original! Came with all manauls, 1999 Kona brochure, original purchase receipt from E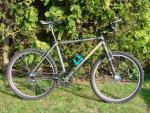 1998 Litespeed, last of the David Lynskey signed frames
1998 Original NOS Litespeed Ti - last of the original American built David Lynskey signed frames just before they sold out. Bought this one new 13 years ago as a lightweight project. All bits were bought brand new at the time and have done no more than 30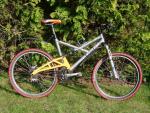 1999 Marin Mount Vision - my offroad work horse
1999 Marin Mount Vision - the offroad hack. Done thousands of miles on this old thing all year round. This one is for function and not looks. Best upgrade is the Fox RP23 rear shock, expensive but totally transformed the ride of the bike with the adjustab
Wife's 1993 Marin
1993 Marin with original paint. Bought this frame on Ebay for £40 and built it up for my Wife. Lots of XT, Mavic 230s, NOS Manitou SX Ti. Was not expecting much from this bike as Marins don't get much love on here, but I am amazed at how well this rides,
Date: 21/01/12
Owner: shaun
Views: 706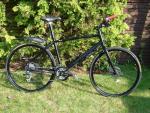 Daily Hack - Bad Boy 700c Disc
Daily hack - Cannondale Bad Boy 700c Disc. Done thousands of miles on this thing, bit heavy and boring, but does the job.
Date: 21/01/12
Owner: shaun
Views: 436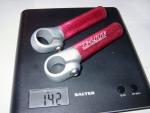 DSCF9995
Mint X-Lite Stubbies
Date: 03/02/12
Owner: shaun
Views: 97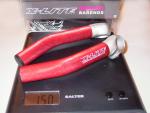 DSCF9996
NOS X-Lite Enduro Bar Ends with box
Date: 03/02/12
Owner: shaun
Views: 138