My bike ages ago annoyingly in wrongly coloured piant before chromed!!
This is it years ago not to long after it was actually built by Antony revell for me around 2000-1 when I stript it and then the powdercoaters I new did totally the wrong colour for me etc which really pissed me off!!!! I know Revell built bmx-cruiser n m
Date: 21/06/09
Owner: sashbike30s
Views: 153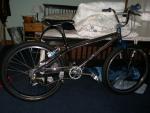 P4090080
Sorry pics ain't that great!! I'll sort more soon!! Wish I had taken more over the years!!!
Date: 09/04/09
Owner: sashbike30s
Views: 155
P5220136
I have changed this bike many times with different stuff n even paints!! I finally got it chromed eventually about 2 years ago!! Currently I run slick light khe tyres for street speed-light bombshell bmx forks-hope headset-s+m rednecklight stem n really o
Date: 22/05/09
Owner: sashbike30s
Views: 200
P5220135
This is my custom build cruiser!!!! Built around 2000-2001!!! My favourite bike of all time till I get my next frame built!! Its a 24"wheel cruiser built for without suspension and has 6 gears n full bmx steering so its not any old dmr junk!!!!
Date: 22/05/09
Owner: sashbike30s
Views: 217