1990 Puch Scout
Bought this just because of it oddness. Ment to be a cheap resto for less then 10 euro, but that is doubtfull. Anyway, I like it very much, even though it is pretty heavy.
Date: 10/07/09
Owner: Senri
Views: 375
1994 Rafty Funnel Proto
Bought it without knowing what it was. Just liked the look of it. Planned as a quick restore, but turned out in a big project. Now fully period correct, including the original decals. Frame smoothed and painted by the original builder Edward Hagen.
Date: 21/06/09
Owner: Senri
Views: 307
1999 Raleigh MaxLite HT3
Bought as an impulse, but after changing most parts over the years, very satisfied with it. It is my standard trail bike now.
Date: 21/06/09
Owner: Senri
Views: 752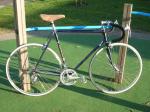 1978-Nishiki-Competition
Not completely finished yet, but I really love it! As close to NOS as it gets with a second hand bike.
Date: 29/03/09
Owner: Senri
Views: 638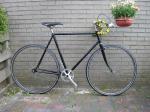 1980-Professional-Fixed
My first fixed. Got this bike from an English collegue when he retired. Took everything of and added the Ofmega crank and a Phil Wood cog. Really heavy bike, but I love it!
Date: 28/03/09
Owner: Senri
Views: 326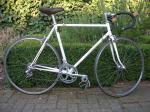 84Corsa
1984 Raleigh Corsa with the nice Shimano 105 "Golden Arrow" group.
Date: 22/03/09
Owner: Senri
Views: 322
1985 Koga Pro-AM
Bought as a late 70's Koga-Miyata Gentracer, but due to corrosion on the frame exchanged in 1985 for a Pro-AM frame (under warranty!).
Date: 28/02/09
Owner: Senri
Views: 548