1993 Cannondale M700
1993 Cannondale M700 Single Speed
1999 Gary Fisher Hoo Koo E Koo
The best bike of the fleet, totally factory spec. amazing ride, steel is real.....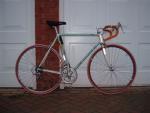 Carrera Corsa
The commuter, it's up for a respray and a rebuild this summer, if time allows.
1998 Kona Humuhumu Nukunuku Apua'A
My popping to the shops bike, tyres came from Canada.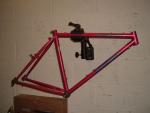 1992 Specialized Stumper Comp
Would love to build this, but sadly the BB is seized, and it's a bloody Hope Titanium.
1998 Specialized FSR Comp
This is my 'Downhill' bike, thrown together with some random parts.
Date: 25/10/07
Owner: Bike Hoarder
Views: 10311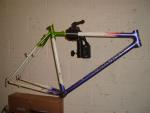 Chas Roberts White Spider
Needs alot of work, down tube replacing, possible BB shell. Can't wait to see it renovated, and back on the trail!!
GT RTS1
Frame now stripped and slightly polished, didn't want to go overboard. Being rebuilt soon......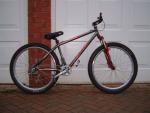 DMR Trailstar
Bit of a jump bike, more trail though for me. It's small and twitchy, which is great for singletrack.
Date: 30/12/07
Owner: Bike Hoarder
Views: 1237
Trek Alpha 4500
The Wife's bike, might even get ridden this summer.