Not one for the purists but it's my first retro build and if it's not fully retro then it's certainly retro-inspired. Got the frame, forks, wheels and a few other bits from here, some from ebay, some lying around and the modern stuff was all CRC bargains. Pride of place goes to the 1997 STX rear mech that came stock on my GT Timberline and has sat unused for about 12 years!
Still have a couple of tweaks to do (brakes mainly, it's been a long time since I set up anything with cables!), and not ridden her yet but after a long time imagining what it's going to look like it's nice to see it in the flesh.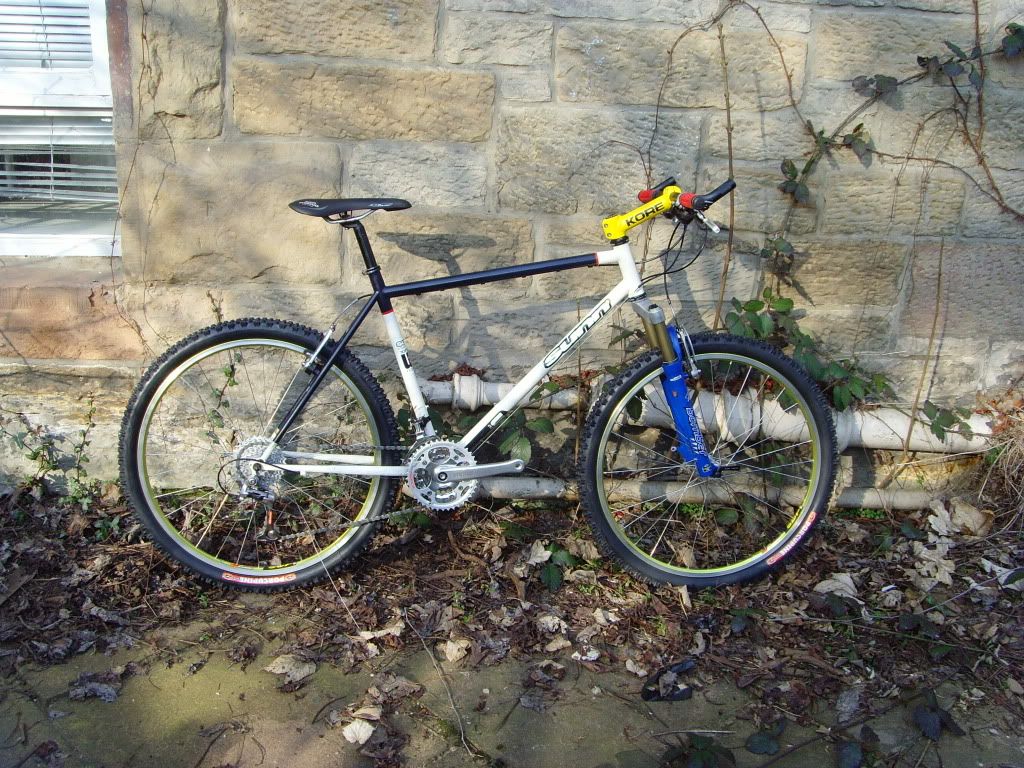 Frame: 1999 Sunn Xircuit Un
Fork: 2000 Marzocchi Bomber Z4 Flylight Air
Headset: Cane Creek S8 (modern)
Stem: NOS Kore Lite
Handlebar: Kore (modern)
Grips: Yeti Speedgrips
Barends: Tioga powerstuds (modern)
Brakes: Fr. Avid Arch Rival/Rr STX RC V Brake
Brake Levers: Shimano XT
Shifters: FR Shimano XT (STI)/Rr Shimano STX (?)
Front Derailleur: 1998 (?) LX
Rear Derailleur: 1997 STX
Cassette: SRAM something (spares box)
Chain: KMC Z50
Cranks: NOS STX RC
Crank Bolts: Brand-X
Chainrings: NOS STX-RC
Bottom Bracket: Raceface something (came with frame)
Pedals: TBA
Hub Skewers: XT
Rims: Mavic X517 citron
Hubs: XT
Tyres: Onza Porcupine
Tubes: ? (spares box)
Saddle: San Marco Blaze (modern)
Seatpost: Kalloy
Seatpost binder: ?