My 1993 MT4, which I've owned from new.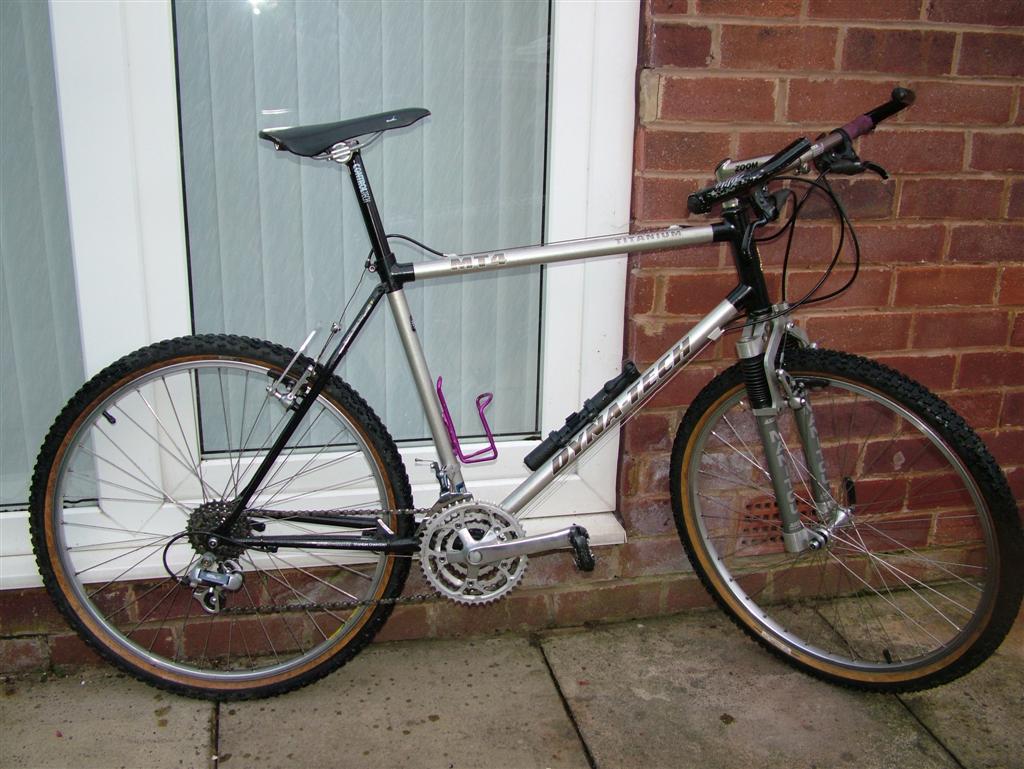 The elastomers melted in the Manitou forks (I joined this site when trying to find new ones) so I intend to put the original forks that came with the frame back on. Only thing is I cut the steerer to fit another bike (an awful Ridgeback) many years ago, and now the steerer is too short for this frame. I'm a bit wary of the steerer extenders you can get, so I'm looking at either sending the forks to Dave Yates to do his inner-sleeved join to extend the steerer (no paint damage, but that would mean going to Aheadset and stem), or get a new threaded steerer fitted if I can get someone to match the original paint finish (black with different coloured metallic particles (silver green and purple I think)). Keeping a threaded steerer is my preferred option, but I have doubts the paint finish can be matched.
Components are a mix of Deore XT (shifters, mechs, hubs, brakes) and DX (chainset, BB and headset). Mavic 231 rims, with IRC Geoclaw tyre on the rear and Ritchey Z-Max on the front. Tioga DL2001 bars and a Zoom stem. Onza cromo bars ends and Porcipaw grips. The seatpost is slightly newer (1999, Control Tech); I had a USE suspension seatpost on it originally, but the seatbolt didn't like the shim (seatbolts just kept snapping before it would hold). Dave Yates took off the original seatbolt fastening and made a sturdier seatpost collar for it instead.
I really should get it fixed up, as it's nice and light and quite suited to bridleways around where I live.
Some very nice bikes already posted. I particularly like the MT5 (and, of course, Sinnett's Adrian Timmis bike). Any other MT4s around? I have a 93 Special Products Division brochure somewhere, with frames, the Ogre etc in. I'll try to get some scans and post them.
Damien

_________________
1993 Dyna-Tech MT4 frame with Shimano Deore XT/DX components.

2008 Orange Prestige S