Here we go again...
I was
elated
when I bought this 200-mile old chainset. I am well fussy about the condition of my stuff and I've been building a fancy road bike with a full 7700 gruppo. It boasts 175mm cranks and sports 53 and 39 tooth chainrings. Shimano's prettiest chainset before they went for the outboard BB cups and made their running gear look all
Buck Rodgers
.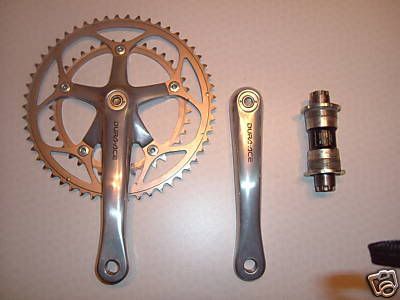 Imagine my dismay when I discovered what happens when you buy the wrong length cranks! 175mm is not the right length for me, at all. How does 2.5mm make so much difference? I'm having to sell these and go on the hunt for another immaculate set.
* I am selling the chainset only - not the bottom bracket
* In the pictures the cranks are 200 miles old; they are now 300 miles old. I haven't scuffed them and they still look the same.
*
£50 posted
and they're yours.
*
Posted price is for UK Retrobikers...overseas Retrobikers PM me and we can talk.

_________________
Pegoretti Marcelo
Fixie Inc Betty Leeds
Wraith Fabrication Hustle
Traitor Ruben CX

Lynskey Cooper Frame for sale - medium Kona Grand Wagon Whole bike for sale Tonic Fabrication Vanishing Point - Di2 For sale