Hi Guys,..
just came back from the first ride.
It is finished,..well almost ,..need some adjusting amongst others,..
Feels like old times,..
when i get my camera back i will make some better pictures...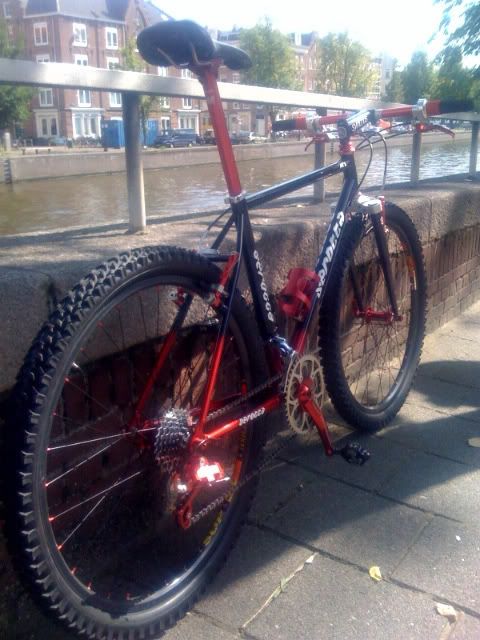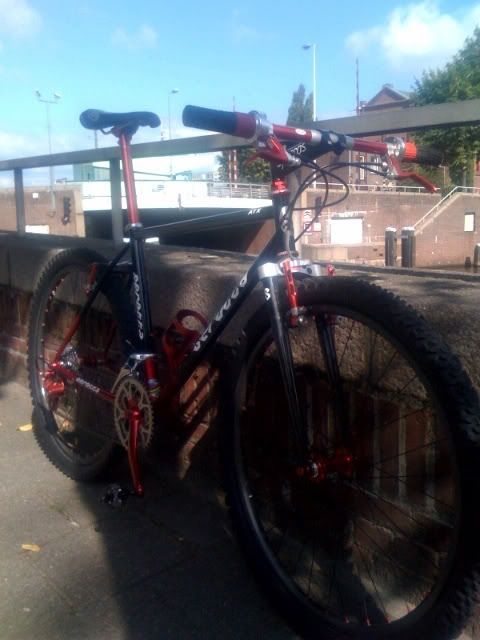 During my first round i stopped at a local bike store (Presto) to get the chris king tightend,..and all the employees came to see the bike,..and an english guy was called from his lunchbrake; "You have to come back right now! you won't believe what you see!", so he came running back and freaked out; "My god,..this is my wet dream!"
He told me what we all feel here at this forum,..." these parts,..i remember them from behind the glass, never saw them in real" ,...
and guys,..got to be honest,...in real it is soooooo pretty,..
i have seen a lot of bikes myself and not because it is my own,..but this one is really really really gorgeous,..so happy with this result.
SPEC so far
Frame: Serotta ATX Colorado
Fork: Tange Switchblades
Headset: Chris King
Stem: Syncros
Handlebar: USE
Grips: Gripshift / ATI
Barends: None
Brakes: Paul Comp. Motolites
Brake Pads: Coolstop
Brake Cables: XTR
Cantilever cable hangers: None
Brake Levers: Paul Comp Love levers
Shifters: Precision Proshift CNC
Front Derailleur: XTR M900
Rear Derailleur: Paul Comp with Middleburn cable guide
Derailleur Cables: XTR
Cassette: Shimano XTR
Chain: Shimano
Cranks: Cook Bros Racing
Crank Bolts: Self extracting
Chainrings: Syncros
Chainring bolts: Shimano
Bottom Bracket: Syncros Hardcore
Pedals: Onza HO
Hub Skewers: Ringle Ti 3 hole
Rims: Mavic Ceramic
Hubs: Chris King Classic hubs
Nipples: red alloy
Spokes: Dt Swiss
Tyres: Onza
Tubes: Michelin
Saddle: Flite for Serotta
Seatpost: Ringle Moby Deuce
Seatpost Binder: Serotta
Weight: no idea but could be lighter,..