Acquired this frame, forks and sundries from a friend about a year ago, he'd purged it of useful parts and shoved it in his basement long ago so I decided to give it a chance at being my first road bike. I liked how relatively 'classic' it looked, the antithesis of my lairy team-issue Cannondale.
It's Aluminium, and I think it was probably made by Trek. Somebody also recently told me that the CF fork is probably a LeMond-branded Bontrager item.
I moved to the USA not long after I got the frame & forks, and decided pretty much straightaway that the drivetrain was going to be all new, so out came the old square-taper BB. I had found a SRAM Rival OCT compact double chainset on UK 'Bay for 45 quid before I left, so when I arrived in the US I had the local shop supply and fit a SRAM Team GXP BB.
Happy I found it because when I went shopping for new Shimano chainsets I came across some of the ugliest components known to man. Just awful.
Meanwhile, I waded through the pre-Christmas sales (oh how times have changed!) to find a set of Mavic Ksyrium Equipes for $299 and a Fizik Arione saddle for $89.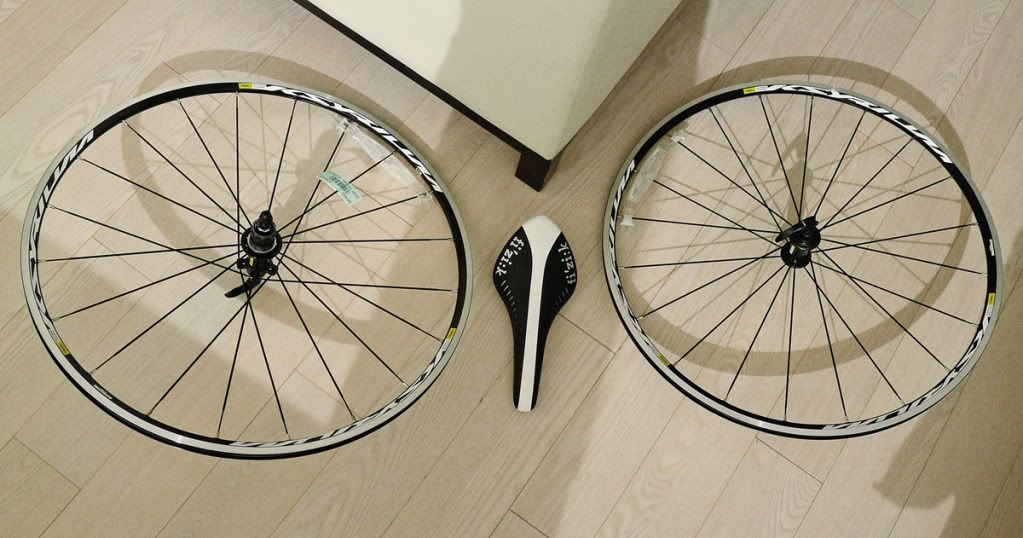 Gathered together new tyres & tubes, and threw together what I had so far.
Deliberated some more over groupsets. I'd test-ridden a few SRAM double-tap bikes and hated them, preferring Campag or Shimano. Then after talking to several local shops I learned that the US-resident Campag devotee lives in a world of back-orders and
"Sorry pal, we don't carry those cables in stock"
, so I decided it had to be Shimano.
A superb January sale deal netted me a black 105 5700 group (minus chainset) for about $500. Went for 12-27T on the 10spd cassette.
When the 105 stuff arrived I finally built it up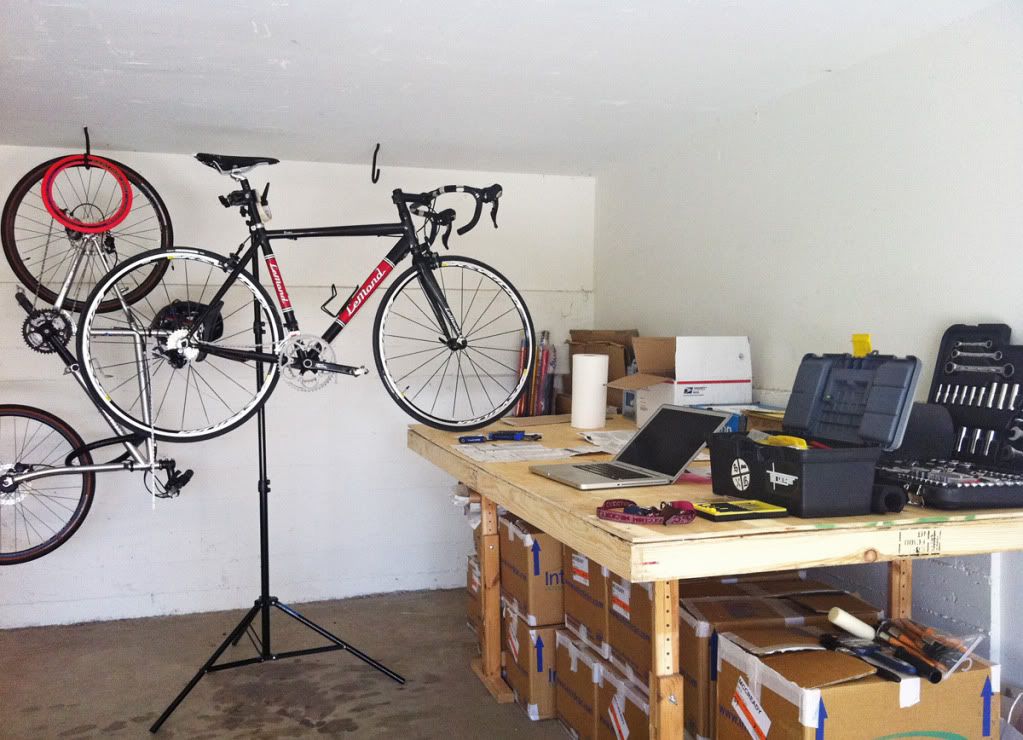 and then went for a spin to get the bar position right. Awful. Stem felt about two inches too long, and the curve of the bars didn't feel tight enough to use the drops. I decided to cure one ill at a time and go for a shorter stem first (the one I'd originally put on was 120mm), and the local shop let me test-ride a couple before I settled on an 80mm.
Better, but still not perfect.
I decided I should ride it for a few months to see how my position on the bike evolved.
The bars I originally fitted were ITM Road Race 300s donated by a kind friend - months of riding (with lots of climbs & descents) showed me tha they were wrong for me in two ways;
- The reach to the hoods/levers was too far, even on a relatively short 80mm stem.
- The drop curve was too gentle, the drops felt too far away and too steep for me.
So I messed around with the cockpit a bit and found that;
- Moving the levers up the bars towards me rendered the levers inaccessible once on the drops.
- Rotating the bars towards me made the drops even steeper / more uncomfortable.
- Rotating the bars down and moving the levers up did little to improve things.
So, with the above (and a limited budget) in mind, I headed down to another local indie bike shop hoping to find out if they had something suitable. Along with new stuff, they deal in good used bikes, used/NOS parts and have generally pretty high standards when it comes to inventory. Nice guys too.
They found me a pair of 3TTT Forma SL Ergopower II handlebars - A (slightly) more modern design with a less sharp (but tighter - if that makes sense) shoulder curve, and longer more useful drops. Same width as my ITMs, 42cm.
They were in amazing nick - no damage, not even any marks from old brake levers. Still fetching upwards of $100 on US eBay, they were mine for $40.
Got back home and took the old bars off for a compare/contrast - new 3TTTs on the left, old ITMs on the right: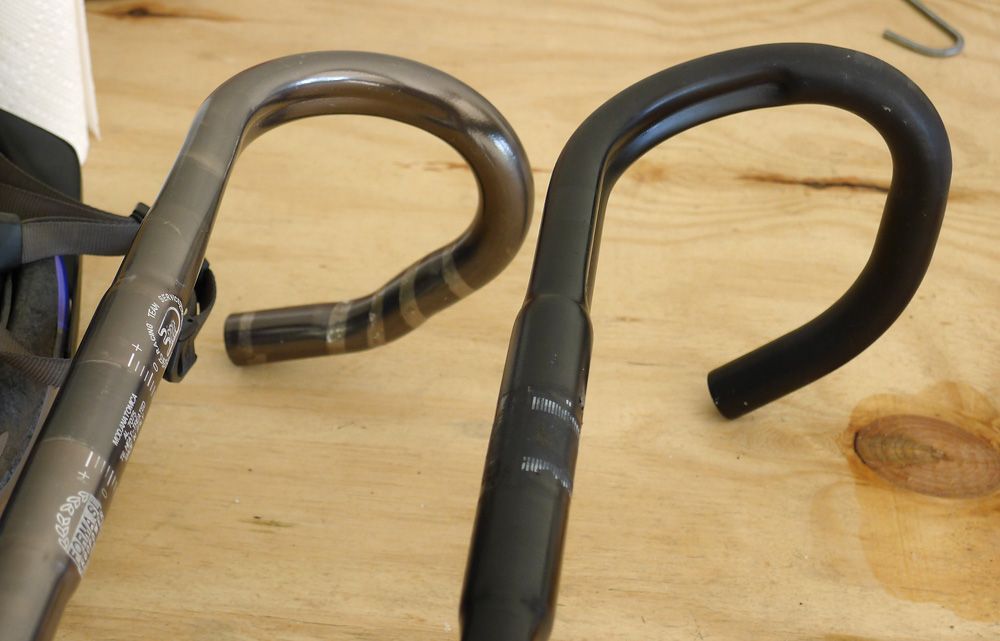 Whilst rebuilding the cockpit I also sorted out a schoolboy error I made during my first setup of the bike - I had done the cabling so that the Left lever was Front Mech + Front Brake, and the Right lever was Rear Mech + Rear Brake, despite my left hand having operated the rear brake on every other bike I've had in my whole life
A quick fix when the bike's stripped down, but a rookie roadie mistake that really p!ssed me off that day I first taped the bars up!
Anyway, new bars on, this was the new position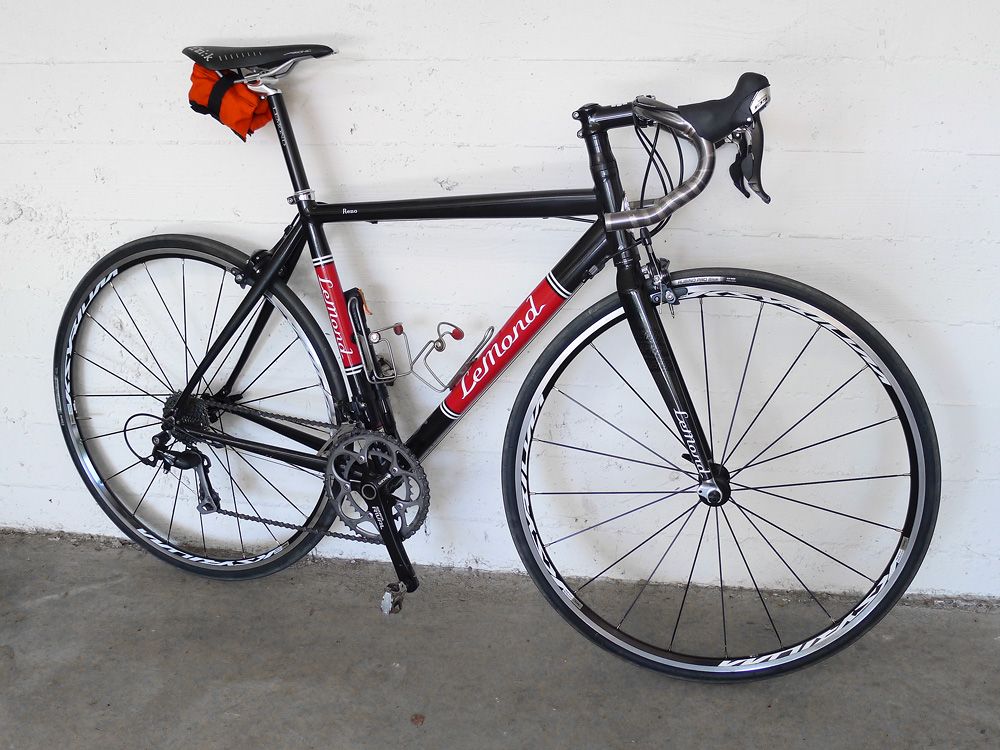 Made a few tweaks after the maiden test-ride, taped up the bars, went on another test ride and it almost felt like a different bike - so precise, but comfortable. The new bars made my old ones feel stiff, buzzy and vague in comparison. Stoked.
A few weeks later, I decided to partially de-sticker my wheels to reduce the 'rolling billboard' effect. Took a cue from the more expensive SSC-series rims. Since then I've also switched from Vittoria Rubino Pro Slicks to Diamanté Pros for winter.
My apologies if this is all a bit too boring/modern, but it's been a learning curve and I'm now firmly 'into' 700c-based bikes!