The Klein I bought earlier in the year came with rapidfires (my first bike with them!) and I noticed the left hand shifter only allowed one click. One thumb press would take you from the granny ring to middle ring but pressing again did nothing... The lever moved as if it wasn't attached to anything.
Now I've replaced them with thumbies I've had a chance to take them apart and see what the issue was. Turns out it's the tension in a tiny spring and made worse by having your shifters at a steep angle. I've seen someone mention the same issue (maybe in an eBay listing) so I thought I'd take pictures in case anyone else has rapidfires that are playing up. The fix is fairly simple and you don't need to fully strip them, sending dozens of tiny parts flying!
This shifter is a MC38 STX-RC but MC37 Alivio/STX shifters are identical (just 7 speed on the right). I believe all rapidfires work on the same principle so this fix probably applies to all, right hand shifters too as they're just a mirror image with more clicks.
So step 1, remove the mount and covers. Straightforward on these as all screws are visible: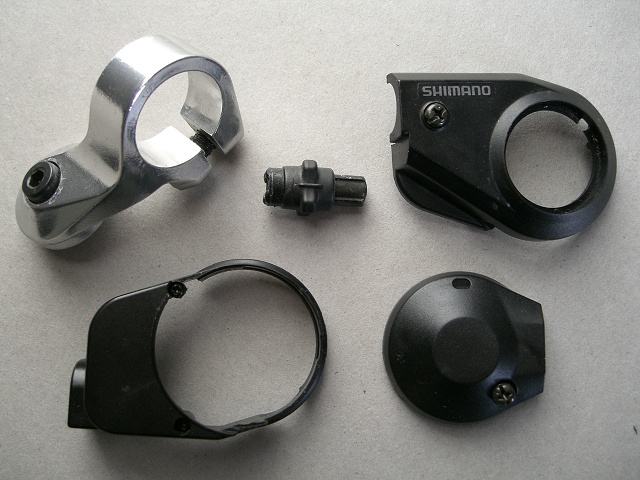 Now re-attach the mount as this makes it easier to hold and pull the levers. In this pic you can see the sprung pawl attached to the lower thumb lever. In granny ring position this rests/pushes against a big tooth on the black metal disc so not a lot can go wrong there: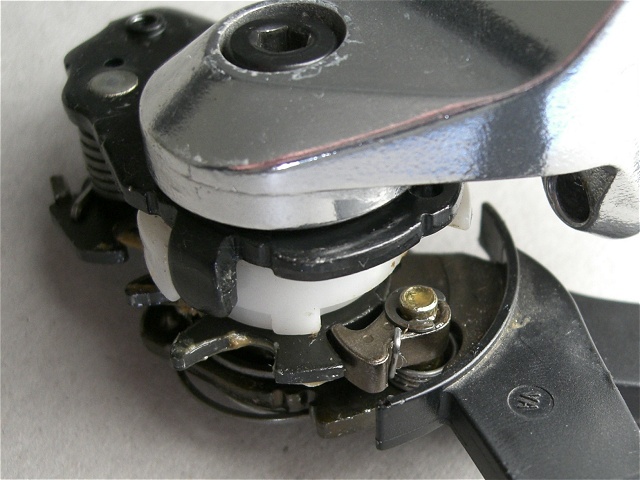 In middle ring position the pawl rests on the edge of the metal disc underneath:
When you go for the big ring the pawl must quickly slip off the lower disc and engage against a tiny edge of the upper disc. Over time the pawl spring weakens and the surfaces are likely covered in dirt/grease meaning the pawl just slips right past. If you have the shifters at a steep angle like me the spring also has to work against gravity making it less likely to engage:
Luckily the circlip holding the pawl and spring is fairly easy to remove: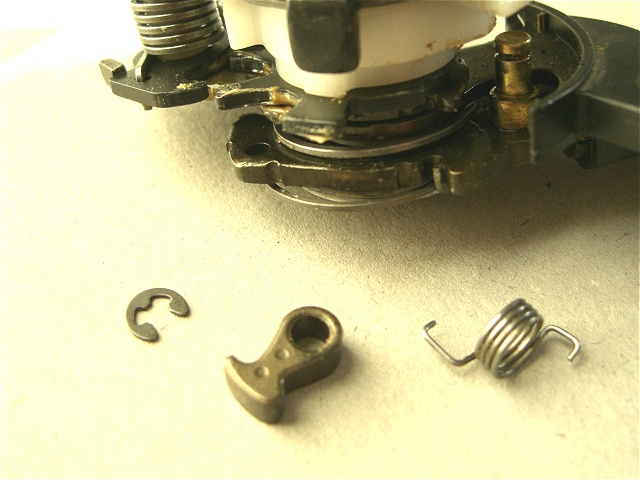 To add a little more tension to the spring I pulled the end hooks towards each other. You only need to bend the spring a fraction though, too much tension and the pawl will get stuck in the position in pic 4. This is the shape of my spring when I'd finished:
Getting the pawl and spring back on is a bit of a fiddle but not too bad. Grease the pawl pivot to help it rotate smoothly but keep any grease off the face of the pawl and can only make it slip.
The end result is a much quicker and positive shift when going for the big ring. Funny how the tension in this tiny spring can make so much difference! Hope this guide encourages a few people to tackle their misbehaving rapidfires