Blackspire 94BCD 36t ramp and pinned cnc'd ring, these are about the hardest wearing ring you can buy £22 (these are £45 new) Unused
DMR 32/36t Bash ring 94ncd Black £12 Unused
Unused set of straight bladed forks 250mm 1+1/8th steerer. these are 700c not 26er so you can run a 29'r front retro wheel! Unused £15 plus post at cost. Mid Teal blue colour.
Ritchey WCS Z-Max
(Ones with the rainbow stripes logo) Blackwall folders, NOS unused sub 400g, still waxy coating
£35
pair posted
Gold FSA headset 1-1/8th Cartridge bearings mounted, unused-like new £30 posted
Silver Canti Straddle/leg cables with polished adjusters, front/rear mounting pegs and Titanium bolts £12 posted
4 x 5mm (bottle cage size) Gold Titanium taper head bolts, 12mm thread £8
Chain ring bolts, 5 inky blue £12 4 Turquoise £8 5 extra long Granny ring bolts, for use with spacers Blue Alloy £22
Transcluscent ODI mushroom/Attack style grips NOS unused. The version without moulded in ends £15 these are not the clear version, but the semi see through. Doesn't say ODI on them, but look and feel like all my others.
Merlin Black Cartridge Headset, 1-1/8th quality with split crown race £35
Kore 1-1/8th mint Headset, Cartridge bearings, brilliant Electric blue, inc topcap and spacers mint condition £30
Campag style crmo barrel seat bolts, various widths £3 each posted (all unused)
Salsa seat clamps Purple 32mm, blue 30.00mm, both £9 posted
Olde Skool 3DV really bright this one 31.8 £9 posted
Fred Salmon Electric blue cnc'd bars 530mm (uncut) by 5 deg £20 Mint no marks, these are cnc machined and really bright turquoise blue.
Rocky Mountain Components Black headset topcap 1-1/8th with Silver etched logo's very rare £20
Specialized top cap, mint £6
X-Lite Fly stem 75mm reach by 10deg rare Brushed Ti finish, NOS-Mint £45 (This will have all Titanium bolts as it should and the o ring spacers/thread seals.
Lx M560 top pull 28.6 NOS front mech Black finish £15
Black mint cnc'd 26.8 x 400mm seat post £15 posted
Gold Ti bolts pictures, SRP Blue Jockey wheel bolts £10, Gold Jockey bolts £10 Blue SRP breakaway bolt £10
(rest of the bolts etc sold in piccy.)
-------------------------------------------------------------------------------------All Sold below---------------------------------------------------------------------

Need this gone, any sensible swaps? Nice black V brake arms and levers would do? pm me?
More details of history etc here:
http://www.retrobike.co.uk/forum/viewtopic.php?t=103313

Fusion frame (frame and Fork are both made from Tange Concept, same tube set as the Teesdale Hot and Kona Explosif of that year, the lightest steel tubeset available at the time) This is no cheap Brit lookalike frame.
Comes new 3DV Headset, two quill stems, one Alloy Zoom one black New crmo NOS.
I'll also throw in a seat post (Black NOS) to get you going!
I will leave all the bottle cage bolts in (3DV) and a new sealed RPM BB.
Frame is a small to medium 21.5 TT by 14.5 seat tube (16 TT) (effectively same as as a 17 inch Kona) as has a dropped top tube, condition is near mint-Very very rare and exceptionally light frame £85 posted (Basically the frame is free, if you tot up the value of all the other bits!

Sugino 22t steel Granny ring (light use) 58 bcd £6
Odyssey one inch Purple/3DV needle bearing sealed threaded headset NOS boxed £45
Mint Ringle Zooka one inch 3DV 135mm stem £35 minty

X-lite Xlerate 540mm Ti bars good Nick, Black integral bar ends £45 posted
Pace Extruder groove pewter 25y 110bcd Granny ring £15 Unused
Middleburn 94 BCD Black ringset, 44/32/22 mounted never ridden £50 Posted Big saving on new price
Syncros 3D net forged cranks 175 x 94bcd high polish mint £95 posted
Gold Ano'd Canti Rocker with all bolts and spacers, better and neater than a hanger, replaced the Gold one with a Purple
£15 posted
Blue Cooks stylee Crank caps, mint £15 posted
Park workshop Headset Press, mint £45 posted (These are £80 new)RSP 3-DV purple Skewers Mint, good Hope lookalikes £12 posted
Pace 42t 94BCD Blue chainring £22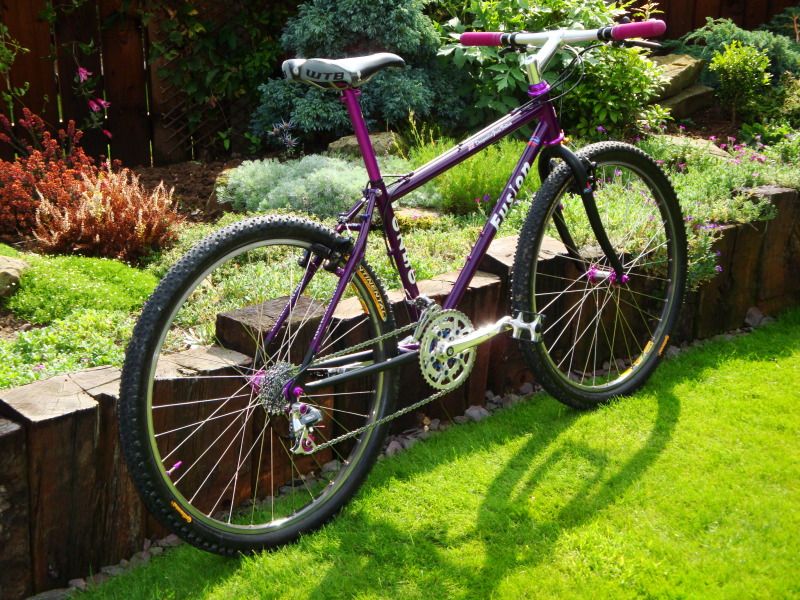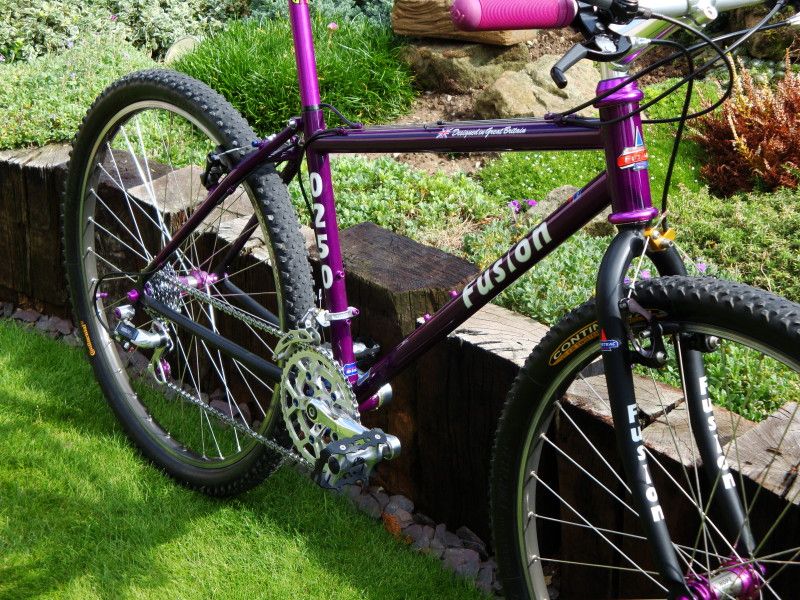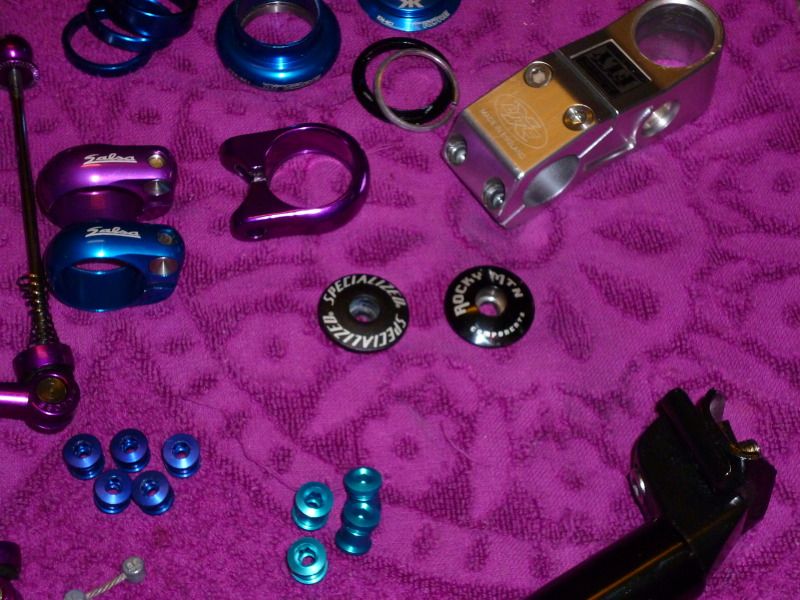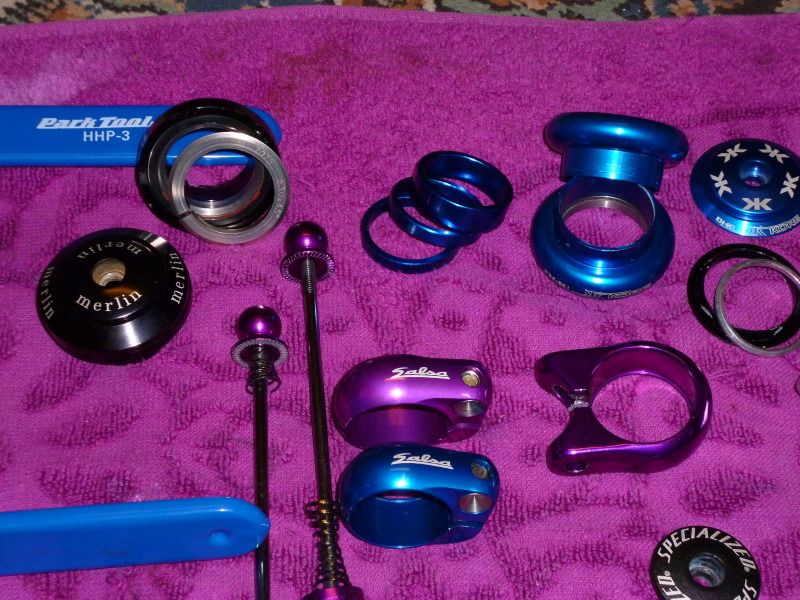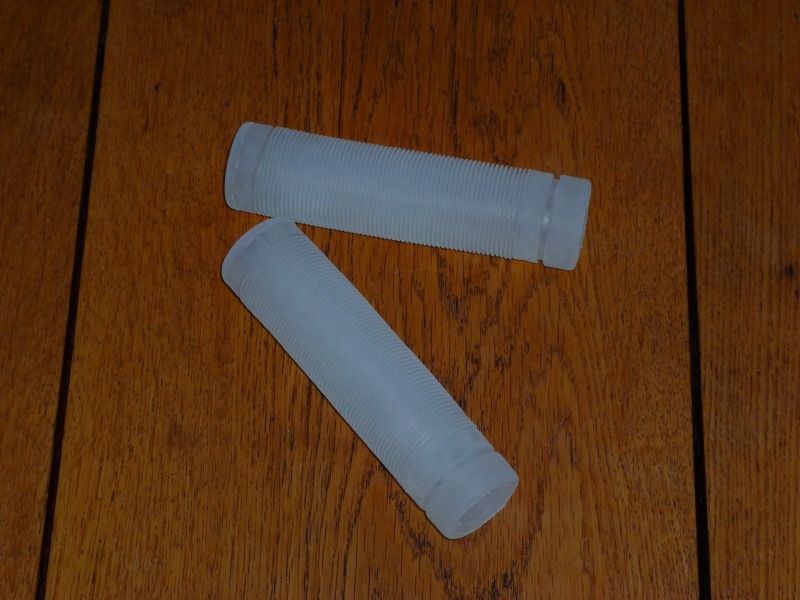 That's it for now, pm me for pics, more to come shortly

_________________
Live the dream-Ride on!