Evening all
Time flies doesn't it. I woke up recently to discover that my old racing bike has become a classic! I had no idea when I bought it in 1989 that it was a 'famous' Peugeot PX10 (or whatever). Nor that some of this entirely ordinary racing kit would become so interesting. Let's journey back through the decades to a time when people laughed in the face of cycle helmets, when steel was the state of the art frame material, and when a 24 tooth sprocket was something your granny would use to get to the post office...and while we're on the subject of tough road men, here's a shot of me having just been roared off the back of the peloton in the early season Piddlehinton Road Race in Dorset (is that still running?) sometime in 1991 I think.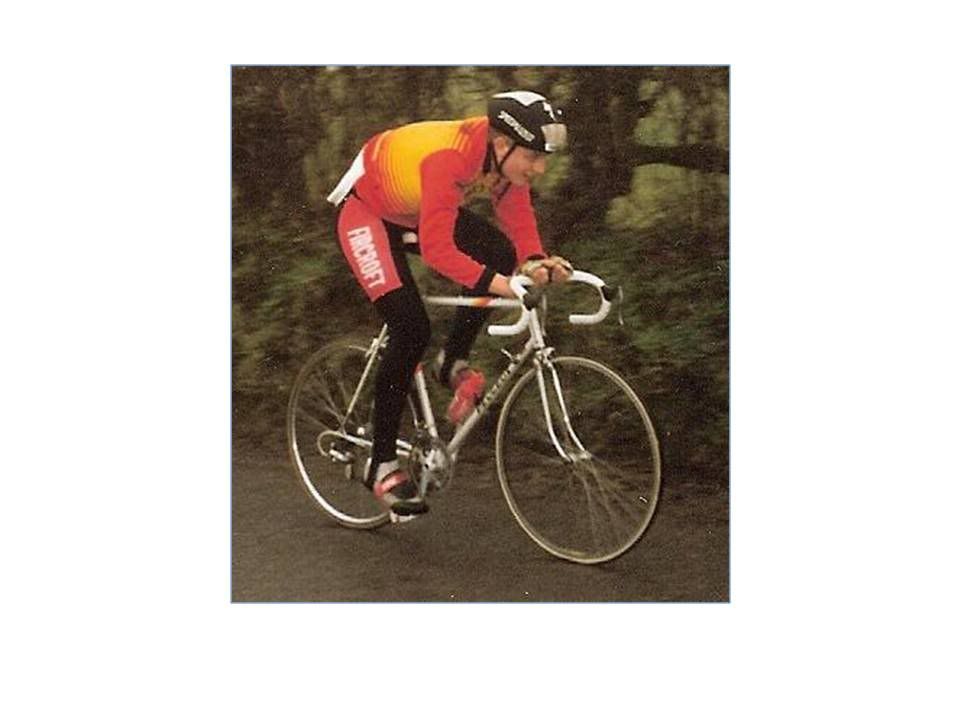 Points in this picture to note: a) the mismatched wheels (I'd just got a puncture!), b) the Specialized first generation crash helmet (shaped like a mushroom), c) the Time TBT shoes (albeit the cheaper time trail versions!) d) the fact that I'm not even in the big ring (bloody wimp!) and e) the fashionable new stripey club strip (bonus points for identifying the actual Club). Ah yes, those were the days weren't they: we were all fit young men (and women) back then...
Anyway, the bike you can see in the picture is my Peugeot Aravis. I bought it from Autosave in North Wales in 1989. Remember them? They always seemed to have all of last season's bikes at knock down prices. RRP was £500 and I got it for £350. Bargain.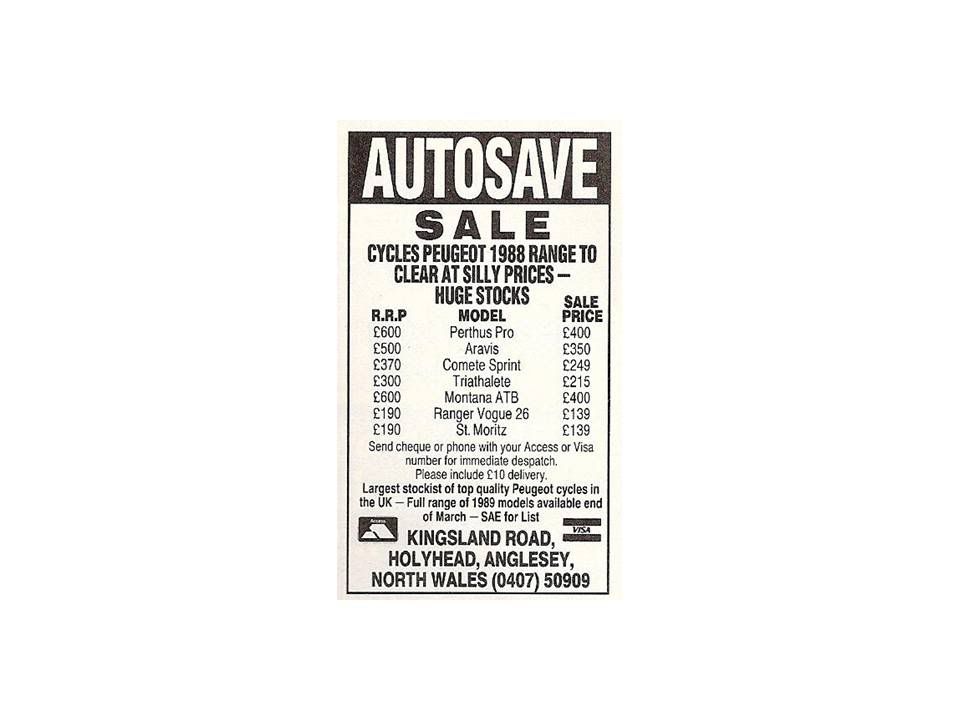 It's a lovely bike. It's got wafer thin 531 Professional main tubes, stays and fork blades. Simplex drop outs. Shot-in seat stays (quite the thing back then), and a nice forged fork crown. It had a Shimano 105 groupset, Mavic MA40 rims, Atax stem, Philippe 'Tour De France' bars, totally slick Michelin Hi-Lite tyres and, seeing as this was the late 80's, a white Miami Vice style Turbo saddle. It was a beut. Funnily enough, down my neck of the woods Peugeot's seemed very popular. Quite a few people in the bunch had Aravis' but mine was the only one I ever saw finished in pearlescent white with chrome forks and stays (the other's always seemed to be two tone red and white).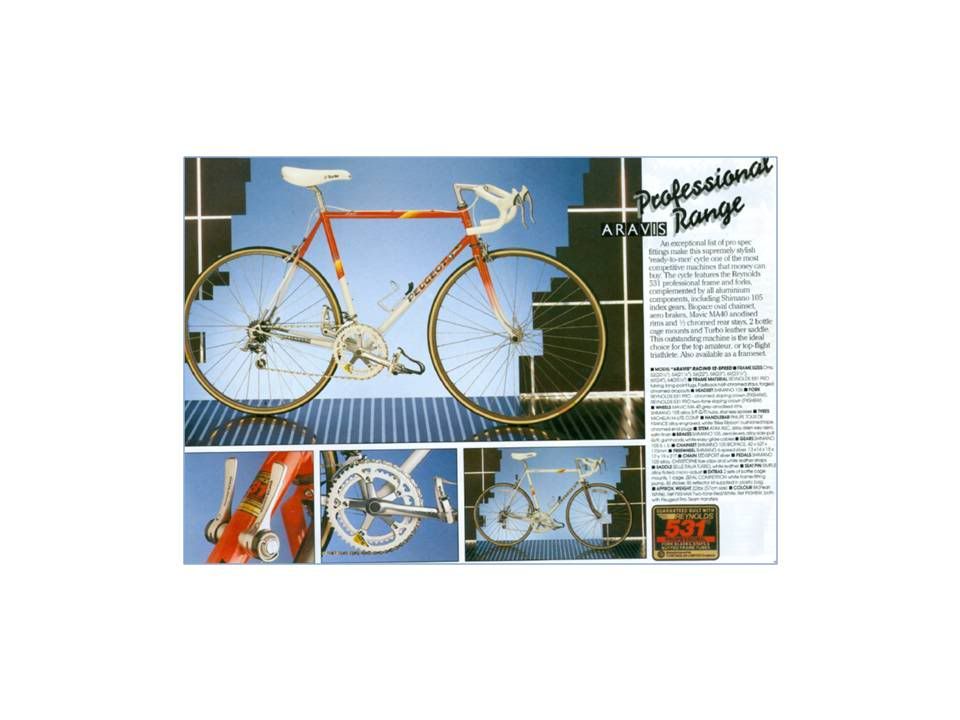 Fast forward 25 years and here it is again...one owner from new. And check out that block – a 15 straight-up from my days racing as a Junior. I remember hitting 35mph in the pack and not being able to physically pedal any faster – it was a right flippin nuisance. These modern racing bikes with their compact chainsets and virtually 1:1 gearing: modern riders don't know they're born eh!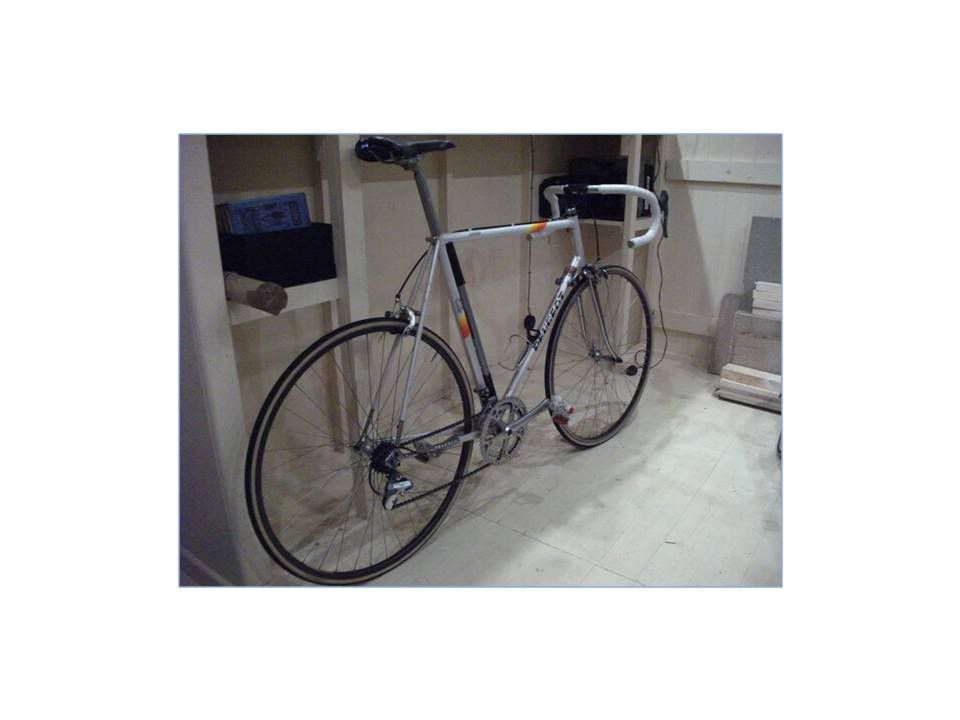 I'm very fond of the old girl but what should I do? I am going to restore it but I am torn as to what to do with the frame. One option is to get it fully restored with original paint colour and reproduced transfers: this will make it like new (won't it?). On the other hand, I know where all those scratches and marks came from. They are like part of the journey in a funny sort of way. It actually looks worse than it is in the pictures because it's coated in WD40 and lots of dirt has stuck to it over the past 25 years, and in actual fact it will clean up fairly ok. What would you do?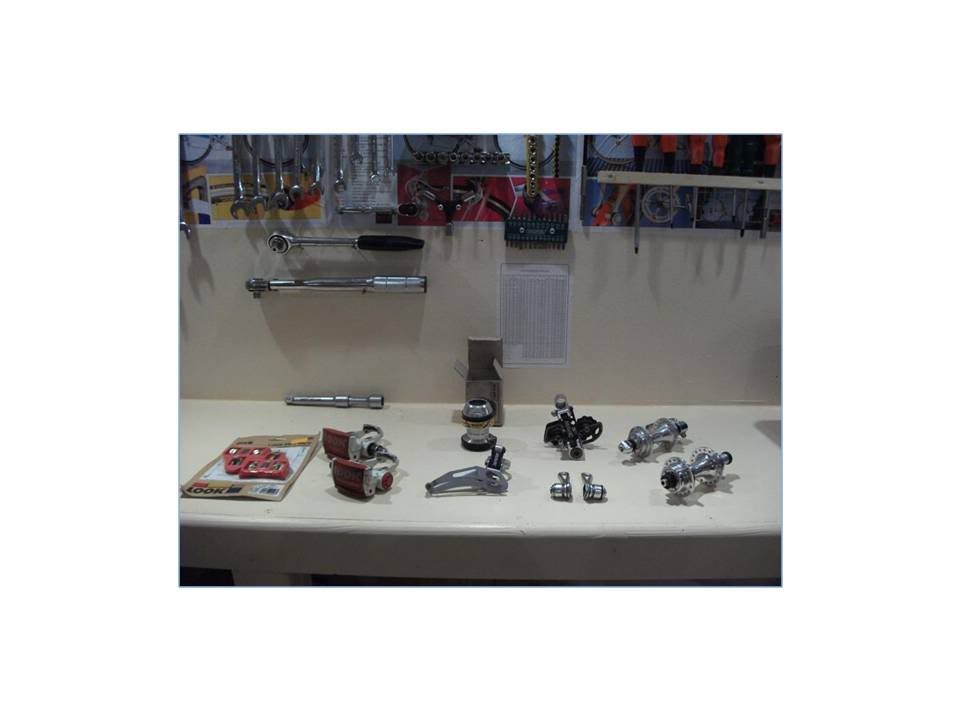 Along the way I've also amassed a Mavic starfish chainset, some classic Mavic SSC front and rear mechs and Simplex friction downtube levers, along with some nice Mavic 501 hubs (this was the kit I wanted back in the day). But then again, should I rebuild it back to its original spec? I'm quite tempted by that for sentimental reasons (I'm also tempted to get another Pug PX 531Pro frame – I always liked those graphite grey Aneto's - and build my 'dream' 1980/1990's bike). Decisions decisions.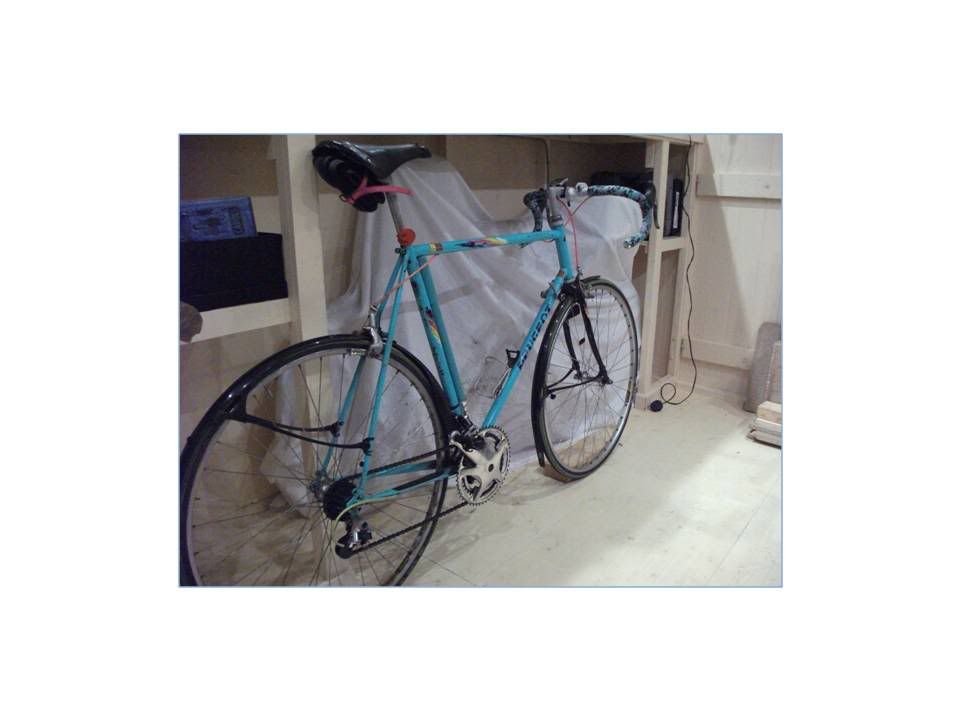 Incidentally, here's a picture of my training bike (which I've used continuously since 1990 when I bought it). I don't know if it's the same these days, but 'when I were a lad' you'd deliberately get a 'gas pipe special' and cascade all your worn out racing equipment onto it in order to have a heavy winter bike for 'extra training'. Judging by the picture of me above being roared off the back of the peloton I'm not so sure it was a good strategy! I remember me and my pals in the cycling club went through a phase of turning up for rides on the crapest bikes we could find, and because we were fit back then, proceed to annihilate all the blokes with really expensive new bikes. It'd be the other way around these days (and then some). Anyway – I digress - this old girl is a Peugeot Europa with their proprietary HLE tubing (for 'High Limit Elasticity'). It actually rides really nicely – I remember taking it for a test ride when I first bought it and it just felt 'right'. Heavy, but right. You know how it is. Note the wildly inappropriate equipment (and dirt): that Mavic rear mech is probably worth £100 on its own. Incidentally, the Mavic MA3 rims came from a customer in the bike shop I worked in back then. We had built the wheels new and he was knocked off his bike whilst touring in France and he brought them in looking very bent indeed. We sorted him out with new wheels but when we cut the spokes off his old wheels prior to scrapping them, the rims, in actual fact, were perfectly straight. And they're still going strong 20 years later!
So there we have it. My little nostalgic intro into a sentimental mid life crises style bike restoration – thanks for sticking with it. I'll keep you posted on how the Peugeot Aravis resto is proceeding over this winter. I'd certainly welcome any comments or views. And you never know, maybe next season I'll launch an attack on my personal best 10 mile TT time on my old racing bike...after all, that time has stood now since June 1990 although, to be honest, the bike is probably wearing better than I am!!