Thought it was time i updated this thread a little, the Boardman has gained a set of commute tyres as i am now doing 9.8 mile x2 per day riding to work and back
It seams to be helping me lose even more flab (currently 17.5 stone, down from a monster 21 stone!)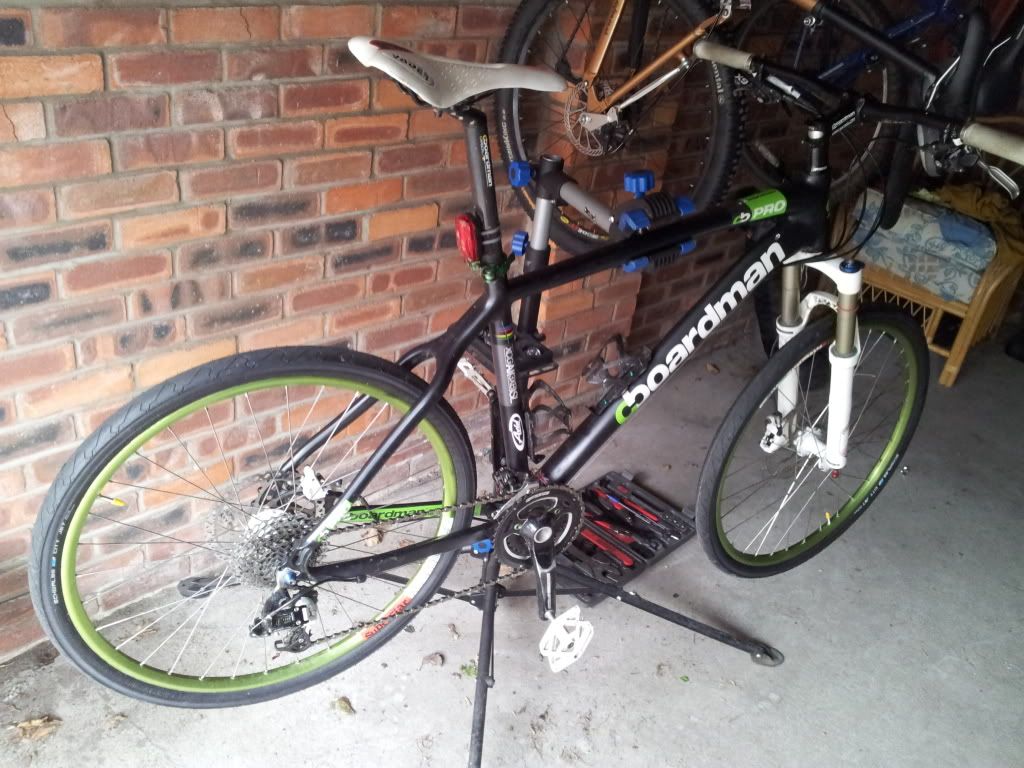 The FSR is still being fiddled with
Onza rear adapter was fitted to replace the A2Z version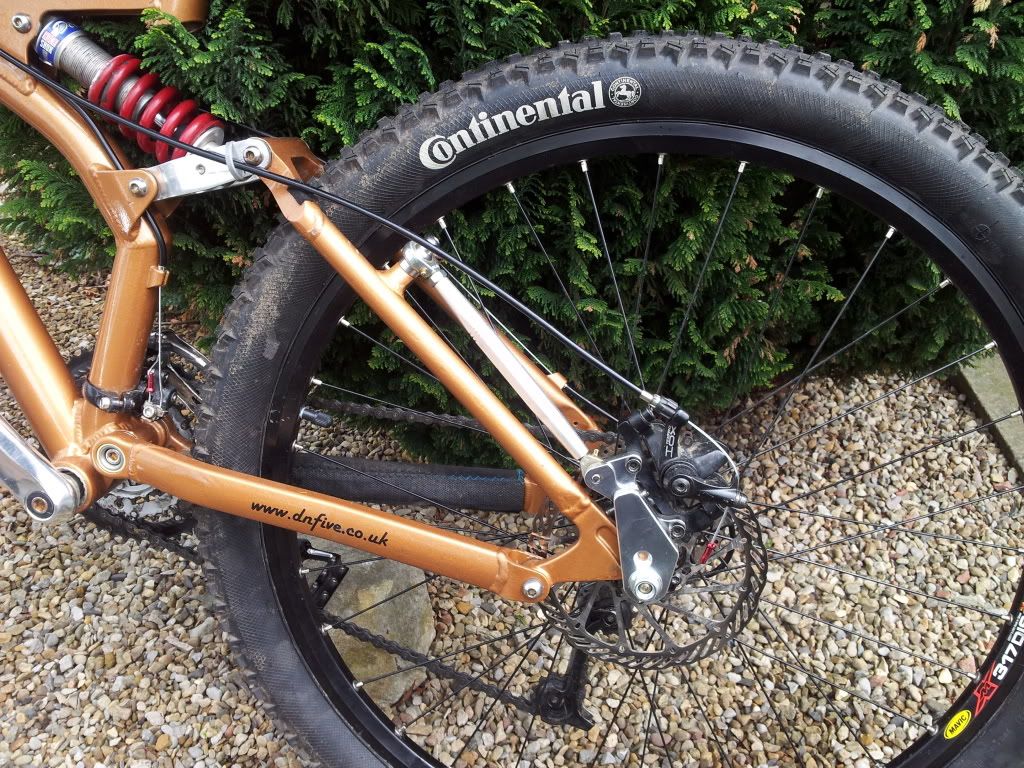 The front RockSHox Psylo fork was binned, and in its place i fitted a 2001 Marazocchi Z1 Dropoff (130mm travel)
The fork was stripped down, the lowers were repainted and i added some gold Marz Bomber decals (could not find any drop off ones)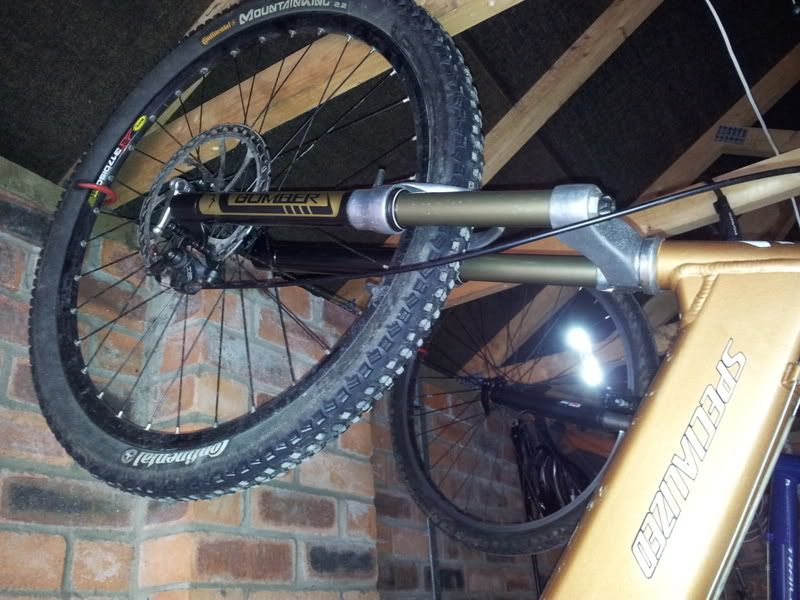 The handle bars were stripped back from the white paint i added to them, and left in the natural gold anodising to match the bike/fork decals.
The stem was removed and painted black to match the fork lowers (i used black hammerite)
I also removed the stock rear RockShox Deluxe and in its place fitted an X-Fusion Glyde rear shock that i picked up brand new for pennies.
I needed a shakedown run to test the bike out after the mods, the local MTB club was away to ride around Hexham/Allendale/Slaley forest, so i figured it would be a good chance to test things out, and i did, up against a 2006 FSR, a 2012 FSR, and a Spicy 514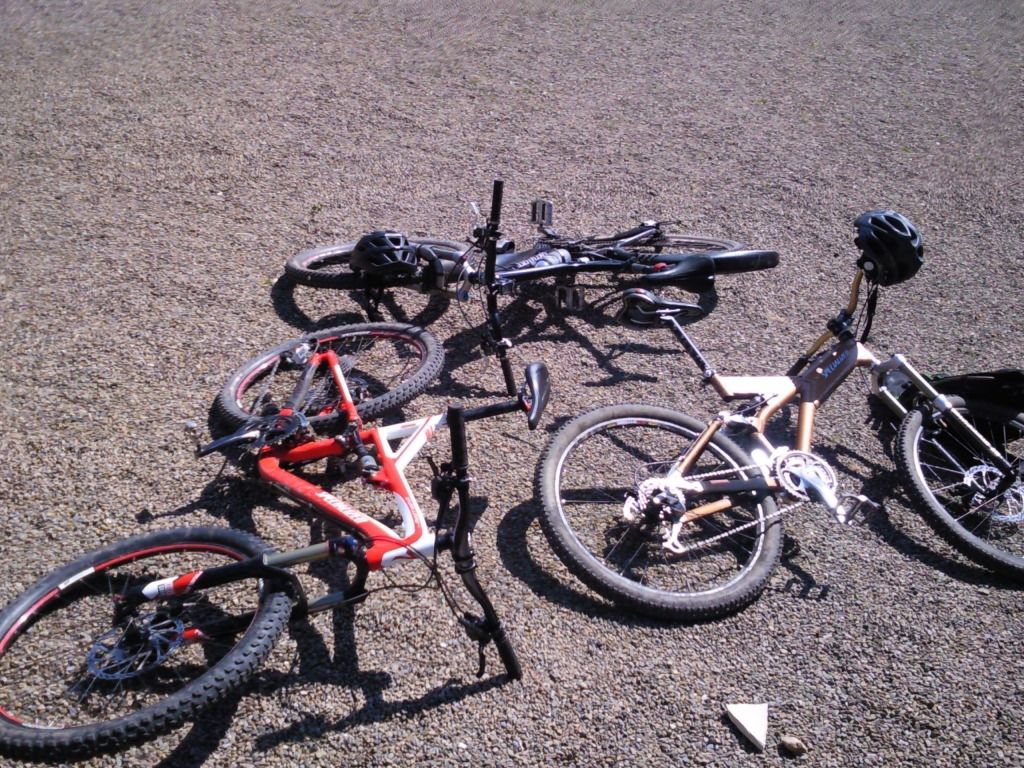 Some quick shakedown thoughts, the back end for me was perfect, i have the preload on the stock X-Fusion spring wound right out as far as it would go (its a lower spring rate than the RS Deluxe) i suspect as i lose more weight it would be an issue anyway, but it was smooth and supple, and we really hammered it down some rock downhill trails, i bottomed it out once on a hard landing, but it was not a big issue, i also bottomed out the front work at the same time lol
The front fork needs a little work, for me personally, i like a bit more compression damping, and the fork felt a bit too flexy for my taste, the stanchions look mint, so the plan is to try a new set of bushes at some point, i have already drained the stock 7.5wt oil and refilled with 10wt oil, the compression damping seams a lot more to my taste now, hopefully the flex will disappear when i get around to swapping bushes.
Apart from that, the bike still rocks, i plan to remove the outer front ring, fit a bash and have 2 x 8 speed gearing, i simply don't use the outer ring and i have bashed it twice now while getting over features
I will try and get some decent updated pictures tomorrow!