Dave Lloyd Concept 90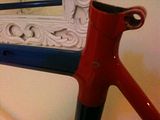 * Not really this blurry in real life
* The universe's first compact frame, this Concept 90's seatstays have a very distinctive wishbone arrangement.
* This Dave Lloyd is begging to be sent to Argos for re-finishing. The original owner had, for some reason, decided to give it a DIY paint-job, and it looks terrible. On the other hand it should be a very simple job to get it looking great again. Not a drop of rust and the chrome looks tip-top.
* Internal brake cable (booo!)
* V. sexy looking lugged BB, otherwise fillet-brazed (Mmmmmm)
* Top tube is 54cm, seat tube is 54cm centre-to-top
* Looking for £145 posted
SPÉCIALITÉS T.A. Carmina Compact Crankset and Axix BB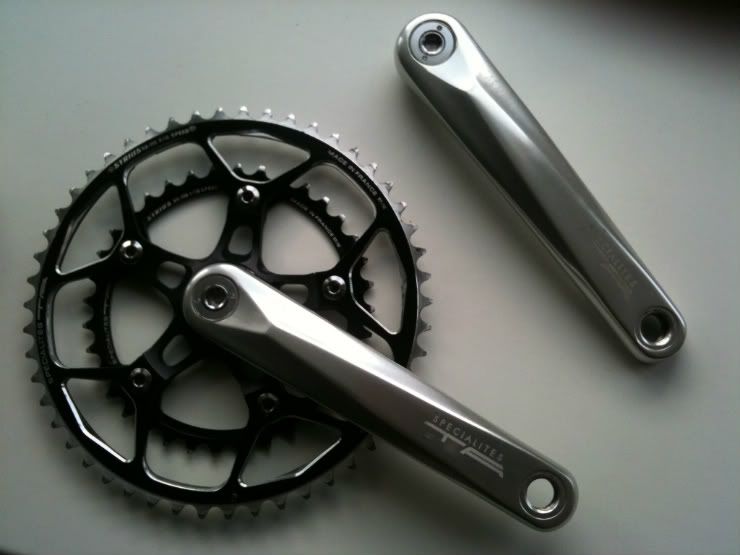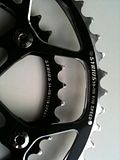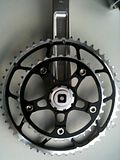 I'm not sure what came over me when I bought this chainset, but its worth listing how much it cost. Prices are from Dotbike ... and they're what I paid. I must have been feeling pretty flush at the time.
* Carmina LH crank 172.5mm £75.45
* Carmina RH crank 172.5mm £82.06
* Black 5-arm 110bcd spider £57.54
* Lockring £10.91
* 50T black Sirius outer chainring £61.61
* Black 34T Sirius inner chainring £34.98
* Silver self-extracting crankbolts £13.31
* AXIX steel 107mm bottom bracket (length as per manufacturer spec) £107.59
Yes, that's a whopping
£443.49
for this admittedly beautiful, but raucously overpriced chainset. Worth also bearing in mind that you can't buy it as a complete chainset, only in small, pricey morsels. This was mounted to my Voodoo and has had the same sub-100 mile life.
Looking for £250 posted.
Voodoo Cycles Rada 853
* Bare frame only (with the little bolt for the seatpost) in 55cm (effective top tube)
* Compact frame in pearlescent white - v. pretty in daylight
* Sub-100 miles old. No marks or nasties on the frame.
* I can produce more / better photos on request
* Only selling because I've ended up with two of them (don't ask)
* £375 posted
Yellow Selle Itallia Flite Titanium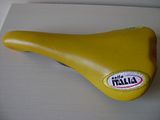 * Yellow, red logo at the back, fancy looking embroidered logos
* Very good condition
* £39 UK posted
Charge Knife

- sold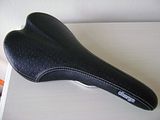 * Little used before being swapped for an Arione
* Racey but supremely comfortable
* RRP looks like £50 on the interweb, looking for £35 UK posted
Fizik Arione

Sold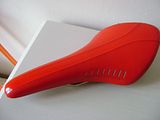 * An incredibly pretty Arione, but ...
* ... suffering from road rash after the bike and I departed company coming down a hill
* £24 UK posted
'08 Kona Kapu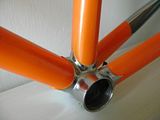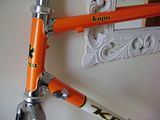 * Kona advertise this frame as 56cm. It acutally measures 56cm centre-to-top and 54cm centre-to-centre, top tube is 55cm c-to-c.
* I have never ridden this frame
* There are marks on the frame from being built (on the brake bridge, for example) but not a single blemish from being used. I don't think this bike has ever ventured outside.
* Deda SAT 14.5 steel with chromed lugs. If the interweb rumours are true, this frame is built under the same roof as some much pricer (but very similar looking and identically tubed) Itallian framesets
* 1" Kona fork with chromed crown, cartridge bearing Cane Creek headset included
* Almost offensively orange, this is a hugely good-looking bike, much more so in real life.
* Pump pegs and room for big tyres and mudguards; the frame requires long-reach calipers
* £375 UK posted
'95 Kona Kapu
* A rare compact road frame with Kona Mudshark forks. The headset isn't included but I should be able to find one to go with it (probably the original Kona Impact)
* Re-finished at Argos a couple of years ago in the reddest red you'll ever see.
* With all the characteristics that make people love riding steel, this lively Columbus Genuis-tubed frame has seen me through huge amounts of mileage. If this was a 55cm frame I would own it for life.
*
~Kona sold this as a 53cm frame; actual measurements to follow~
*
Withdrawn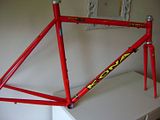 Langdale Road Frame

Sold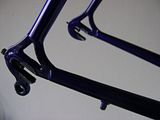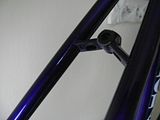 * 54cm square, Columbus OS EL tubeset
* Internal brake cable - really nicely done - only the cable inner runs through the frame
* I was going to use this as a project bike but, when it arrived, it was far too nice for me to strip. The paint is gorgous and the frame is a cracker. Really close clearances with some very nice details (check the brake bridge and the cable guides on the head tube). This is clearly a very nicely built frame.
* Looking to recoup my outlay @ £150 posted
No-Name Steel Road Fork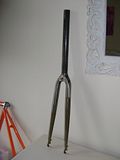 * Shipped from the States after a long hunt for some lugless straight-blade forks
* Unfitted and new
* 1 1/8" uncut steerer
* Supplied unpainted! Ready to be matched to your frame or taken to your local chrome plater.
* Look really nice, but not what you'd call light!
£29 posted
Leader S803 Fork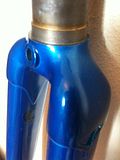 * Unfitted, uncut, new lugged steel road fork
* Metallic blue and 1 1/8"
* Two small paint chips - happened the day they arrived
* Save monies on their
£104.99 list price
*
£59 posted
Syncros Road Stems and Seatposts
* Titanium road seatpost, 27.2mm @ £59
Sold
* Black alu road seatpost, 27.2mm @ £20
* Black satin black Altura stem, 110mm, -17 degrees, £25
* Gloss black Altura 110mm, no rise - totally NOS - £35
* Silver 120mm Altura, boxed - £35
* Satin black 120mm Altura, no rise - £15
Sold
* 100mm silver Altura, no rise - £15
Sold
* Black hinged stem - 110mm - £15
Sold
* ... would you believe i actually have more?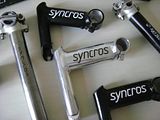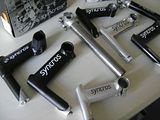 Titanium Road Stem

Sold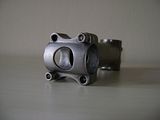 * 110mm titanium road stem, 10 degree rise (reversible), 26mm handlebar bore
* Depicted withouth them, but comes with a full compliment of handlebar bolts!
* Cost me a hundred quid! Yours for £69 UK posted
Thomson Seatpost
* 31.8mm x 400mm Thomson Elite seatpost
* Has a scratch but its below the minimum insertion line
* £39 posted
Mavic M10 Cassette

- SOLD
* This conversion cassette is designed enable a Mavic M10 freewheel to run a Campagnolo cassette
* The sprockets are loose (as in, nothing is attached to a spider) and the box includes spacers for both 10v and 9v Campagnolo systems
* You can only run full 10v if you're running a Mavic M10 freewheel. However, if you have a regular Shimano freeswheel, you can ditch one sprocket and use a 1mm Shimano spacer to run a nine-speed set-up with 10v spacing. This is how I was planning on using a 10v Campag group with a Shimano wheelset.
* This is completely unused. I have fitted it but only to bench-test it. The cassette is new and unridden.
* It is 14-25 but I have a full other Mavic cassette I can throw in. I was using 12-25 using the same arrangement as Shimano use on their 9-speed cassettes.
* Cheapest I can find on the interweb is £59.99, so yours @ £39 posted.
Salsa Handlebar

Sold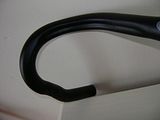 * Plenty of use but plenty of life left in it
* A tenner posted and its yours
Campagnolo Veloce Ergolevers

SOLD
* I bought these as new and I have barely ridden these unmarked 10v levers.
* I had a quick look and (hideous) 2011 levers are £80-£100, so I'm thinking: £59 posted for the last of Campagnolo's elegant-looking Ergos.