A couple of months ago I popped into a shop in Marseille to buy some Christophe toeclips, and came out an hour later with, among other things, an Urago 531 frame and forks. My wife wasn't with me that day... The dealer is a nice guy and seems to know his stuff (Road Art 13 - a singlespeed and fixed specialist but with lots of nice old stuff). He said it was made at the end of October 1979 and was ordered from Urago in Nice by a shop in Manosque for a local racer. Urago sadly stopped building frames at some point in the '80s.
Here are some pictures from the ad he'd placed on his site:
As you can see it has some nice lugs, including the famous wrap-around Urago seat-tube detail as beautifully drawn by Rebour here: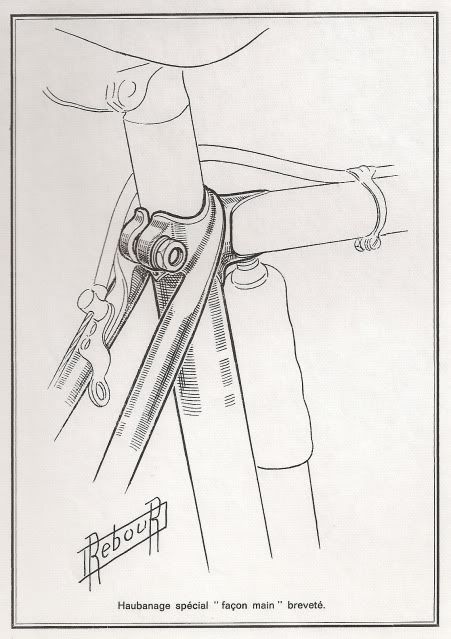 Here's a better shot:
However, it has also been repainted at some point and I'm hoping there might be some serial numbers underneath as I haven't seen any. I need some decals too but that's alright as the guys on the French "Tonton Velo" site (a few of whom own Uragos) are pretty helpful there. It currently has a Shimano 600 headset but I have a complete Mavic groupset (including a headset) that I'm going to build it with, for a "tout Mavic" theme (the Mavic parts date from the mid-'80s but it's not too far off for a more or less coherent period build). Won't be just yet as I'm currently away from home so I'll start a separate build thread later.
What I wanted to know is when other manufacturers started using internal cable routing - I think 1979 sounds a bit early? Is the dealer likely to be mistaken about the date, and it was built later than '79? Or were Urago just a bit ahead of the game? Do any other Retrobikers have frames dating from 1979 (or thereabouts) with internal cable routing?

_________________
"The champions have better bikes, more expensive shoes, many more pairs of cycling shorts than we do, but they have the same roads" - Tim Krabbé