1983 MiniBurner Mark 1 £60 posted UK
Finally getting round to selling this, it has provided a few years of very good memories for my son (and myself).
It is as far as I am aware completely original down to the grips and tyres. This has been used
Video...
and could do with a bit of a refurbish but is ridable in it's current condition.
Points of note...
Decals are damaged a fair few paint scrapes, rear tyre is bald, one grip foam is missing, other is holed. Bearings could do with a strip down and regrease.
All these pics are clickable....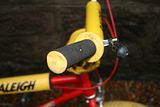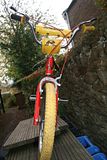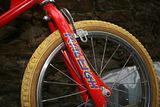 _________________
Still wandering about....
Early Hope Disc Info...
-
Xizang Serial Numbers...
My Bikes:
1992 Xizang
-
2000 Gazelle Superbe
- 1983 Raleigh Mk II MiniBurner - 1995 Schwinn Klunker - 1996 Orange P7 - 1998 Specialized Rockhopper -
miniKen's Konalized
Moderns: Genesis Caribou Mk1 Fatty - Pivot 5.1 Bouncy