Don't ask why
Breaking my Independent Fabrication Deluxe. Believed to be 1995 and #25...no frame number.
Some words from the guy I bought it from...
Quote:
Hey Carl,

That is my old frame. I bought it from ebay as a complete bike. The original color was blue & it was first bought from Mystic Bike in Mystic,CT. The listing off of ebay was from San Diego. I sent it back to IF & had them repaint the frame(Carbon Black I think was the color name,its in the older color choices) and build the fork for me. After building it I figured out that it was an inch to small. If I remembered correctly the ser. # is IF25SD & that the frame is #25 out of the factory & they told me that they never saw such a well preserved frame of its age @ the time of repaint. I replaced it with a new custom frame set from IF, the new bike rules and fits like a glove! It was a great bike & I'm glad to see it still being used. I hope you get miles of fun from it, enjoy. Cheers!!

Rob
Frame remains in lovely condition...some small marks to the drive-side chainstay..a chip here and there..and a touch up where Rob fitted amech too soon after the repaint...and pulled some paint when he converted to SS. All these are something of nothing. The frame is an absolute beauty.
Size is small/medium ish...I'll double check..but about 17" seat-tube and 22.25" top.
For Sale as follows:-
Frame/IF fork/mango King headset/green Salsa seat-post clamp/ ControlTech stem and XT BB
£600 ex shipping
If bought with the bike as listed above, the following options as extras. Please don't pm me about these parts separately.
Ti Syncros Seatpost £70
Ti X-Lite Bars £30
Middleburn wheelset comprising of gold hubs laced with silver DB spokes to 117 ceramic rims...rims have some minor pitting...low miles really and excellent. £200
Modern Avid Ultimate V Brakes with ceramic Kool-Stop pads £80
Modern Avid Ultimate levers £90
Please, serious enquiries only...please reply here and I will get back to you.
Opps...just realised I don't have up to date pictures..the first two still show with CK wheels and black post clamp...the dark piccy shows the Middleburn wheels and green salsa clamp as the bike is now....I'll update with better pictures for those interested.
Ta
Carl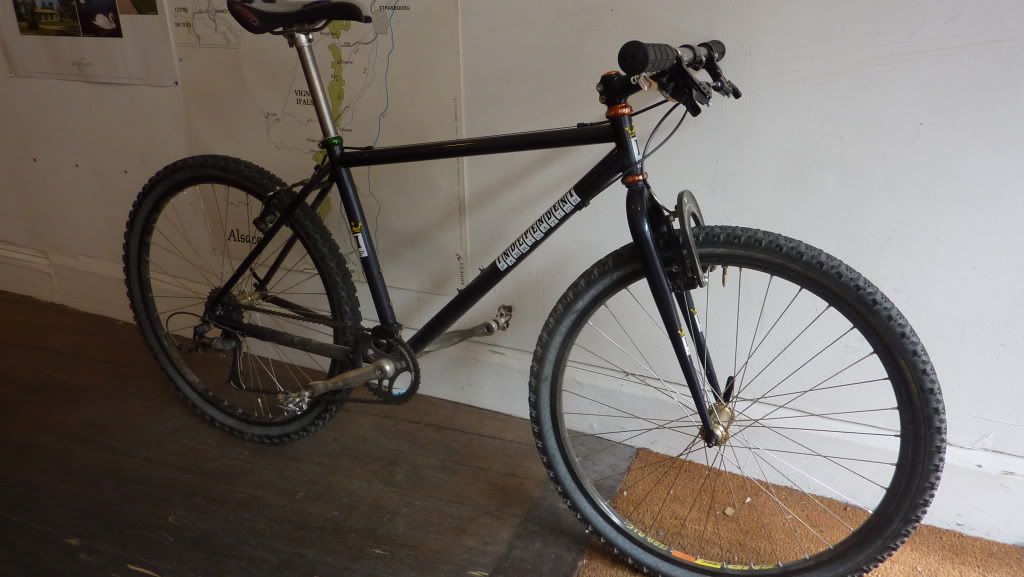 _________________
For ever changing my mind and my cars