Got this awesome frame off Mark(letmetalktomark) a little while ago now with the sole intention of building up a nice bike for the girlfriend, something she deserves to call her own.
She's done an awful lot for me all the years i've known her (and it's been a few i tell ya) plus we do a lot of stuff together with kite landboarding and riding being some of them.. You could say she's my rock! Keeps me in relative sanity!
It's about time she had something cool to ride plus i know it'd be fully appreciated more than just as a bike. She kinda understands the whole old school thing too which makes it easier building another bike and having various parts lying around the place
the lucky girl in question.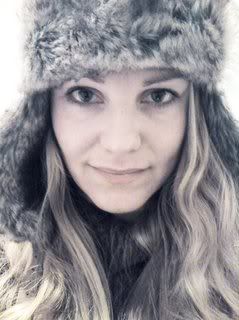 Was itching to build something again having not long completed the trailstar so when this was on offer i couldn't resist, plus it will be perfect for what's in store albeit with some battles along the way.
The frame dates from 1999/2000 which is further enhanced having the original purchase receipt showing the previous owner had bought it in Dirt & Dreams, London in 2000.
Handbuilt in New York by the infamous Frank the Welder it's a lovely piece of work. It's in a very clean condition not having a hard life thrown at it with just a few minor chips and pealing decals, nothing to worry about. It will be left as is frame wise,....well for the immediate time being as the decals will be replicated at a later stage for when they decide to fall off, but it all adds to the lightly used feel. The paint's tough as nails i may add so not even worth messing with!
The girlfriend's leaving it up to me to decide what to do although when asked she just pointed at the Trailstar saying "i'd quite like it like that!" so there will be some similarities namely some nice polished silver components where needed. One major decision is that it's going to be 1x9 speed which will make it easier going.
There are a couple of parts on the way soon, some silver Azonic Black Diamond rims from Giles(corduroyboy) who also dug me out a Hope 22mm adaptor for the rear caliper! score! I can't say how much help that tiny part will be as i honestly thought i'd be looking for the best part of forever for one wanting to run discs instead if v's. V's would have sufficed though but now there's no going back with the disc only rims... He who dares n all that!
There are a few other parts i have so far namely some new Raceface North Shore cranks and a NYC Freeride Hoe stem which both appealed.
The stem is beautifully made and will compliment the frame nicely. There's a nice little bit of recent history surrounding the NYC Freeride company too i found while doing some research, plus the fact it was made in Brooklyn not a million miles away from where the frame was built adds a small something.
The suspension/fork capabilities are being taken care of in the form of '98 Marzocchi Z1 Bam's. Again found these with a stroke of luck and a BIN one night browsing though ebay They're in great condition and will be perfect for the frame in question adding an indistinguishable splash of colour too.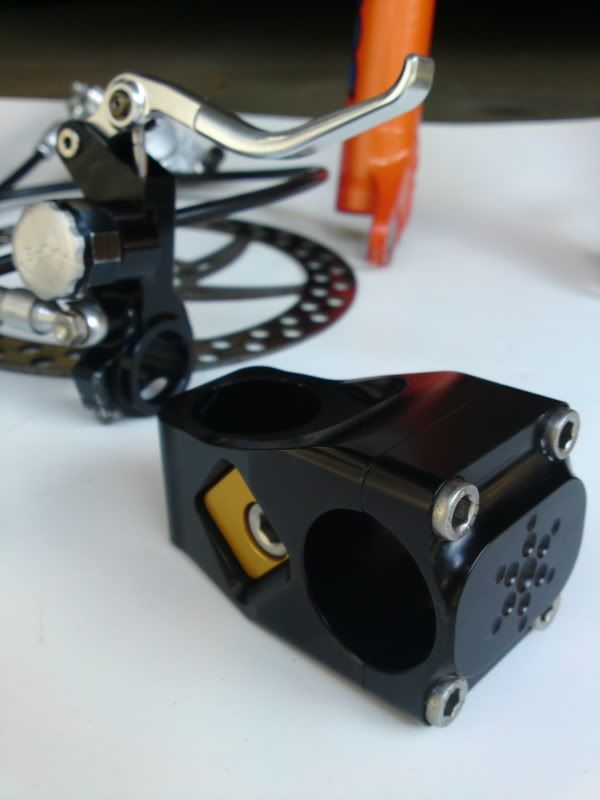 Probably thinking of going for silver riser bars when i find some in the 31.8 needed; a Chubby would be perfect. The seatpost will be silver also, although i do have a black one that can be used but reckon there's more than enough black on it as it stands.
A silver headset and binder will follow suit together with silver or black 32h hubs in whichever Hope flavour.
As for gearing, well that can rattle about in the back of my mind for now but initial thoughts are for modern sram, probably X9 for peace of mind and funtionality.
Keeping my eyes open for a suitable 110 pcd chainring in black but not sure what size would be best. Have my eyes on some nicely machined old school bmx style ones which could fit the bill so we'll see.
The brakes are still going to be the tough part having the now defunkt 22m frame mounting.
I've been on the case to Mickey @ Spooky who is hopefully going to send me some measurements for the spooky specific frame mount so that i can get one machined...so fingers crossed! but shall keep on at him for it. I know he's a busy guy especially when he's ripping the sh*t out of his Metalhead! His words not mine
Tom(S8-Tom) kindly came up trumps with a Hope C2 #1 half caliper which is going to be needed, so i shall have a better idea what's what once that arrives. Still looking for a silver version in the meantime if there's one out there. Managed to get a front C2 complete with Pro lever ready to go so i'm halfway to nowhere just about!
some googled pics of the pita Spooky mount and Hope C2 adaptor to show set up>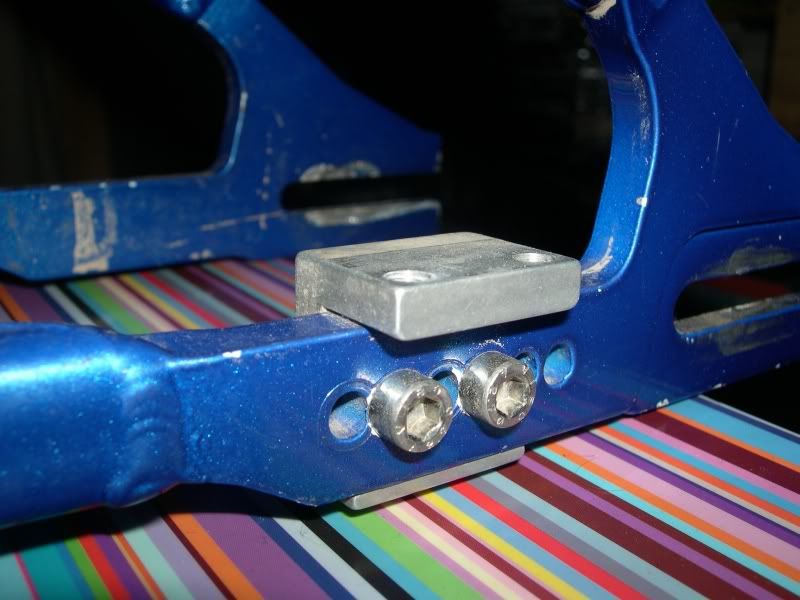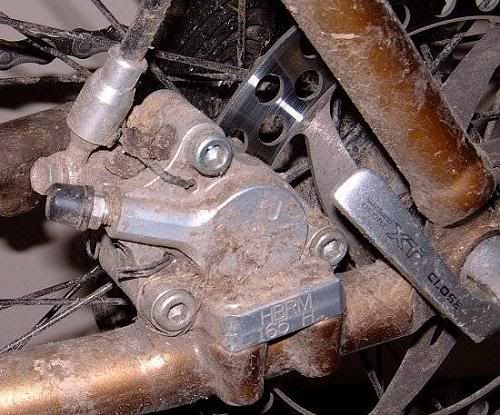 ...and so the fun goes on! updates will follow in time
Any thoughts or ideas are gratefully appreciated
Wayne