!!Warning!!
Long post - Get a cup of tea
It was nice and snowy today so I went for a ride
And popped into town to do some research on these generic Far East, Areto(?), frames
Didn't have high hopes of finding any survivors but I lucked out and found two!
Took a camera as well so I could report my finding back to this very helpful thread
And YES I'm looking primarily at welding!
I'm not saying any of the welding I've seen isn't good enough, but the integrity of the mechanical join is dictated by the quality of the welding. Too poor and you may have an area which is not properly fused, which be stress point and may crack
Too good? No such thing as too good and the better appearance is an excellent indicator of quality, like lugwork and brazing. So I defend anyones right to discuss welding!
Bonus welding geek out:
Welding robs aluminium of upto 80% of it's tensile strength and stiffness
This takes 6061-T6 down to the strength of basic 6061
The 'cure' is to heat treat the frame after fabrication, this realigns the 'grain' in the metal
That's why the Zaskar for example is heat treated after fabrication
I shouldn't think old Johnny Generic gets the same luxury
Interestingly time has the same effect...
OK enough geekery, what did I see!
Case 1, is a 'Freespirit' looks passingly similar and the joins are good but not anywhere near the GT and a million miles from the BE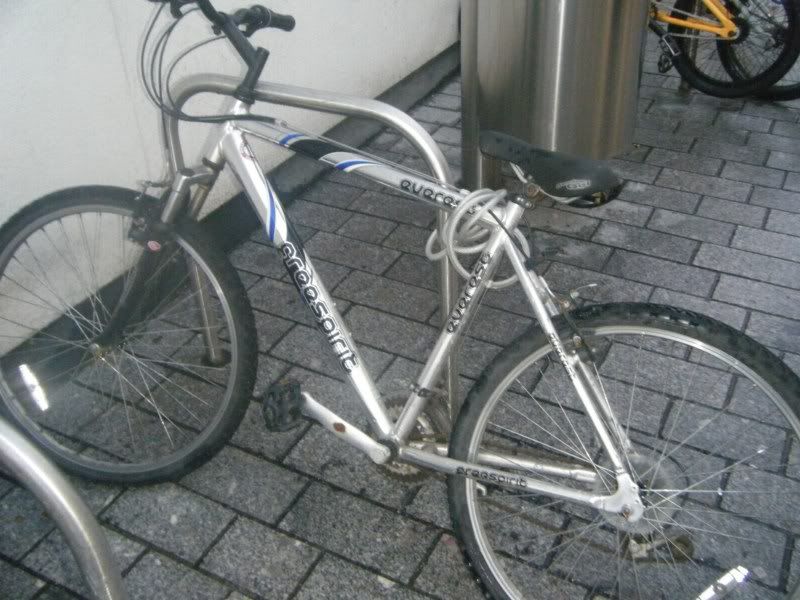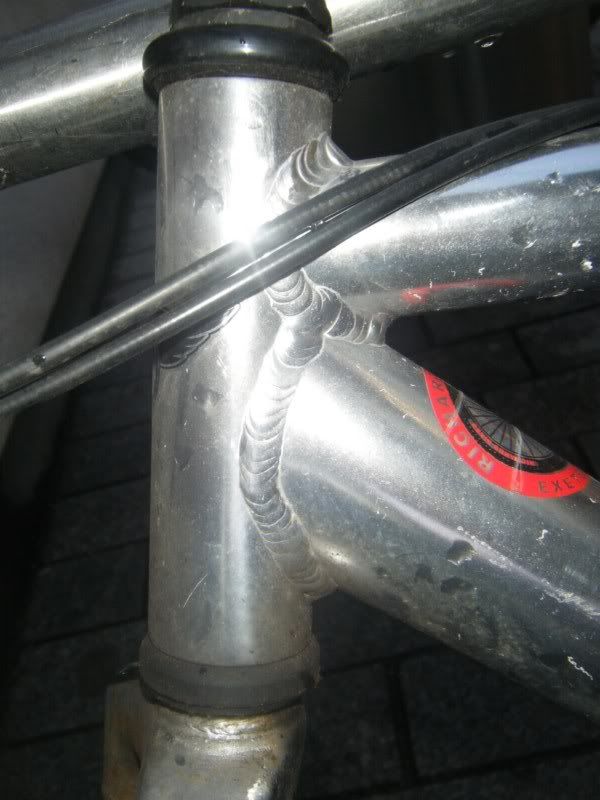 Case 2, is even better it's a Claude Butler, we've all heard of them and they are a Falcon brand
But it's the same story, similar looking frame layout, big streerer! However these joins actually feel rough to the touch!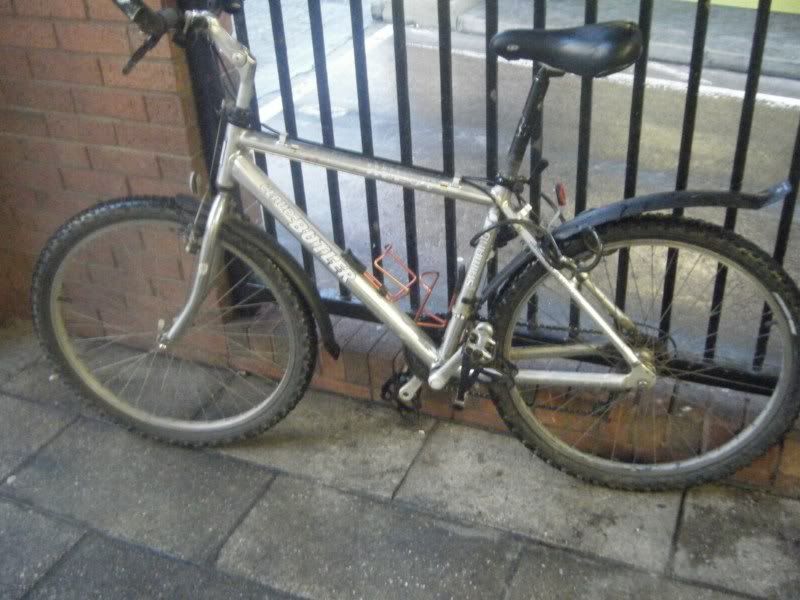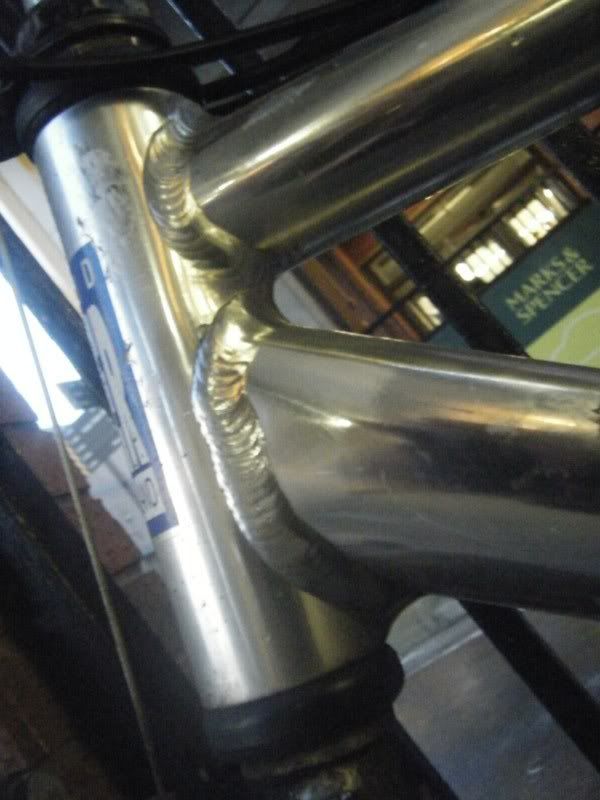 TBH I'm amazed I found two survivors in one day, as other posters have said they are obviously pretty robust
Conclusions:
So I'm of the opinion on the basis of what I have heard, found out and seen that this is not a generic frame. If i'd seen the same standard of construction on these bikes in the street today, I would have agreed that it must be generic. I'm not a mug or a day dreamer
However that isn't the case. They look as you would expect: OK, but a bit on the ropey side
Also as OldDave mentioned BE made those tourers... I found them mentioned on the web as uninteresting other people said they occupied the same market as the Dawes Galaxy series, hence sales were not amazing
Now these are from when BE made their own bikes for a period in the mid 80's to early nineties, they also made MTBs these were proper bikes - These guys were refugees from Coventry Eagle, who got bought out by Falcon
They made their bikes in Powys, Wales
I reckon that as this bikes construction is so superior to the generics, it must have been made by their UK blokes
Then Falcon bough them out and they were just another brand for Falcon to peddle their wares through (pun intended)
- Falcon's flagship brand is Claude Butler and this frame is clearer massively higher quality than that CB
- And it was old school XT throughout
- Just for a final punt to put it beyond reasonable doubt check the cable bosses out:
BE:
Others: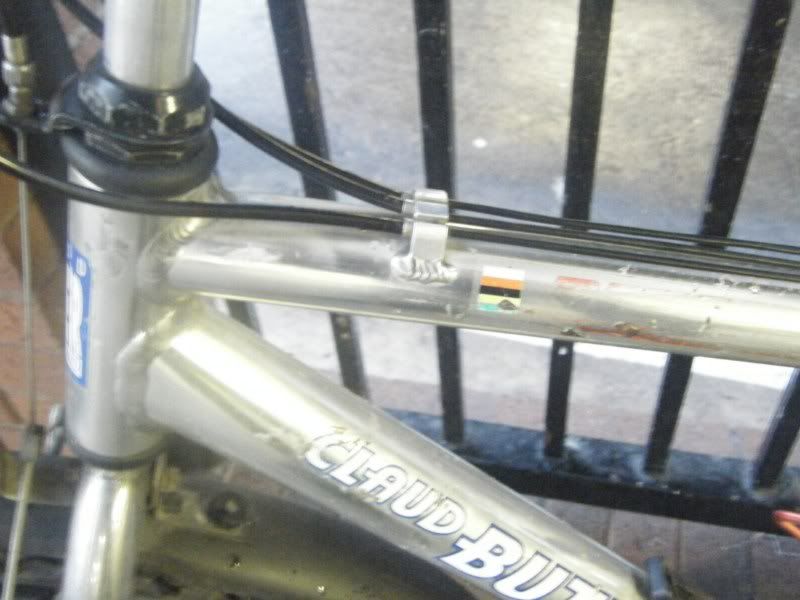 Totally different join, they did the whole bike with the same type of rod
Like I said it's obvious the BE frame I have is not quickly produced it would take considerably longer and greater skill to weld that carefully and different rod has been used in different places