Route Map
Dark red line marks the way.....
Nothing technical, mix of undulating LR track, footpath and some tarmac. Small amout of walking 1 mile (?) if boggy. Still need to check N end of L Etive and boat availability (no scheduled ferry, but there are boat operators based there). Exposed to weather, especially on final leg plus a couple of river crossings
Around the 75 mile mark in total as shown.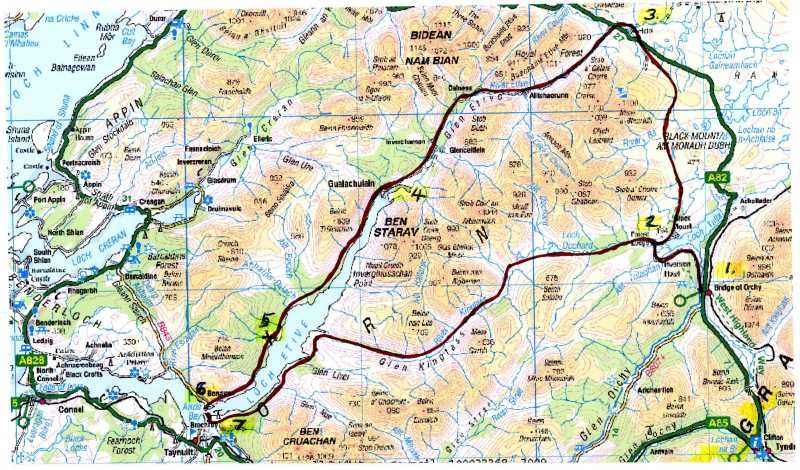 1 - start/finish Bridge of Orchy. Hotel, bunkhouse, basic free camping all within 50metres of each other. Could stay over before/after trip if you want. Approx 4/5 miles on single track road to..........
2 - Victoria Bridge, Blackmount Estate. Join part of WHW track, 12 miles to........
3 - Kingshouse Hotel, Glencoe. Good beer and food. Then approx 15miles along another singletrack road, tarmac, to........
4 - road end at top of Loch Etive. 12 miles along footpath/Landrover track to.......
5 - Cadderlie Bothy
Stop.
Then approx 3/4 miles to.......
6 - Bonawe Quarry. Get boat (TBA) to ....
7 - Taynuilt Pier. Cycle LR track/footpath to Armaddy, through Glen Kinglass and back to BofO - approx 30miles
R&R
.....That's the plan anyway
"Glen Orchy" OS map, sheet 50 shows most of route. Gln Etive "road" section on Ben Nevis sheet 41.
There are bad weather/shorter alternatives, but difficult to combine this with the bothy. Wildish camping permitted near both BofO and Kingshouse Hotels if that helps.......
Over to youse rabble........
_________________
WANTED: Kona Sex One rear brake canti hanger pivot thingy - GOT ONE!
I could be tempted by a 19" - 21" Dave Yates (mountain) frame.................and no I still don't do trail centres
http://www.corrieyairack.org/index2.html