I've picked up another old Genesis frame so have this for sale.
It's a Genesis High Latitude LT in large, for 650b wheels. Takes tapered forks and a 31.6mm seatpost, so no fork or dropper compatibility problems. The rear end is quick release.
Condition is good, no structural damage. I've had it built as a commuter/winter XC bike for a while, but it's not been hammered. Cosmetically it's good for it's age, as I had most of it stealthily wrapped in black tape.
The tyre clearance out back is really generous, it takes a (true) 2.35" tyre with plenty of mud clearance. I was even running a 2.6 Nobby Nic for a while, but mud clearance wasn't great. You can even fit a 2" 29er wheel in there, which is how I've been running it for easy XC riding. See pics for clearance.
It also comes with:
-> The original headset (unbranded, but decent sealed bearings)
-> Seatpost and seat (stock Genesis stuff again)
-> Genesis 80mm stem and some wide bars I have laying around from a Pinnacle Ramin
-> Crud catcher style mudguard
Forks...
I can potentially do with with the good condition Salsa Cromoto forks pictured for an extra £50. They're 445mm long, so give it nice snappy handling, or are the perfect length to maintain the original geometry if you want to run 650b rear and 29er front.
Looking for
£120Wheels...
I may also have the wheels pictured available, which I could do for another £70. Shimano Deore rear hub, Formula 15mm front with a conversion kit to bring it to QR. Alex MD25 tubeless rims, 25mm internal width, with Vittoria Barro race 2.0x29" tyres set up tubeless. Bearings recently serviced and rims straight and undamaged. Freehub has a little play though.
So that'd be £240 for most of a bike.
Note: the pictures below don't show the exact parts for sale, they're just the best I have for now.
I'd much prefer collection, but postage can be discussed
Thanks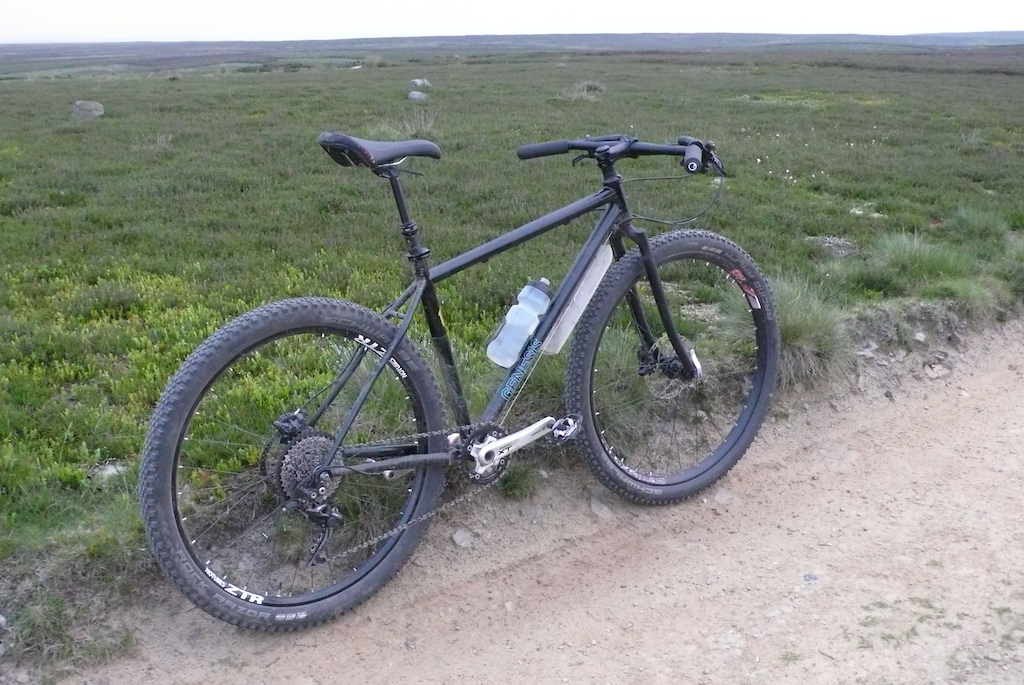 29er tyre clearance: