Well I got the bike all fixed and managed to see the end of the session out. A new XT chain and cassette (11-32 so I can get up the hills again) and a new 105 rear mech all from CRC at a great price.
Todmorden-War of the Roses was the last race and it was a cracker of a cause. A very cold start to the day with frost and ice on the ground, but the sun was shining and after a getting very cold in the queue to sign on I went for a ride around the track to see what all the fuss was about and to warm up. The infamous cobles are ridiculously hard to ride up I managed about 5 meter on the bike before dismounting and slipping and sliding up the rest of the way on foot and then the fun part, a fast decent through the wood with some very nice technical sections, some switch backs and a small but steep set of steps. Then to the bottom of the woods and the mud and lots of it, not as bad as some years but plenty of that thick claggy leg zapping stuff. The start/finish line was thick with it and I picked up my bike and ran through that section. A tuff cause with not rest points but very satisfying to get around a few times, I was doing OK until the last lap, a blowout 1/3 of the way round saw me finish the rest of the lap and to finish the race on foot carrying the bike.
So my first foray into cyclocross has been great fun and I really would recommend it to any one, kids and all. Yes you have to be bloody fit if you want to compete but you don't if you just want to have a go for a bit of fun. There are not many sports out there you can just turn up at and race against some of the UK`s best, go on give it a go. Now in training for the summer session that I think starts sometime in May and I will be dragging my 2 girl's along with me.
View into the wood`s
The start/ finish line after the race.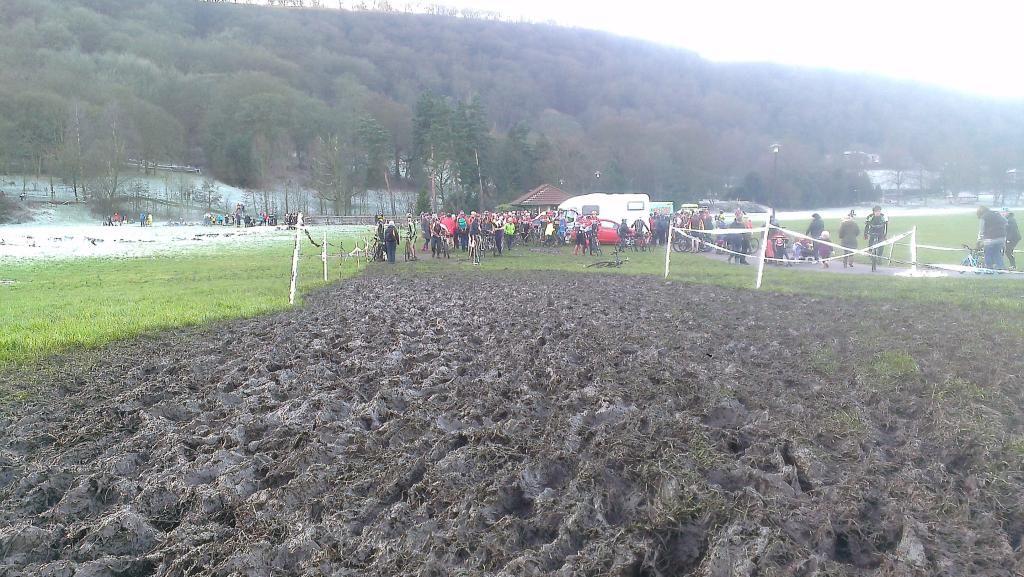 More bloody bike cleaning to do. I do like the Merida, its has been a great bike to race on and for 20/30 mile rides out that I would normally do on the MTB. If your looking for a cross bike they are worth having a look at.
See you in May for the start of the summer session.
B.