So after taking a few measurements I now know what I am looking for. The picture shows the bosses I currently have.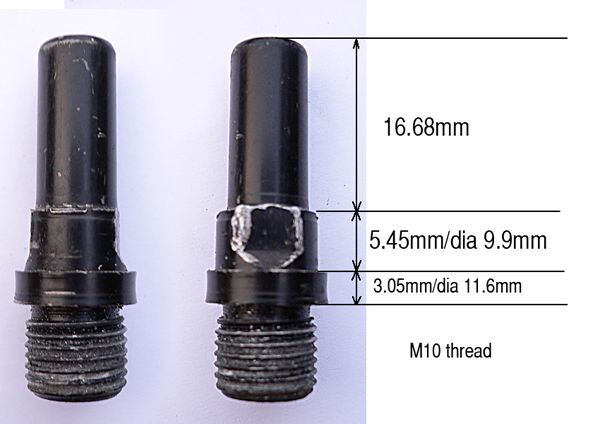 From the measurements its clear I have more than 1 problem.
1. the shoulder that goes into the Pace clamp is 3.05mm but the recess in the clamp only measures 1.7mm - thats why it sits proud and not flush.
2 The shoulder used to tighten the boss up measures 5.45mm but the recess in the V brake is only 4.3mm.
3 All this adds up to a 2.5mm gap between the brake and the the boss clamp as in my earlier picture.
The long shot of all this is that I need a brake boss that measures in the region of 4.3 from the top of the tightening shoulder to the second shoulder and then that shoulder to be 1.7mm to recess into the clamp. This would also mean that the plain shaft part would also have to be longer than its current 16.58mm. The M739 measures in the region of 25mm thick so I need the plane shaft to be about 20mm this would give a correct distance of 24.3mm from the end of the boss to flush with the clamp.
If anyone has a set of bosses they think will do the job I would much appreciate it if they could tell me where they are from - if they know so I can use that as a starting point to try and get some.
Sorry this seems to have become rather long winded for what seams like a simple component, god knows what will happen with the rest of the bike when I get round to it
Thanks in advance