I got this off ebay last week, its a bit rusty & pitted on the gold plating, and the suede saddle needs a refurb, but the bike has not had much use and everything is all original.
This is number 72 of 100, of a ltd edition model in 1987, to celebrate raleighs 100yr centenary. They were not available for public sale, apparently 1 was sent to each raleigh dealer for display purposes.
I'm a huge raleigh fan, having grown up with them, and have had a kelloggs pro tour from new in 1988. This is the 4th raleigh road bike in my collection (kelloggs, eclipse, competion), and i have a retro raleigh MTB aswell. So i just had to buy this when i saw it. Its my favourite frame size (23.5") which is also handy!
I've weighed it and its 9.9kg.
The seller said he's had it 10yrs and never touched it.
The 'raleigh', 'centenary' and 'ltd edition' decals are all damaged. I rang H Lloyd cycles and he doesnt stock them. The font looks the same as the late 80's raleigh record sprint (red/gold livery) decals, but they are long since sold out and he says the font is difficult to reproduce. I know a local signwriter who could do it, and he could apply some gold mirror vinyl to the worst area of the frame to cover the rust/pitting - would this be sacrilege? It could easily be removed later?).
I could look into getting it replated but if i did, then i wouldnt dare use the bike! As it is now its presentable but patina'd, and i will soon have it alot tidier, and i dont mind riding it (only in the dry and away from traffic).
I'll polish up the 105 groupset (which is all still intact and in good running order), sort the saddle, fit new cables, and get the BB and headset greased shortly. The original brown bar tapes are not loose, but there are a few small chunks out of them. Is it a bad idea to replace these with the bike being rare? If i do replace them, are there any nicely gel padded brown leather tapes on the market? I suffer bad from RSI in both hands so old-school bar tapes cause me alot of grief (and can spoil my enjoyment).
In the photo's its wearing my spare wheels, because the original weinmanns are in the LBS getting the hubs greased and rims trued, and i'm waiting for a pair of michelin classic tyres (700x20, as per the originals) in the post. And I've got a new 13-24 freewheel & gold KMC chain ready to go on.
It does ride beatifully well, silky smooth and silent, and it didnt take long for me to set up the gears and brakes which all work perfect. Not bad considering its been un-used for over a decade. I think an idiotic previous owner had left it in a damp shed or garage with no protection, hence the frame corrosion, and the scuffs on the bar tapes and saddle etc.
I rode past a herd of modern cyclists earlier on, they were all gawping at my golden bike, much more enthusiastically than when i see them on my other bikes lol!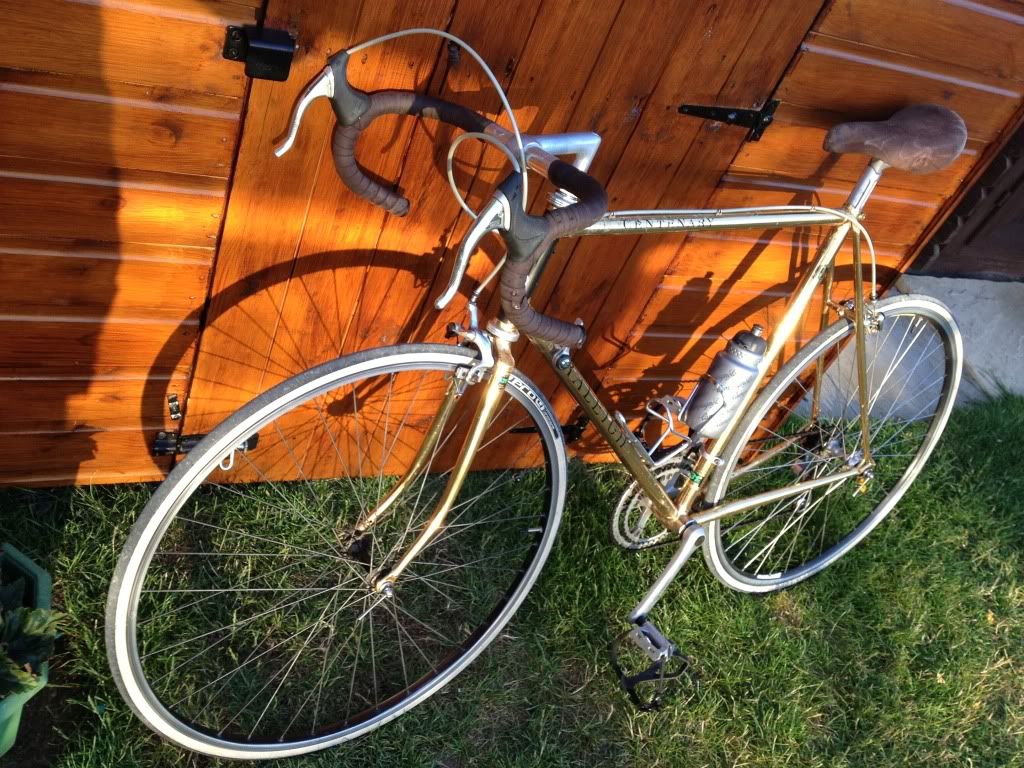 _________________
88 Raleigh Kelloggs Pro Tour (Reynolds 501) - owned from new
90 Raleigh Eclipse (Reynolds 501)
82 Raleigh Competition (Reynolds 531) SOLD
87 Raleigh Centenary (Ltd Edition no. 72 of 100, with gold plated Reynolds 531C frame)
88 Raleigh Esprit (owned from new)
90's Raleigh Ascender MTB (owned from new)