RetroRonde 2013 – Three Go Wild in Belgium
Having survived/endured the Ronde von Vlaanderen sportive at the end of March 2013 (details at
viewtopic.php?f=5&t=250627
but basically an unfit and ill prepared Edwards takes on a tough physical challenge without food or liquid in sub zero temperaures), I was really looking forward to the 7th edition of the RetroRonde – at the end of May it would be all sunkissed limbs, old bikes and bonhomie, surely.
Having ridden and enjoyed l'eroica in 2010 and 2012 (and with another visit scheduled in 2013), I'd looked around for similar events. The RetroRonde in Belguim had appealed but at 70km it sounded like a long way to go for a few hours riding. However in 2013 a 100km version was introduced to sit alongside the 40 and 70km options and when another couple of people expressed interest it was on. Typically, I planned to ride a bike that I'd never thrown a leg across, much less shaken down, and one with a resolutely stuck stem to boot. Oh, and lace up shoes that had never been introduced to a pedal, by me at least. Much, much less typical was sorting out the bike's mechanics a week before departure, including greasing and adjusting the rear hub, fitting a freewheel appropriate for both the Belgian
bergs
and an middle aged legs carrying an overweight body but also (and I still can't believe I did this) ensuring that I could engage the lowest gear. On the stand the gears snicked sweetly and the saddle was billiard table flat with it's height measured to the mm from a favoured bike. Despite fresh cables, the single pivot calipers were still hopeless though, even on the stand, which didn't bode well for arresting the awesome speed of 200lbs of prime Herefordian beef. Still, it was looking good.
After meeting up with Fraser, we crossed the Channel and drove across northern France into Belgium and increasingly heavy rain. It was also decidedly chilly. My dreams of sun dappled Belgian lanes were already looking like the fantasies of a deranged fool. We arrived in Kluisbergen to find the campsite waterlogged but, learning from the previous visit, I'd booked us a compact wooden hikers cabin so at least we were in the dry. Melvin was already there, tucking into a beer, so paused only to unload the bikes before heading out to look for food. We were initially thwarted when we asked at the campsite bar-restaurant whether they served food – they had penne, linguine, spaghetti and fusilli but, suspiciously, all had the same sauce. I was worried that it would appear churlish to decline but when we did the owner looked pretty relieved so obviously we had chosen wisely.
Up the hill we headed to downtown Kluisbergen, sure to find somewhere to eat on a Friday night in May. The rain fell steadily. Actually, that isn't accurate as even the rain in Belgium does intervals and it was a metronomic 20 minutes on, 10 minutes off. By now wet and hungry, the first restaurant looked a god option until we noticed that the diners were all wearing either jacket and tie or a gown – in a Retrobike Windtex jacket I felt slightly underdressed. We moved on to a second hostelry which looked more promising – no one was wearing a tie (although that may have been because there were no customers). I had no idea what to order but thought that the
plat du jour
looked good as I fancied some bread. What turned up was a delicious seafood skewer. Emboldened I ordered a sturdy beer with a name that I didn't even dare pronounce. It was as tasty as it was nourishing, meaning that the stroll downhill to the campsite (it was raining heavily, obviously) wasn't too taxing.
Having slept well – Mel and Fraser were both polite enough to blame their disrupted sleep on a noisy refridgerator rather than my snoring – we considered the plan for the day. Fraser and I had entered the city centre
kermesse
that evening so we decided that it would make sense to loosen the legs and give the bikes a shake down before heading into town to register and visit the RetroRonde fleamarket. Obviously we used all our experience in opting for a gentle spin and headed straight for the Koppenberg. On the bike path we made an arresting sight on our old bikes – Fraser, the veteran racer with his climbers build, Mel giving it all Dutch in baggy shorts and Converse and me as the middle aged rider run to seed, less a has been than a never was. I'm not sure that was the catalyst for the response we got from the hard eyed Belgian coming in the opposite direction – was that a sardonic smile or a sneer playing on his cruel lips? I didn't really matter though as I felt thoroughly chastened, something that wasn't lifted by the sight of the mighty Koppenberg, cobbles glistening wetly in the weak sun.
Having seen off the Koppenberg (briefly descending into honesty, none of us without a foot down, although Fraser and Mel both has wildly inappropriate gearing to blame while I had no convincing explanation) we set off to look for Oude Kwaremont. On my two previous visits to Flanders I've found myself easily disorientated and this time was no different despite having a GPS with us – somehow we ended up descending Oude Kwaremont rather than climbing it (Mel commented "the road surface is quite poor") which at least confirmed that my stuck stem wasn't about to unstick anytime soon. Having covered just shy of 50km, it was time to relax before the early evening crit, but not before we passed by the ominously named Rampe that would feature the next day. Rampe isn't part of De Ronde but, as it's name implies, it is spitefully steep and, looking down it, I had a premonition of reaching halfway up it and toppling sideways, feet strapped in and legs flailing as usefully as the gills on an out-of-water guppy.
The fleamarket was excellent and very reasonably priced – Mel picked up a sweet Nuovo Record equipped Vittorio Strada for a song – but it was really all about the
kermesse
. Fraser and I were in different 40 strong heats so warmed up with a few easy laps. Helmets were essential for insurance purposes but I was a bit concerned that my polystyrene Giro tipped over my eyes whenever I hit a bump although as the 600m circuit was cobbled with quite a few drains and kerbs that didn't seem to be too much of a problem. We also met up with Paolo with his beautiful red Sannini.
On the start line of Heat 1, Fraser was interviewed – "are you in it to win or just take part?" The reply, "I'm just here to ride round", wasn't fully convincing and as the old motorcycles lead round the first of the two neutralised laps, Fraser was handily placed in 5th. As the motorbikes peeled off, the pace went up and the riders spread out in a long line, Fraser holding his position lap after lap – could he finish in the top 5 and qualify for the final? The front three were well clear but, gradually, Fraser reeled them in, coming home comfortably in 3rd. All I had to do was see off a few old tubby blokes and join him in the final.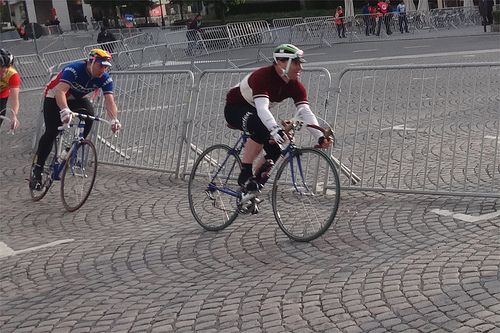 Standing on the start line I experienced what the sports psychologists describe as a 'moment of self-actualisation' – here I was, about to race a
kermesse
in a town square across cobbles while wearing a Brooklyn jersey and riding a Gios Super Record – I was Belgian. And then I was dropped within the first 50m. This was particularly disappointing as the race was neutralised for the first two laps. I blame this on not being interviewed on the start line – why was I not interviewed, did I not look the part? Glancing in a shop window just before the starting gun was sobering – a large nosed man looking faintly ridiculous in tight fitting shorts and a loose fitting helmet. The same sports psychologists would surely agree that self-awareness is an important quality but possibly not at the start line – existentialist anguish weighed heavily on my drooping shoulders and I produced a performance that, even by my low standards, was wanting. Still, at least that allowed me to watch the other categories with a beer in hand and cheer on Fraser to a superb 6th in the final. After so much robust exercise, Belgian Sport Food (AKA frites with mayonnaise) was essential.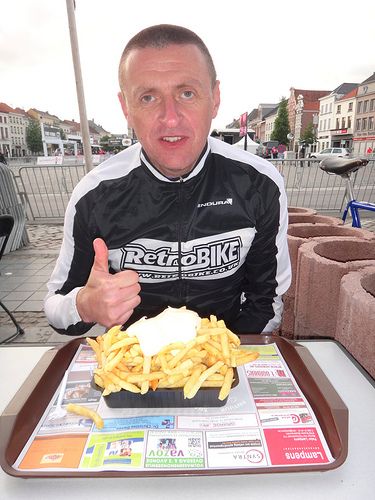 Somehow during the evening we'd acquired two Dutch chaps so we retired to the wooden hikers cabin to do what men of a certain age do when away from the family for the weekend – drink beer and talk rubbish. Now, I've always been quietly proud of my thirst but these Dutch chaps were putting it away like there was no tomorrow, indeed at one stage it looked like there wouldn't be. But no, we were professional, and quit before midnight – there was the small matter of the RetroRonde to knock off the next day.
The night bought furious rain and Sunday dawned grey and drizzly which didn't bode well at all. Rainjackets and armwarmers on, we headed to the start. At this point I suppose I had better describe what we were riding:
- Fraser – Gios Aerodynamic with a strange low gearing choice of 42x20
- Mel – too small Vittorio Strada with 70mm Cinelli stem and 50/48 time trial chainset (thankfully he'd taken my advice – I was asked "do you think a 48x19 bottom gear is low enough – and fitted a 28t)
- Me – 64cm Gios Super Record with stuck, too high stem. Even so, I did think it a pretty bike until someone at the start said "Fons de Wolf won a big race on a big, ugly bike like yours"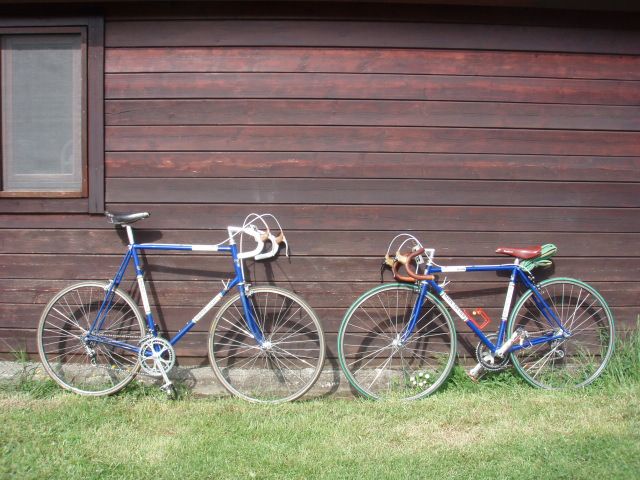 As we climbed onto the stage to sign on the weather lifted enough to remove rain jackets and the sight of 400 plus old bikes and colourful woollen jerseys at the start definitely lifted the spirits. With plumes of exhaust fumes, a fleet of old cars and motorbikes lead us on a procession through Oudenaarde and then we were off, heading into the Flandrian fields. The sight of riders snaking through the countryside, bright colours against the dank skies was inspiring – this really was what it was about!
All too soon we were arriving at the first of the five food stops. A jolly farmer in period dress handed me a punnet of wild strawberries (a less accomplished writer would contrive an Ingmar Bergman reference at this point but not me, oh no) and I was encouraged to take some squares of milk chocolate while an only slightly irritating accordion player provided musical accompaniment. All too soon we were off again, me plodding along in 52x17, Fraser cheerily spinning away in 42x20 (Mel had got delayed queueing for strawberries but with his Dutch compatriots would surely rejoin us soon).
The course was impressively planned – some gravel roads, a few flattish cobbled sections, even a dirt road or two. Fraser and I chatted as we rode, including a primer in road racing etiquette with Fraser explaining that an errant rider ahead could be moved out of the way by a tap on the bottom which he then demonstrated. I'm not accustomed to being touched on the bottom while wearing lycra, at least not in public - "I would do anything for love but I won't do that" – so vowed to preempt by dropping off slightly.
I was really enjoying myself (in no way related to the bottom incident) but I was wary that the named cobbled climbs - Taaienberg, Oude Kwaremont, Rampe – came at the tail end of the ride, with the route card also indicating some road climbs so no room for complacency. We continued on, surrounded by superb bikes and riders having a thoroughly jolly time. What I couldn't understand was that we were riding a brisk enough pace but the kilometres were clicking off desperately slowly – I swear I have never ridden so fast but proceeded so slowly in all my life. Predictably, by the third food stop I was weary and we were less than half way in. Everyone else looked fresh and focused but I needed a pick-me-up which arrived in some coarse bread and local pate but, more importantly, in a slug of jenever (ok, two slugs). Mel hadn't rejoined us yet but it was only a matter of time so we pressed on.
Riding alongside the river, a trio of Germans passed us at speed (we knew they were German as the numbers we were wearing helpfully had little flags. Plus one of them was wearing, strangely, a Union Jack skateboard helmet). Without pausing to think, we jumped on the back of a German train (health warning – do not Google this phrase with the safety filters off). Working together, we battered merrily along until we hit a long section of cobbles – the Germans dived into the dirty gutter (Google search warning), Fraser crested the crown of the cobbles and roared away while I skulked in the German's wake. Every so often I got out of the gutter and onto the cobbles but could only draw alongside. The break came when the gradient steepened, they reached for their shifters and I moved smoothly clear to rejoin Fraser; the selection had happened and we were away free.
However not so free as the section before the next stop included Oude Kwaremont and Rampe. The former wasn't too bad – certainly better going up than down – but entering a downhill, juddery section, I realised that Rampe was around a tight corner meaning the little beast would be tackled from an almost standing start. The premonition flashed again into my mind – would I topple? - but I was determined, even more so by the top of the climb being crowded by baying bearded hipsters. I could not, would not fail so, perched on the tip of my saddle like an underpowered chubby budgie, I lurched, just, to the top.
The food stop was welcome, as were the two fellows playing a rather fine rendition of 'Moondance'. It was temping to eat some more delicious rice pudding, relax on the hay bales, and have a snooze but we had a retro-sportive to complete. The first climb out of the stop was Kuithol and although Fraser rode ahead I was only a matter of metres behind when I felt cramp grip my left thigh. This was strange – it wasn't a hot day, I was well hydrated and in any case didn't usually suffer from cramp. I eased off (hard to credit given my stately progress) and reflected on Meatloaf's ever sage advice "you can lose yourself in pleasure, 'til your body's going numb, but will it never be enough." Whacking my thigh with my fist seemed to make the spasms go away and I rejoined Fraser with the only pause caused by being driven off the road into a ditch by a large tractor driven by two prepubescent Belgian boys. My language was suitably Anglo Saxon and ill befitting a teacher, albeit one specialising in mathematics.
The final food stop was reached – still no sign of Mel and co. - and with only four climbs to go, surely it was in the bag? It was, but the road climbs were meanly steep at over 20% and I was glad that I had a 28t compared to Fraser's 20t crit gear (was that the secret of the previous night's success?). The finish was back in the main church courtyard in Oudenaarde, up on the stage for the complimentary musette and then down for the free Flandrian beer and 'retro sandwich', consumed while being entertained by live music and, oddly, some quality 20s style dancing. For some reason I didn't win the most stylish award (the prize appeared to be a single green shoe) but no worry as Mel joined us for a beer before the flat 10 mile roll back to Kluisbergen and the conclusion of the Belgian adventure (bar more random beer ordering, obviously).
The RetroRonde is a great event with clearly a lot of thought going in to the route, the food and the entertainment and at 10 euros it is stunning value. How does it compare to l'eroica? In many ways, I think I enjoyed it more although the 'only' 100km is a surprisingly challenging ride, especially considering how long it took.
Back in the UK, I cleaned the Flandrian mud off the Gios. Turning it over and scrapping away at the bottom bracket I found '66' stencilled into the azure paint – damn, it was a 66cm frame rather than a 64cm. Perhaps the chap who'd described it as a "big, ugly bike" wasn't completely accurate but let's face it, two out of three ain't bad.