Hello
New guy here, thought I'd post up about my old Cannondale.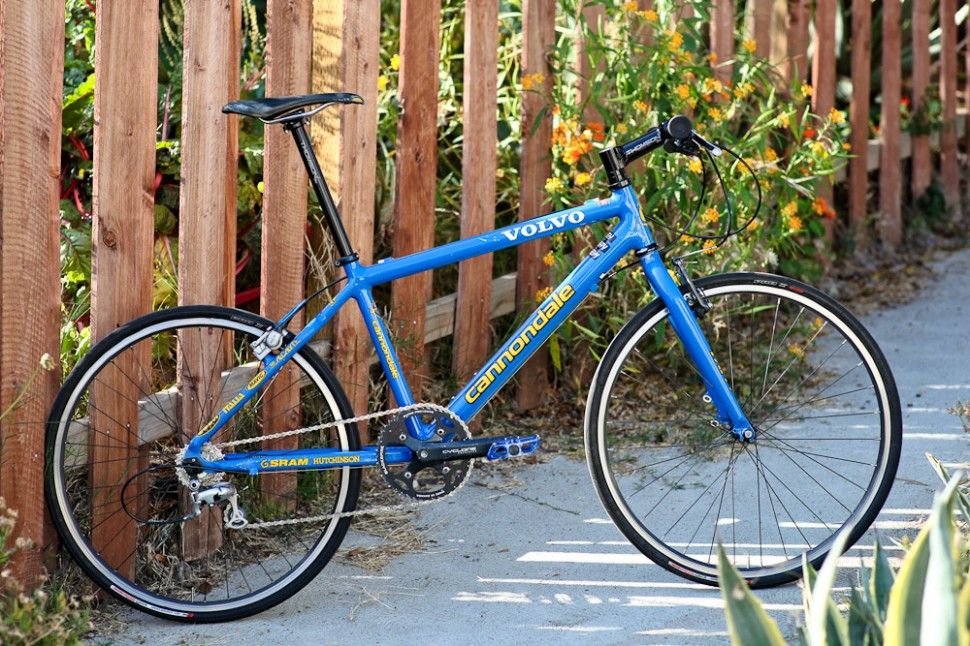 Photographs by John 'Prolly' Watson
I bought this brand new as Frame & Forks in January 2000 from Evans Cycles (Waterloo) after I snapped a chainstay on my old green GT Borrego commuter.
I'd been looking for a lightweight hardtail f+f but at that time of year most of London's shops were still stuffed with cut-price Christmas completes, so my search for a tasty bit of Kona, Orange or Pace wasn't going very well.
Came extremely close to buying a Voodoo Hoodoo, but one boozy night out in Waterloo I caught sight of this lairy blue thing sitting in a shop window. Decided to return the next day to have a proper look at it, and to my surprise saw that it was reduced from £699 to £450. Nobody in the shop knew much about it, a few assistants argued over whether it was a Trials frame or a 'Trails' frame(?!) and the shop mechanic just grunted at me when I asked what size BB I should buy to go with it.
It looked roughly the right size for me anyway, there was nothing anywhere near as exciting elsewhere and I needed to get back on two wheels, so I bought it and took it to a much friendlier shop near my work (the now-defunct BikePark in Covent Garden) to get it sized up for a nice XT BB and suitable chainset - I intended to run it as a 1x9 on slicks from day one as I'd never used the two inner rings on my old GT. The genius Aussie (ex-Cannondale Team) mechanic there specced the Cyclone chainset that's still on it - the Blackspire 46T ring sits in the middle ring position, something that wasn't possible with Shimano chainsets at the time. I didn't have the dosh for Race Face or Middleburn!
Anyway, I stripped the old GT of its components and transferred what I could to the Cannondale, though the seatposts were different diameters so I treated it to a Thomson Elite 27.2x410mm.
I rode it for a winter (with that bling frame wrapped in old inner-tubes after being chased through King's Cross by armed scrotes shouting
"He's got a f***ing CANNONDALE!"
one night) and then the upgrade process slowly began.
I found that the seatstays flexed outwards a bit under heavy braking, so I looked at buying a nice CF brake booster for the old V-brake on there, but was talked into slinging an HS33 on the back instead. Loved it, a proper fit-and-forget item. Didn't buy a front one as the forks just didn't need it.
Then, riding home from work one night some silly sod stepped out onto the road at the far side of a junction. It was rush hour and I was at the front of a group of 5 or 6 cyclists, really going some. Braked, stopped in time to avoid the pedestrian, but the two guys directly behind me didn't.
My rear wheel folded, derailleur was torn clean off, and a bruise formed immediately on my forehead. Brilliant.
Back to BikePark (who were open late, and about 400m away) to assess the damage. I left the shop on foot, with a severely damaged wallet having agreed to buy a pair of handbuilt Mavic X517 CDs on M570 LX hubs, an LX rear mech, new cassette & chain, and an LX front V-brake to finish it off. Oh, and a new derailleur hanger!
After collecting it from the shop with all the new bits installed, I decided it was time to take off the old inner-tubes and let that paint job see the light of day.
The bike stayed like that for a while, and then inevitably my rain-soaked 20-mile-a-day commutes killed the rear hub. I had Merlin build me up a 36h X618 CD on a black Hope XC hub, and that rear wheel is still on the bike today. Bombproof.
I later had Condor Cycles build a 32h X618CD onto my front LX hub once the old X517 had reached the end of its life.
As bits broke, I bought nicer bits as replacements - an old Deore DX shifter was replaced with an M952 XTR, the old Turbo saddle with a Selle Italia SLR Trans-Am, bars & stem upgraded, etc.
Rear mech is now an RD-6500 Ultegra, and cassette is 6500 Ultegra 12-23T 9spd.
The bike has been run on 1" folding slicks of various types (my favourites being the now-unavailable Hutchinson Top Slick Gold) as it's always been a street bike, but I have on occasion stuck knobblies on there and ridden it off-road. It's not very good off-road!
Only in the past year has this bike been relieved of its daily duty - I built a modest road bike from a 2007 LeMond frame a mate had lying around.
Enough of my yakkin' though, here are the rest of John's great pictures. Hope you like the bike!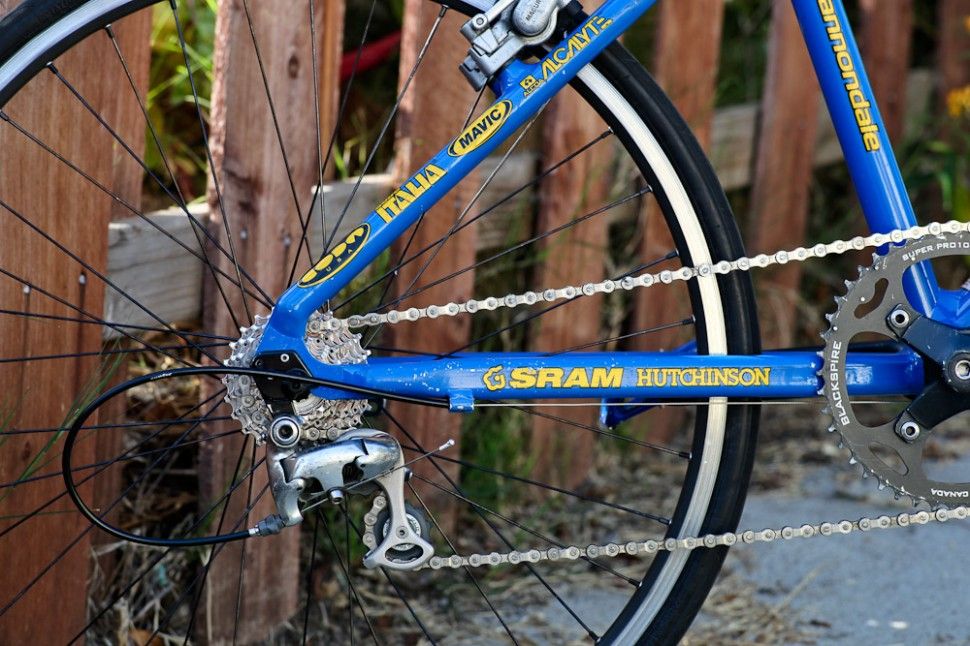 Cheers
Neil