1999 FSR Elite Max Backbone
Bought as per this thread.
http://www.retrobike.co.uk/forum/viewtopic.php?t=210996
Frame was on eBay as spares/repairs as the main pivot point had a lot of play.
The frame was delivered last Thursday.
The main pivot point did indeed have a lot of play, simply because the bolts holding the chain stays on, WERE SLACK!?!?!
I tightend them up, and not it has no more play,
Approx 1 hour later i had transferred a fair amount of gear from my 1998 FSR comp, onto its new home
It needed a few parts to finish off, chain/cables and a new headset, these were bought and fitted the following night after work.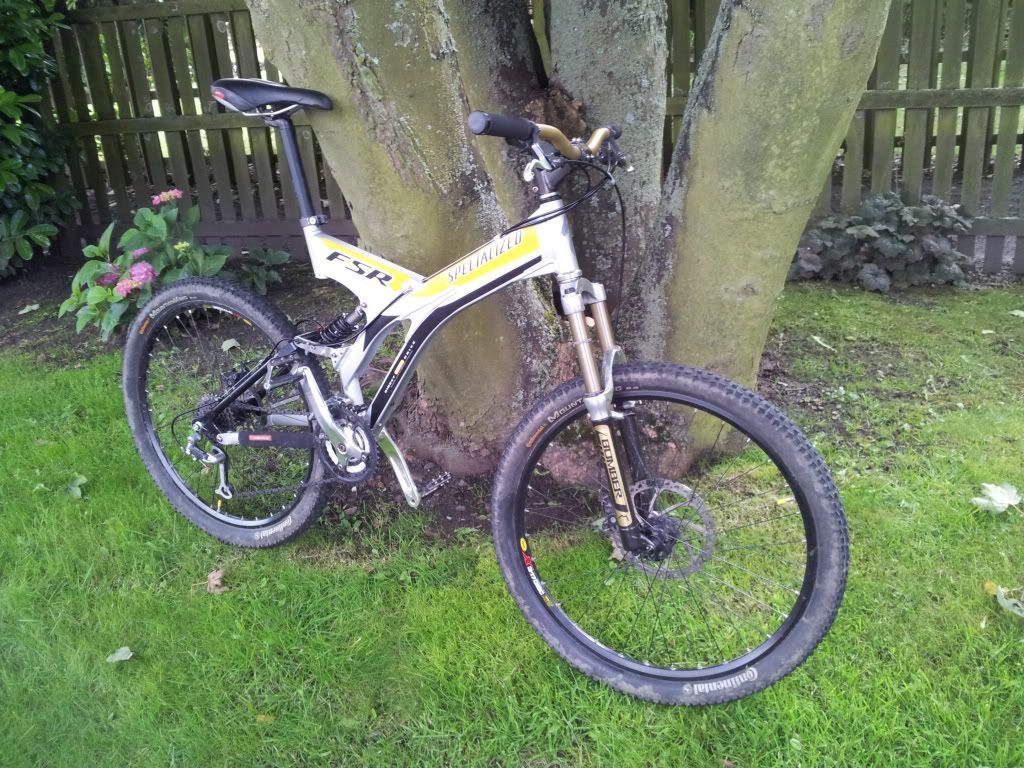 Initial test ride was supposed to be a quick blast around the block to make sure everything was ok, i checked the bike out and the rear end has no play that i can tell, infact it feels tighter than the 98 FSR Comp its replacing, the back end suspension defo feels a lot more "active" in use, it apparently has an extra inch of travel over the other bike, so the pivot points must be in a different place, whatever they did, its a total upgrade IMO.
My initial test ride around the block end up being a 25 mile offroad route i have done before as i got carried away
The following day (ie: yesterday/sat) i took it for a 32 mile road test to a local airshow, where it preformed spot on, i really love riding this bike!
Today i figured i would take it on a club MTB ride, which started out from Rothbury, up towards Simonside.
From here we did the BEST downhill rocky natural trail i have done so far on any of my bikes, around 1 mile downhill at speeds of 30mph (according to endomondo) the bike was AWESOME, it just soaked everything up, unfortuantly the brakes currently fitted are crap, they came fitted to my 98 FSR Comp and i still have not got around to swapping them for some Avid BB7`s yet, i had no confidence in them at all once i started smelling the pads burning, i loved it, brake replacement next on the list!
The ride ended with a few technical climbs/downs.
before we popped back out from some woods back into Rothbury, total ride - 23 miles.
Had the frame built up for 3 days and put nigh on 80 miles onto it! bike is great, body and legs/knees are suffering though, what an awesome machine.
Current spec
1999 FSR Elite Max Backbone
RPM Cranks
Bell chain (£4 in asda!)
Shimano XT rear mech
Shimano XT shifters/brake levers
Shimano LX front mech
Gold anodised handle bars
Outland Stem
Skyway lock on grips
Marzocchi Z1 Drop Off forks (130mm travel)
Tektro IO disc callipers (horrible) 203f - 160r
Onza rear disc adaper (sharkfin was missing from frame
)
Mavic 317 rims, black butted spokes, Formula hubs
10mm bolt on rear axle conversion
Outland seat post
D2 saddle
X-Fusion Glyde rear shock
Superstar Uno headset
Outland flat pedals
K2 seat post clamp