I've had this frameset in my garage for years.
It was one of three built in the late 80's by a Cornish welder. This is the only surviving frame and It may be time to spend a bit of time on the old girl?
I've polished a small bit and it may come up quite nice.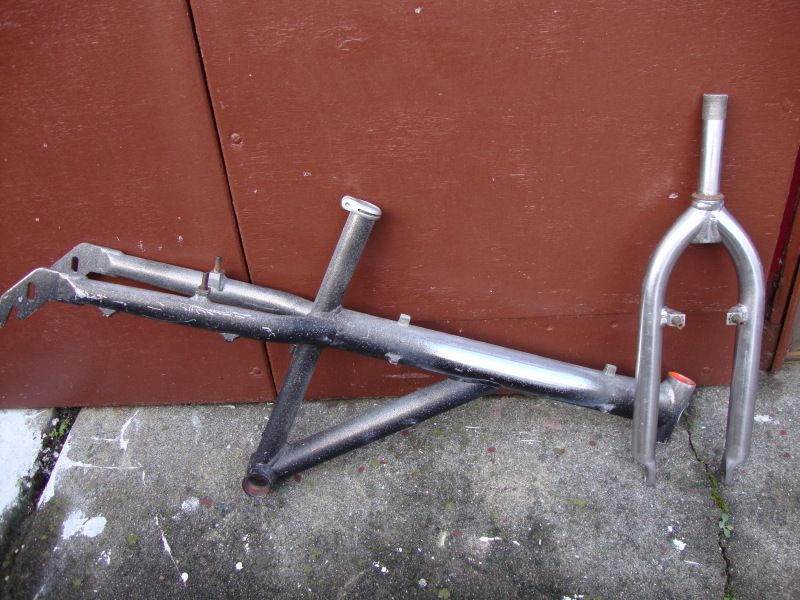 al.

_________________
Hell no! I don't actually ride a bicycle.

'91 Haro Extreme Titanium, '93 J.P Morgen, '93 KHS Montana Team FXT, '95 Pascal Blanc Explosiv, '95 Softride Contour Powercurve '93 Trek 9000, '91 Cannondale M500, '96 Barracuda Tia 'hot rod', '89 Muddy Fox Courier Comp, '99 Sunn Exact Disc, '91 Carrera Katmandu, '92 Alpinestars Cro-mega LX(Projects) '90 Fausto Coppi 'Elegent' '89 Rudge bi-frame, '95 Kawasaki KMB 450, Ferraroli California Performance, 50's Rudge 'hot rod', '85 Schwinn Cimarron, '97 Haro Escape, '93 Ridgeback 704 TX, '94 Diamondback Axis, '91 S-Bike Cromo, '93 S-Bike 808, '96 Manitou HT, '98 Santa Cruz Superlight.