Well here comes a full report from the 2012 Estonia Cycling Weekend.
I got the van delivered Tuesday evening, and took a look inside:
Bikes used are the De Rosa King for the upcoming riders on the team, and Protos for the stars ( Shumacher, Furlan and Rasmussen ) Wheels are Fast Forward from Holland ( F2R Ceramic and F4R Ceramic ) Gears: Campagnolo Super Record 11 speed.
Next morning at 5 a clock, I got in the van and went across Denmark to Sweden, 1163km to Stockholm where I got on the ferry to Tallinn, at the ferry I meet up with Team Cykelcity.se, and Trek Sweden ( the national Team )
Arrived at the hotel, next morning, where the race was starting from.
The hotel is located right to the airport, where the riders and the rest of the team where arriving.
Got the bikes ready for a training spin
Next morning, was the first race, Tallinn - Tartu GP 198km which Furlan won in 2011.
Schumacher had a good chance of getting a win, with 10km to go he had a puncture and had to fight his way back to the breakout he had been sitting in. In the end, he finished seventh and earned some UCI points.
Race two was next day at Saturday, A Criterium over 12 rounds of 15km in Tartu. It started raining when I was readying´the bikes, and it got worse when we got in the chase-car
Apparently all the riders but one, Martin Pedersen, thought that a warm bed, and the Stelvio stage was better than the dirty and wet roads of Tartu. Martin got a 18. place in the race.
Race three was on Sunday, a race where all amateur teams of Estonia was invited ( not a UCI race ) 137km.
The race started out in a hard tempo, 55 - 65 kmh a lot of riders tried to get away from the bunch, but not before there was 15km left of the race did a group of 6 riders get away. In the group was René Jørgensen from our team, and with a launch of the bike at the finish line, he won the race.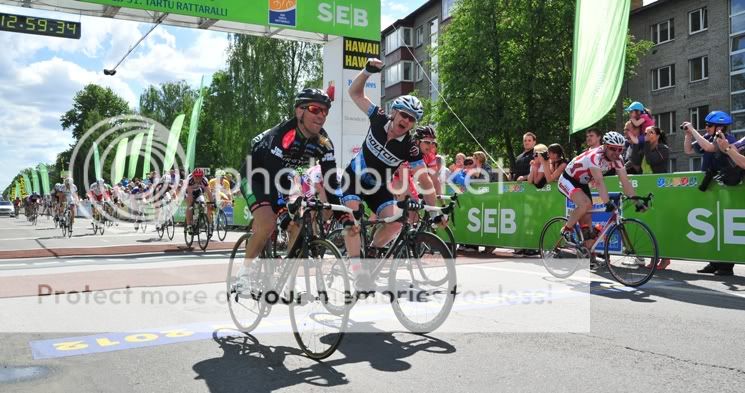 http://www.baltic-course.com/eng/baltic_news/?doc=9262
Martin Linde another rider on the team was not so lucky, he was riding behind two riders from Cofidis, when a amateur clipped one of the Cofidis riders front wheel so both went down right in front of him, he went over the handlebars, and this is the result:
Both frame and rear wheel broke, Martin got a bloody elbow and hit his head, but was otherwise fine.
A hell of a fun, hard and cool experience, that I might have a chance to try again in a couple of weeks, where the team goes to Serbia.

_________________
If You need: 27.2 quill seatpost for sale.