This is my first rebuild post and I have to admit I haven't taken as many pictures of the strip and rebuild as some do, so I hope people are happy to use their imagination! I bought this 1976 Dawes Galaxy for 45 Euros from an American girl near Toulon (I live in France) a few months ago. This photo is the one she put in the ad: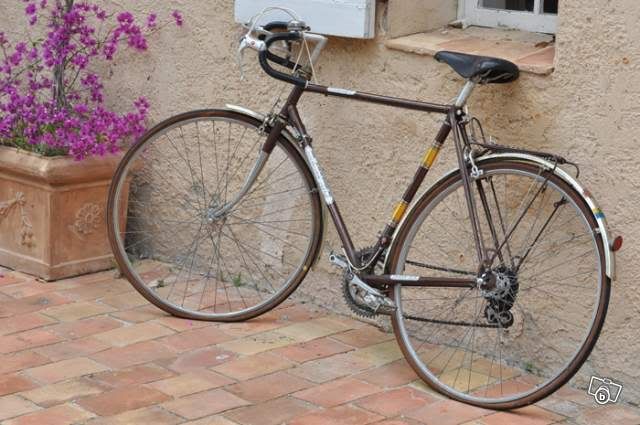 I went round to collect it a few weeks after it was first advertised and it hadn't moved since the photo was taken… Just as well it was summer and there hadn't been any rain. I cycled round Europe when I was 19 and a Dawes Galaxy was the only non-MTB on my shortlist of possible bikes to use (the other two were a Trek something or other with all the useful lugs, and an orange Clockwork, which I eventually opted for and still have). But I digress. The American girl told me her father had used his when he worked in London years ago. It was original even down to the tyres. I did some Internet research and found a 1976 Dawes catalogue, with what seems to be this model. I might be out by a couple of years but it's more or less from the mid-Seventies anyway. Anything brown and gold generally is…
I got it home and the following day I had a look at it.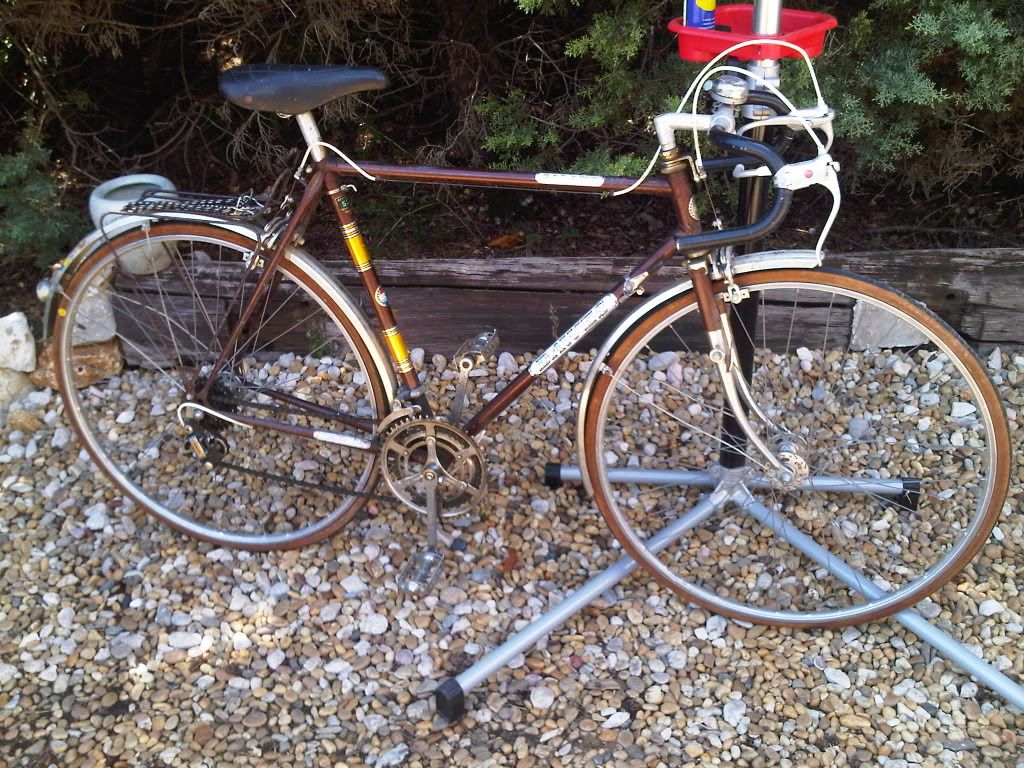 Just needed a good clean really, and the usual consumables replaced. I took it to pieces and went over everything. There was a lot of gunk all over everything, the chain went into the bin as did the brake and gear cables. And the tyres and tubes – and the day after the bin men came and took all that away I discovered that 28-622 tyres (27") aren't sold in France. Bugger. If I'd known that I'd have kept the originals just to avoid putting bare rims on the garage floor. I ordered some tyres and tubes from the UK.
I degunged the frame and it looked quite good once it wasn't caked in muck. I cleaned up the Nervar chainset and removed the bottom bracket. I was going to put it back on but I had a nice Stronglight chainset that didn't have a bike to go on, and I preferred the look of that. So I replaced the original BB with a modern one and on went the Stronglight. I think the Stronglight is late 'Eighties so my concours trophy has gone out of the window but there you are. The pedals came up quite well and I added some new Christophe toeclips and straps.
Then I cleaned up the Weinmann centre-pulls and was quite pleased with them too. I found some Weinmann levers with good condition hoods on eBay for not much money and bought them to replace the original levers that had those horizontal attachments so that you can brake without having to reach for the drops. (If anybody can tell me the correct term…). The seat was replaced with a Selle Italia but that will be replaced by something else once I've decided what to use. New cables went on and I cleaned the derailleurs and half-cleaned the wheels but then decided to put it all back together as I was looking forward to a ride. This is how it is now: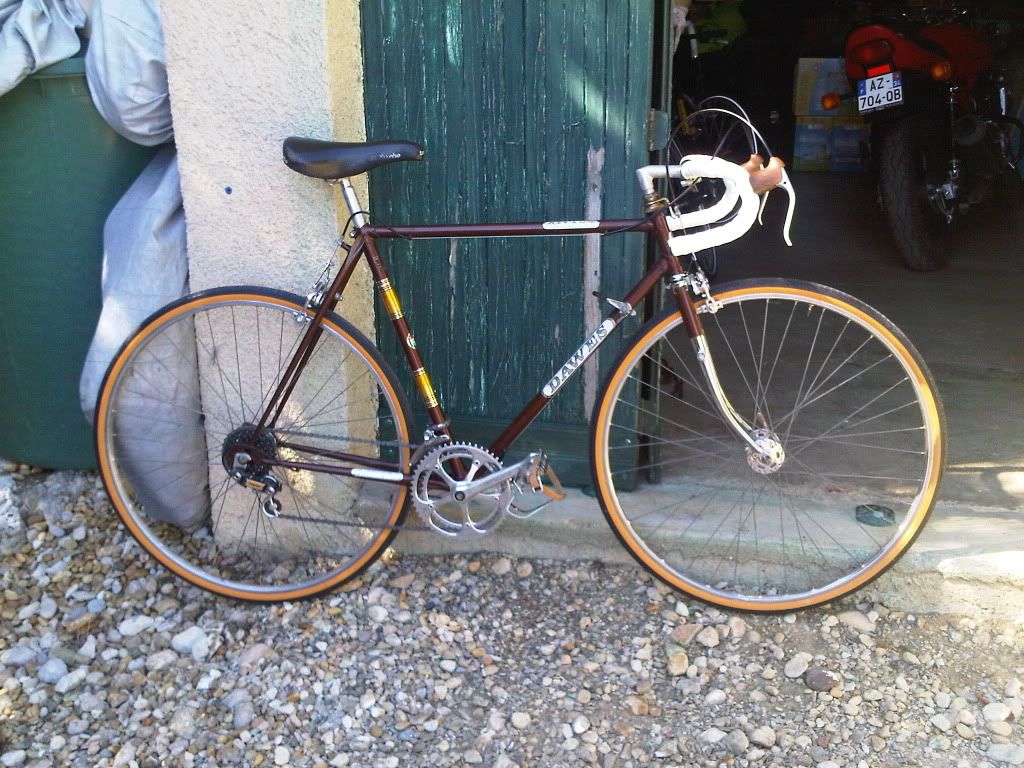 [/img]
I put white bar tape on as it's all I had knocking around but will replace it with brown or black. Might look for a Brooks to match the eventual bar tape but I'm wary of too much brown...