Here are pictures \/
Now on ebay
But also a retrobike price drop - £305 Posted
http://cgi.ebay.co.uk/ws/eBayISAPI.dll?ViewItem&item=170672883764&ssPageName=STRK:MEWAX:IT
Frame:
08 Specialized Hardrock Sport 19'' (centre to top)
Fork:
08 Rock Shox Tora 302 with lockout (fully working, great condition)
Headset:
unknown silver one, great condition
Stem:
unknown silver one, great condition
Handlebar:
Race Face Prodigy
Grips:
Be One Lock Ons (used but much life left yet)
Brakes:
Hayes HFX9's with Avid G3 Clean Sweep rotors
Shifters:
Deore XT
Front Derailleur:
Currently Acera but will be XT when the one on its way arrives in the post
Rear Derailleur:
Deore XT
Cassette:
Deore
Chain:
Red YBN chain
Cranks:
Truvativ Isoflow
Chainrings:
Alu 7075 outer. steel inners, granny ring is brand new, others are barely used.
Chainring bolts:
Shimano
Bottom Bracket:
Truvativ Powerspline (brand new)
Pedals:
Unknown Flats
Hub Skewers:
Believed to be alivio
Rims:
Specialized/Alex Rims HRD
Hubs:
Specialized (wheels from a P2 converted from bolt through to qr, 36h)
Tyres:
Conti Gravity rear(about half life left)/Hutchinson spider front (been used about 10 times)
Saddle:
Voodoo (brand new, unused)
Seatpost:
Kalin
Weight:
Approx! 30lb
red hubs. red chain which is barely used (100 miles tops). same for cassette. new rear pads and both brakes freshly bled, front has about 2/3rds pad life left. tyres have a fair bit of life as above. rear brake has half black half grey caliper
works perfectly though. hubs were converted from bolt through to qr. chainrings havent seen much use and neither have the pedals or cranks. the bottom bracket is brand new. carbon spacers and a red one. on one grips have about half life left and are very comfy.
overall the frame and parts are in generally great condition and some are new or almost new!
however some of the parts are used so will have the usual marks et al.
all built by a cycle mechanic.
cheers
cyfa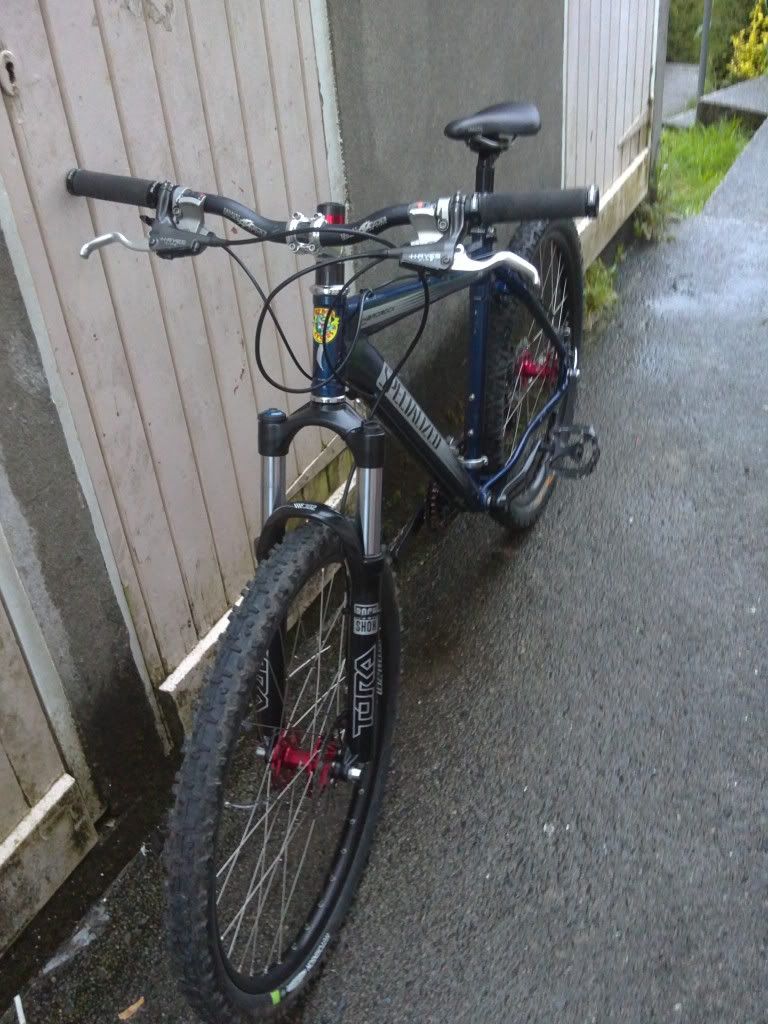 [/img][