Ed.
The Colnago-
Would be fine if it were a closer and directly from the drive side (not offset like this). The light is good in this because there's enough soft light to get a pic without flash for fill. This was probably taken with the sun behind the building or something. I also like the neutral background.
The Orange -
The lighting is very harsh (even from the waning British sun), creating some blown out parts and some shadows on the frame tubing, nice parts, etc. The picture is taken from above (no help, you're a tall guy), so you're working two angles against each other. The background is also very busy, with the fence, the road, the field. It draws the eye away from the bike, and to the pretty scene behind it.
Here's my $.02 on 'bike' photography:
-No pictures inside. I've almost never seen a good bike pic taken inside, except taken professionally with purposely set flashes and lighting.
-Pictures in the backyard, or in any 'scene' are usually tough on the eye. For the purpose of this discussion, I will use current BOTM bikes as examples. The Attitude - the pretty tree and pond scene draws my eye away from the fantastic bike. The exception to this is if you have access to an SLR, you can affect the depth of field, and take the focus out of the background, as shown on Seamus' Nighstorm photo.
-Lighting should be soft. IE, when the sun goes behind the building. This way there's no shadows messing with the effect of all the cool parts, frame tubing, etc. Garage doors work ok for backgrounds, but a neutral wall will be better. Something dark, IMO. Mr. K's Ultimate in BOTM this month is a good photo.
-Use a series. Dont try to get the 'full effect' of the bike by taking it from above, to the right, etc. Take one full drive side, one from the front, back, closeups, etc.
-Use the digital macro. Most new digicams these days have one, and it will help getting great details of small parts.
-Camera phones. Please dont. I know some dont have $$ for both, and often you're so excited you cant wait to take a 'real' photo. In my experience, patience pays off. Take your time, finish the bike, set the scene, take a nice photo.
This is my thoughts on a perfect bike photo: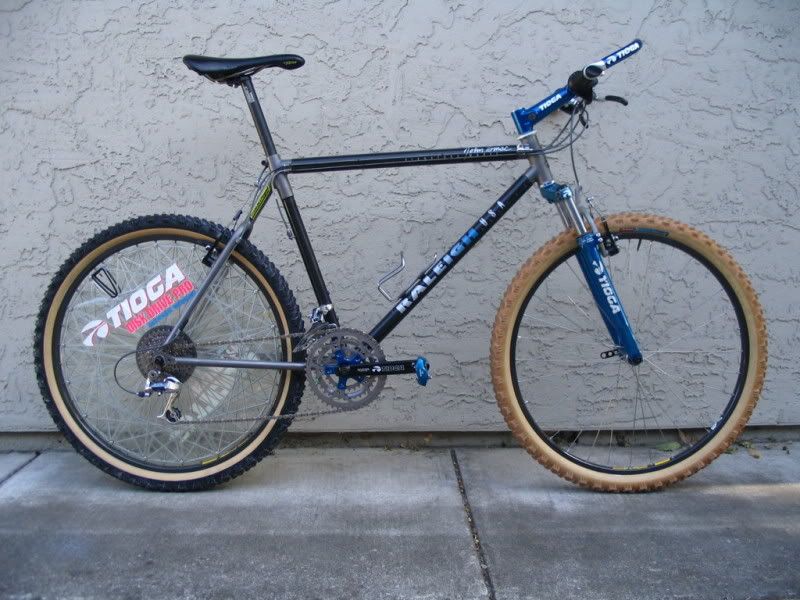 Of course we all know the bike, but I think the photo itself is a great example. Neutral background, nice ground that doesn't distract. Symmetry throughout.
Of course this is all my opinion. If you think I'm full of S, then feel free to say so. Just trying to help