Does anyone else use a traditional, Brooks style leather saddle?
I have one on two of my bikes and I'm pretty impressed with them. I've had a Brooks B17 Narrow Imperial on one of my bikes for a couple of years now:
I found it fairly comfortable from the outset and it's got better with time and miles. However, I do worry that it's started to sag a bit and it may eventually get too "hammock" like and need replacing.
Recently I bought a Spa Cycles Aire:
http://www.spacycles.co.uk/products.php ... 0s204p2669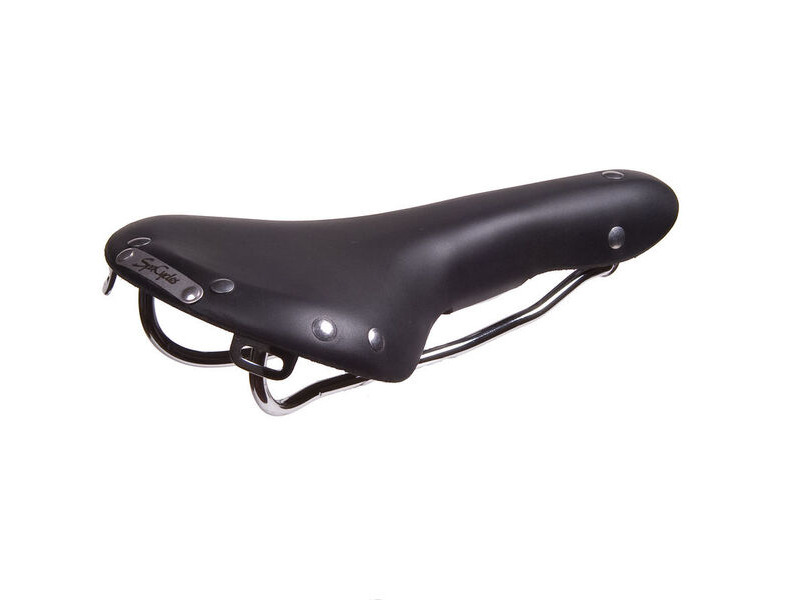 I found this pretty comfortable from the start too and it should get better with more time and miles. Given that it's considerably cheaper than a Brooks, especially the B15 Swallow to which its very similar, I'm really impressed with the build quality, if anything I'd say it's better finished than the Brooks. Where the saddle loops and metal parts on my Brooks are rather rough and sharp in places, the Spa saddle is smooth, as if the metal parts have been sanded after stamping, prior to being chromed.
I tried several modern light weight plastic saddles prior to the leather ones, including a Specialized Toupe, Selle Itallia Gel Flow something or other and a Madison Flux. All of them are OK for a while, but I'd start to get uncomfortable on longer rides after about 15 to 20 miles.
The only real drawback with the leather saddles is the weight, at 500g or more, they're 2 or 3 times the weight of modern light weight saddles, but, for me, the weight penalty is worth it for the comfort they offer.
Spa Cycles also do two other, cheaper leather saddles:
http://www.spacycles.co.uk/products.php?plid=m2b0s204p0
, so if you've never tried one, they're a lot less of a gamble than a similar Brooks saddle should you decide you don't like it. Be warned though, you might never go back and your inner weight weeny might curse you for trying one.