Sunday 30th December 2012
"Houston, we have a problem" - now where had I heard that before? Coming out of Tom Hanks' mouth of course but it was another Tom, Boonen, that I was thinking of although the exact words were not uttered and in any case not by Tommeke. What the hell was I on about? Flashback to Paris-Roubaix 2010 and Cancellara's devastating, race winning break with the Flemish commenter seeming to delight in Boonen's plight i.e. "Balen, we have a problem", "Tom, Tom, Tom, Tom, Tom" etc. (see/hear for yourself here
http://www.youtube.com/watch?v=TEFqL0mbazw
, 1 minute 4 seconds in). Boonen really announced his arrival in 2005 by winning the Ronde, Paris-Roubaix and the Worlds – finally here was a bona fide Belgian superstar (his early years with US Postal are best glossed over I guess). The years that followed still featured some big wins, including the Green jersey at the Tour, but there seemed to be a gentle decline from his wonder days and he started to become as well known for his off bike 'relaxing', including running off with a 16 year old Dutch underwear model (her dad was also the director of the Amstel Gold classic!), and he was left fighting it out for the overall in the Tour of Qatar – was he going the same way as Eric Vanderaerden, shining so bright then gradually fading away? The answer in spring 2012, spectacularly, was "No" and Tom Boonen is certainly the greatest One Day rider of his generation and arguably all time.
I'm far too modest to compare myself to pretty boy Tommeke (I'll let others do that), but there was some relevance to this digression. Ah yes, "Houston, we have a problem". Yesterday evening I arranged with daj to ride a gentle 100km which would put the total almost within my grasp – it would be particularly pleasant not to ride alone. Gazing at beer in the fridge, I exercised considerable self control and sat sipping 0% wheat beer before retiring early. The problem emerged in the morning – a raging sore throat and flooded road outside the house – there was no way that I'd be riding any distance today so I contacted Dave and cried off. Was this fate's revenge for my mathematical hubris? Who knew, but I would have to console myself with Cousin Jan's birthday celebrations was required.
I must admit to considerable disappointment but the realist told me to rest up and fight another day. Then, shortly after noon, the mist descended. I had the fury. And I needed to take it out in some way. So I simply put on my cycling kit (for Bret Easton Ellis fans this consisted of a long sleeved merino wool baselayer, a long sleeved merino wool jersey, bibshorts, bibtights, merino wool socks and the aforementioned Rapha waterproof. Throwing style considerations I added a Buff – insert joke of choice – in an effort to keep my throat warm). Fortified by tomato soup and fresh ginger tea, I pumped up the tyres (works on many levels) and set out.
Fortunately the flood outside my house seemed to be the worst and I decided to repeat the route taken on the West Midlands Christmas Curmudgeon Ride – pretty flat with plenty of bail outs, although the roads were pretty filthy.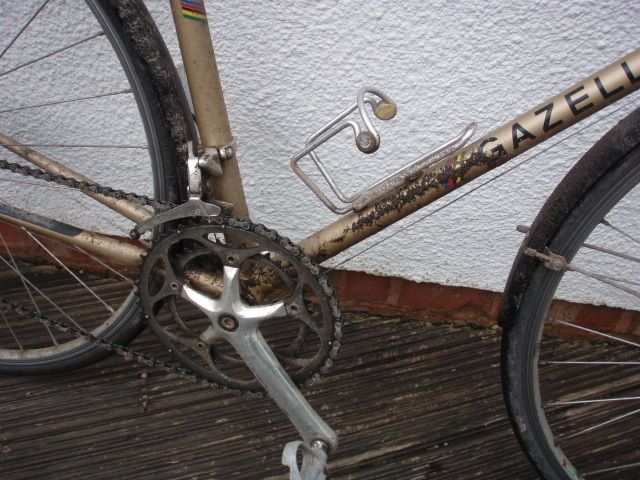 Once I got going I didn't feel too bad – or at least no worse – put I did stick to the middle ring and soft pedalling on glass cranks. Ironically this would be the most accurately measured ride as people had used computers and the like but for the sake of simplicity I'm calling it 35 miles or 57km. Not the greatest but I was still in with a chance and a hot bath and a Bloody Mary would hopefully see me right – 52 miles to go and with only a sore throat and a day at work to navigate, what could possibly go wrong?
Distance covered – 57km
Distance remaining – 83km