So I finally got another cool thing done.
I built a front wheel for my 2006 Cervelo Soloist Road Bike. Here she is all decked out in the latest gear I have. The frame is the bottom end aluminum anodized black in 54 cm Soloist Team. It is still an amazing frame and it's the frame that team CSC rode before the carbon soloists were conceived.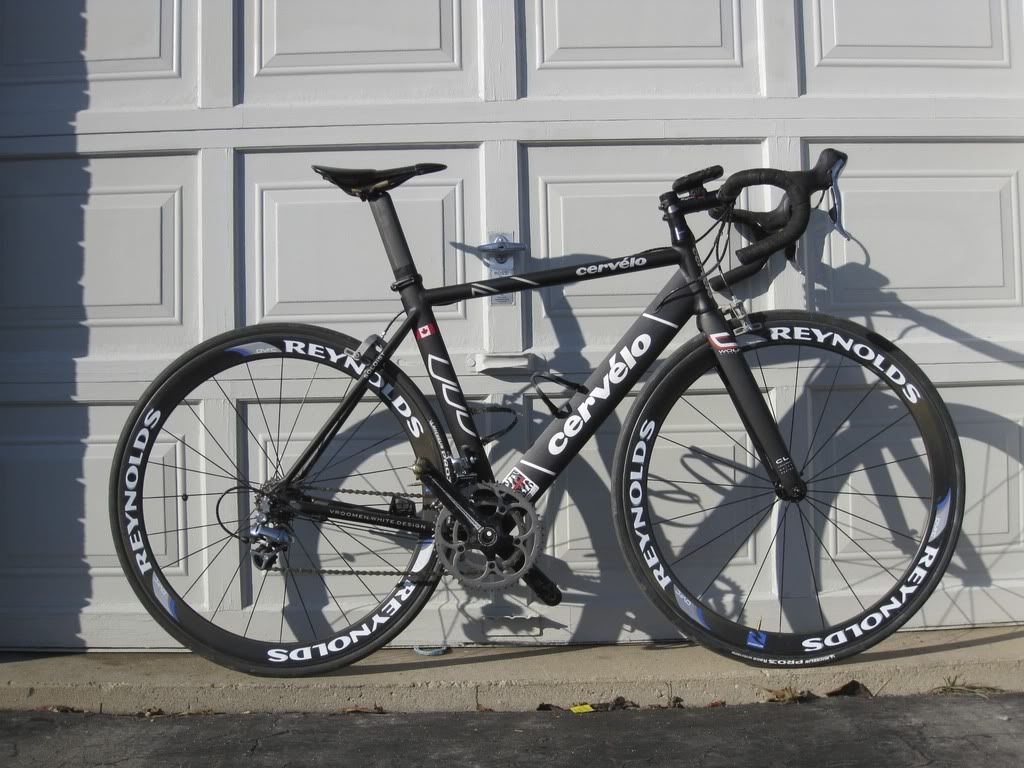 The bling wheels are 2007 Reynolds DV46C clincher carbon rims laced to Tune Mig70/Mag190 hubs using Sapim CX-Ray spokes. Front is radially laced 20 spokes. Rear is 24 spoke, 2 cross.
Normally I don't ride with these wheels when I'm just booting around on my own. If I know I'm doing a century ride or with a very close group of cycling buddies I'll use these wheels. But since I do ride a lot in poor pavement and with unfamiliar groups I made a set of wheels using my old Chris King Hubs circa 1993. They must have 15,000 + kms on them now. Since the original Mavic 317 rims were worn out, and the mountain bike wheelsets was useless to me. I'm a disc brake user now ad the hubs were just sitting there. So I cut the hubs out, bought a spacer from Chris King for the rear hubs to get it to 130mm rear drop out spacing. I gave the hubs to a local bike shop to build me a set of road wheels with Mavic Open Pros.
The front was built 32 spoke, 3 cross using DTswiss Competitions, Open Pro 32h 700c rims, and my 1993 Chris King front hub.
The rear I managed to get a free upgrade from Chris King when I was having trouble with the ring drive slipping. Chris King updated their rear hub's ring drive from aluminum to stainless steel many years back and I qualified for this free upgrade. I upgraded the rear hub with brand new ring drive, brand new gears, new springs... etc. Then the bike shop laced them to a 32h Mavic Open Pro, with DTswiss Supercomps on the driveside, and DTswiss revolutions on the non drive side.
But then I saw a pineapple front hub posted here on retrobike. It made made me want to go find this cool hub from the early 90s. and!!!! since front forks are 100mm spacing for both mountain and road I knew I had to get one to match my rear silver Chris King hub that is seeing road duty now.
Just the cool factor of riding one was enough for me to search and search until I found someone here on retro bike from BC who had one and sold it to me.
I sent the front hub to Troy Watson who owns Ligero wheels. He builds a lot of high end wheels for various enthusiasts and racers.
http://www.ligerowheels.com/
I contacted a lot of top wheel builders in USA and Canada and everyone said it was a stupid design and it didn't warrant their time for them to pursue. Personally I didn't care for how well the spokes were evenly balanced tension wise, I just wanted to ride some cool retro parts. Troy was the only one said... that is a cool hub. I'll build it for you.
Here is the end result.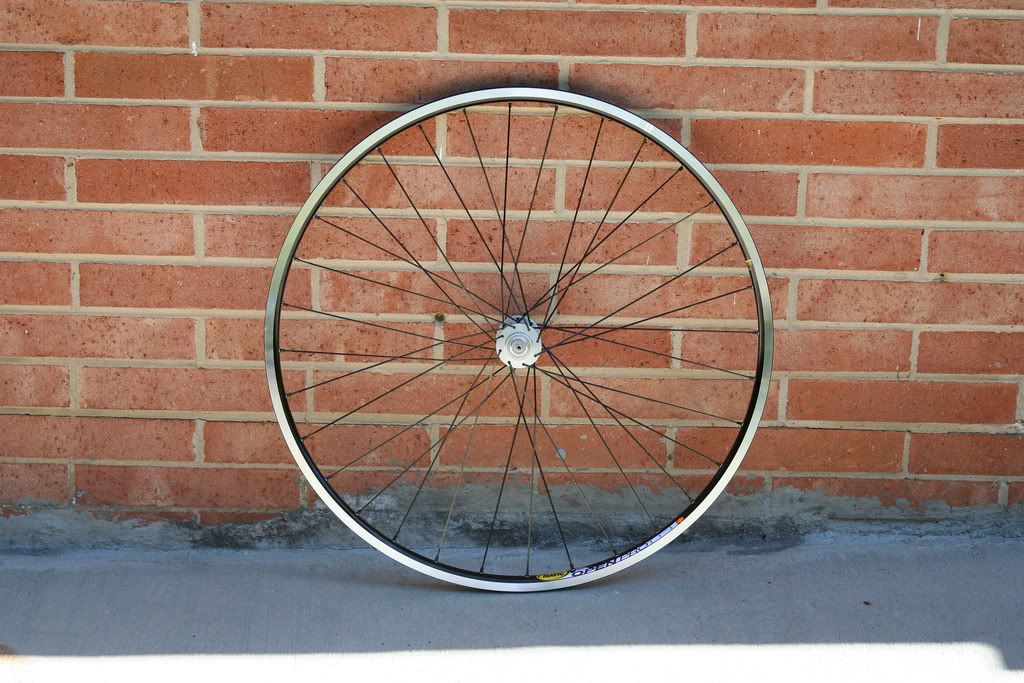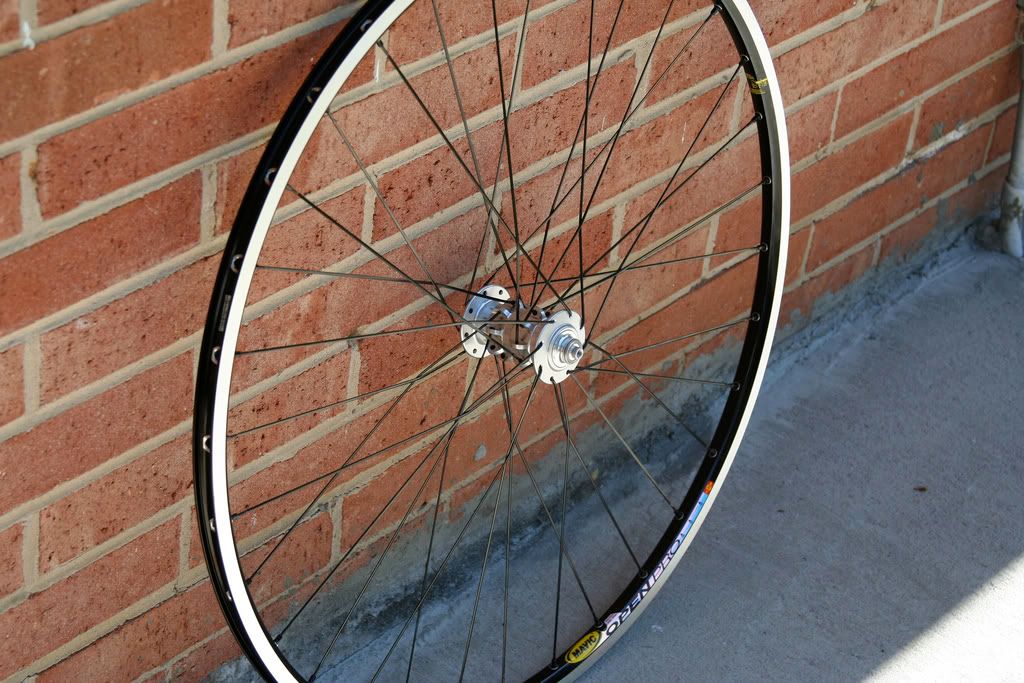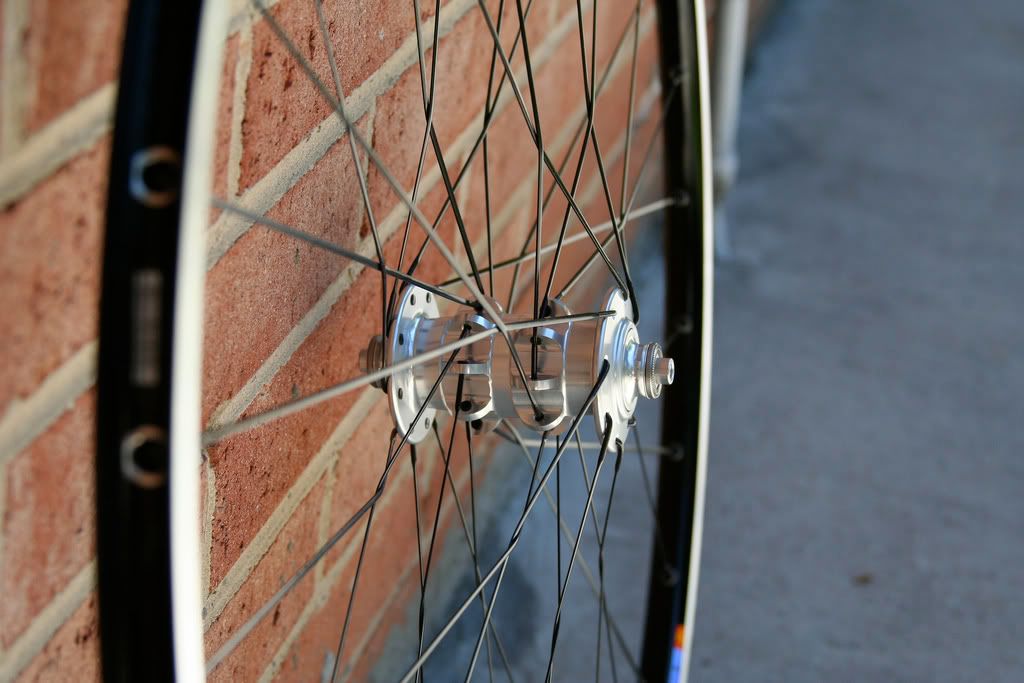 All credit goes to Troy for building this wheel. I can put together satellites that go into outer space together (I'm an Aerospace Engineer), but I don't have the patience to build you a bicycle wheel. I do not know what the spoke lengths are. What the ERD is, nor do I know the measurements required for this front hub. All I said to Troy was I do not want snow flake. I want Sapim CX-Ray spokes. He figured out the rest.
Sorry no pics of the wheels on my bike yet... they are in the mail.