I went to lbs to buy bearings for Campy BB axle that I found. Guy before me in the queue was looking for a chain whip. Fellow in the shop shoved him a NOS old Dura-Ace chain whip in unopened package. Guy was not happy, he wanted modern stuff. He got new style Pro chain whip. (I thought myself good for you...) After guy left I said for salesman whip for ME man
Then I asked ball retainers with balls for my axle. Fellow found them. I thought that was so easy, maybe I should ask cups also. He took one box from the shelf and pulled cups from there. I realised it was complete BB. I said I take whole thing, do you have more of these? He had one more box there. It was Pista BB, he asked is this ok? I said YES IT'S OK!!!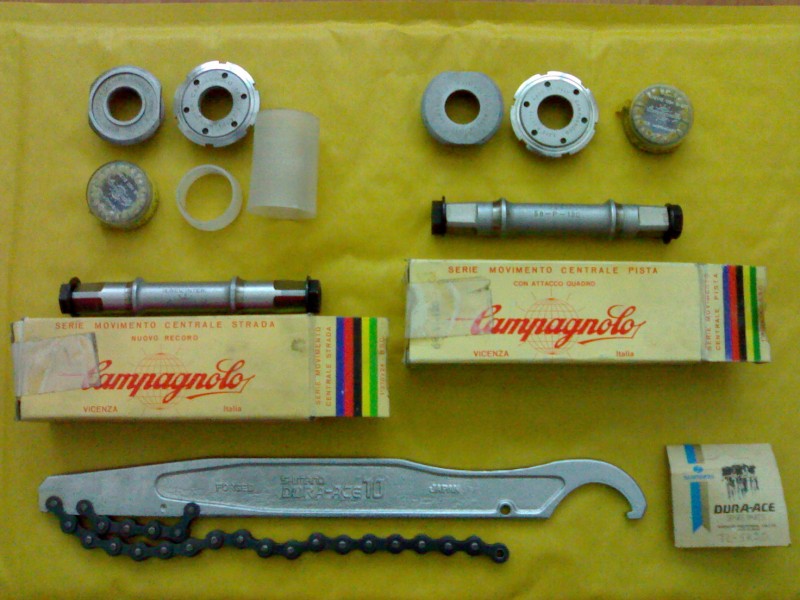 I found some Campy catalogs and looks that BB's are from late 70's.
Dura-Ace chain whip has been around for long time, starting from somewhere early 80's until mid 90´s I believe...
Is that hook in chain whip for track bike cog lock ring? Radius of the arc is too small for BB lock ring? Dura-Ace 10 (Text in the handle of the tool) was Shimano's track series at early 80's, so the hook could be for cog lock ring...

_________________
Crescent 92318 1987
Miyata Ridge Runner 1988
Marin Eldridge Grade 1991