Bit late, but here it is: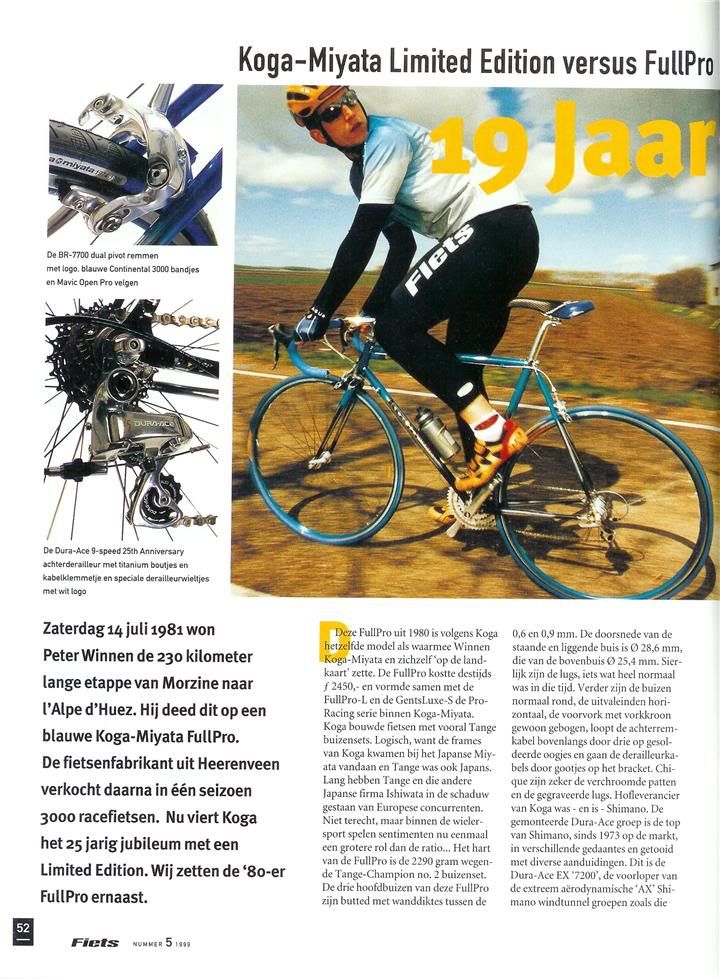 2
3
Article is in Dutch, but here is a brief summary: 1980 FullPro meets 1999 FullPro LimitedEdition. LE celebrating Koga Miyata's 25th anniversary. 100 made. Frame: Tange steel, lugged, brazed with silver. At the same time the Dura Ace groupset celebrates its 25th anniversary. 6000 of those groupsets made, all numbered. No 2500 up to 2599 went to Koga for this FullPro LE. Frame, seat all feature the same number, so numbering starts at 2500. Furthermore: Label '1974-1999' on the Conti tires, laser engraved rims, stem and gold coloured bar. Bike also came with waterbottles describing Koga timeline, clothing, CD-Rom, watch (part of the groupset), book on Dura Ace history and the Dura Ace suitcase.
Price of this all approx 4600 euros in 1999. Bike weights 8 kgs.
_________________
official OW
2
0
1
0
Concours de Elegance jury member
Enter Elev12K's candy store
For Sale:
☆ Vitus FCK9
☆ Koga Miyata Survivor