Well I got tempted by this the other month for a bargain price!
Got tempted into going for a full old-school build so here she is
So far its come in on an extremely tight budget, and some spares i had lying about.
Brakes might get swapped out for my spare Clim8's for the full retro experience, and the forks might get stripped back to the original black.
Spec:
Frame: '99 Tomac 204 Magnum Lawwill (modified to fit a 5th)
Shock: 5th Element
Forks: '02 Monster T (Home made axle)
Wheels: Hope Bulb on D321CD rims (splined 5bolt)
Tyres: WTB Weirwolf 2.3 Front, Conti Rubber queen 2.2 (or WTB Stout) Rear.
Cranks: Middleburn 175mm sqr taper 110BCD
Chain Device: MRP
Chainring: Azonic 37t
Brakes: Quad Sting 203 F&R
Stem: Xlite Steve Peat Signature Proto (pre-milled version)
Bars: Sunline 254 low rise
Mech: Shimano XT
Seatpost: Thompson Elite
Saddle: TBC
Pic: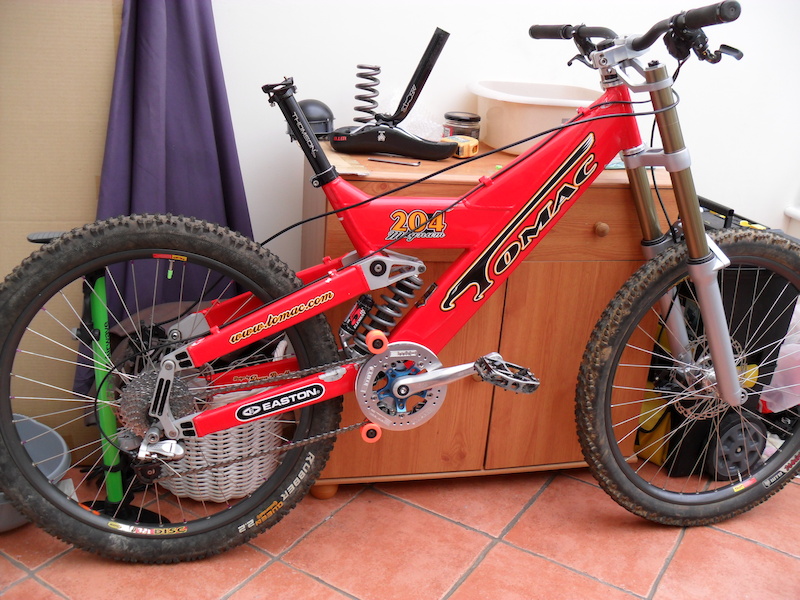 Can't wait to get out on her for a spin.
Comments welcomed.
Scar