They're a bit 'trials' but...
DKG hand formed from aluminium sheet, 1987. Only 2 ever made.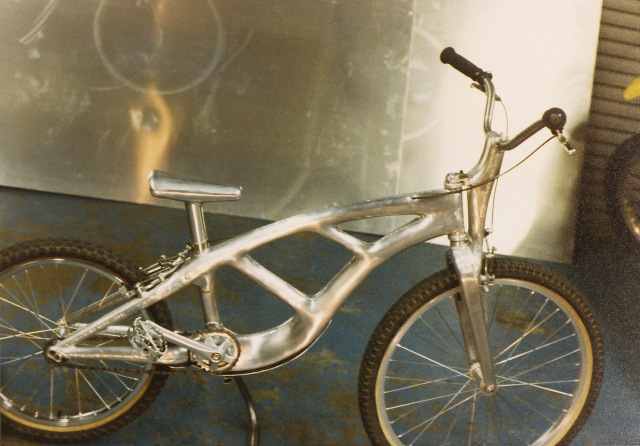 Dave did machining for WTB, Fisher, Cunningham, Lawwill, Moots and Salsa.
Quote:
The 'Verdict' was conceived of to be a rolling piece of art. I wanted to try out some ideas I had for frame construction methods as well as end up with an aesthetically interesting yet functional trials bike that I could compete on as an amateur.

I foolishly let my employee at the time, Dave Arbogast, compete with it in the 'pro' class until I realized that I was never going to get to ride it because he was always out practicing. This forced me to make a second version: the 'Terranaught' for him to have. The Verdict uses a 24" front wheel which was the style at the time, but we changed the geometry for the Terranaught to use a 20" front wheel. The second frame also used thinner sheet aluminum to save a little weight.

The sheet aluminum for the frame was hand hammerred over a hand-carved wooden buck and to achieve its unique shape. The rear stays were formed over a metal pattern. The fork blades were 'stamped' in a hydraulic press with some crude dies that I made. The various parts were machined, lightened, fitted and TIG welded together and then heat-treated in Charlie Cunningham's home-built frame oven.

There are several brands of production 'monocoque' frames being made now, which were inspired by, and a direct evolution of the technique used to build this frame.

Some of the features of this frame: Fully hand-formed and heat-treated 6061 frame and fork. Internally lightened and gusseted head tube. Fully integrated skid plate. Special one-off toggle brakes. Hand bent 4130 handlebars. Special open-sided toe clips for easy entry and exit. DKG 135 mm Trials Crank Arms. Aluminum unified seat and seatpost (not comfy). All aluminum unified fork and stem with upper connection to the steerer (this was years before double clamp forks on bicycles).
More pictures
http://www.dkg-cnc.com/verdictpix.html
I want one
All the best,
_________________
Dan Chambers
danson67
Pause, take a breath and ask yourself: "What would
Rast
amo
use
do?"
New in the quiver:
Danson Pinion P1.18 hardtail