Gerard wrote:
I have a collection of Seiko watches (I've collecting watches and on the watch forums for years), predominately divers, some modern, but a lot retro!
Some of the retro gang (odd non Seiko)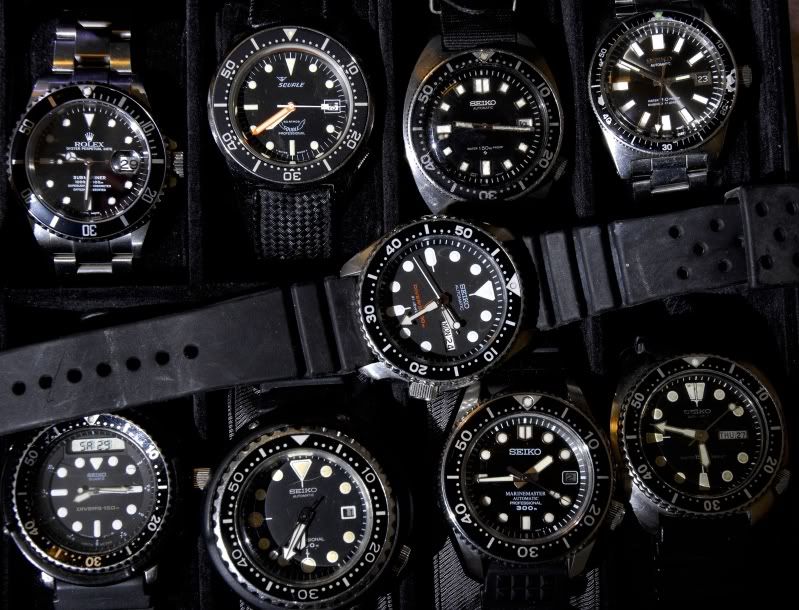 Nice collection there Gerard and I like how you've went for the 6105-8000 rather than the more popular 6105-8110. People rave over the 8110 being as it's the watch Martin Sheen wore in Apocalypse Now and all that but I'm in the minority who prefer the case shape of the previous version. I've never owned one and I doubt I ever will seeing how the prices have risen in the last few years but I've handled more than a few of both types. This is the last one I had the 'pleasure' of working on -
http://wristsushi.proboards.com/thread/ ... iver-happy
Dale cannon wrote:
Any moders out there know where to get a good quality reproduction ScubaPro dial from? Would love an SKX with this dial mod.
If you must then MountapoMerchant on ebay sells them, but please don't as they are just a fake of a dial that was only ever fitted to a 6306 and in very limited numbers. Replacing a genuine SKX007 dial for one of these is sacrilege in my eyes and will only cheapen what is one of the most iconic divers watches out there, sorry.
It's not a straightforward swap either as you have to remove the locating pins on the back of the dial (the Scubapro dials are for 6306/9 fitment) and secure it with double sided tape or dial dots, then you have to remove a tab a 2 o'clock which fits into a cut-out on the 6306/9 chapter ring which SKX's don't have. The dials all come from the same source in the Philippines as far as I'm aware and the quality isn't great with crap lume and poor printing when viewed up close. I guess its ok quality considering they only cost around £10 but I wouldn't swap one for a genuine SKX dial.