Ebay's your best bet for finding watches but beware of the fakes. I've yet to see a dodgy classic F1 but as you go up the range the fakes become much more common. Stick to ebay and paypal (preferably funded by credit card) and you are covered should the worst happen. Then you have Cousinsuk.com for movements and crystals etc and maybe £40 on tools from ebay or Amazon to get you started. I hate cheap tools but this way you'll quickly find out if you have the aptitude for this kind of work before blowing £100 on a set of screwdrivers from Cousins.
Getting back on topic, here's a group shot of my 80% Seiko current collection -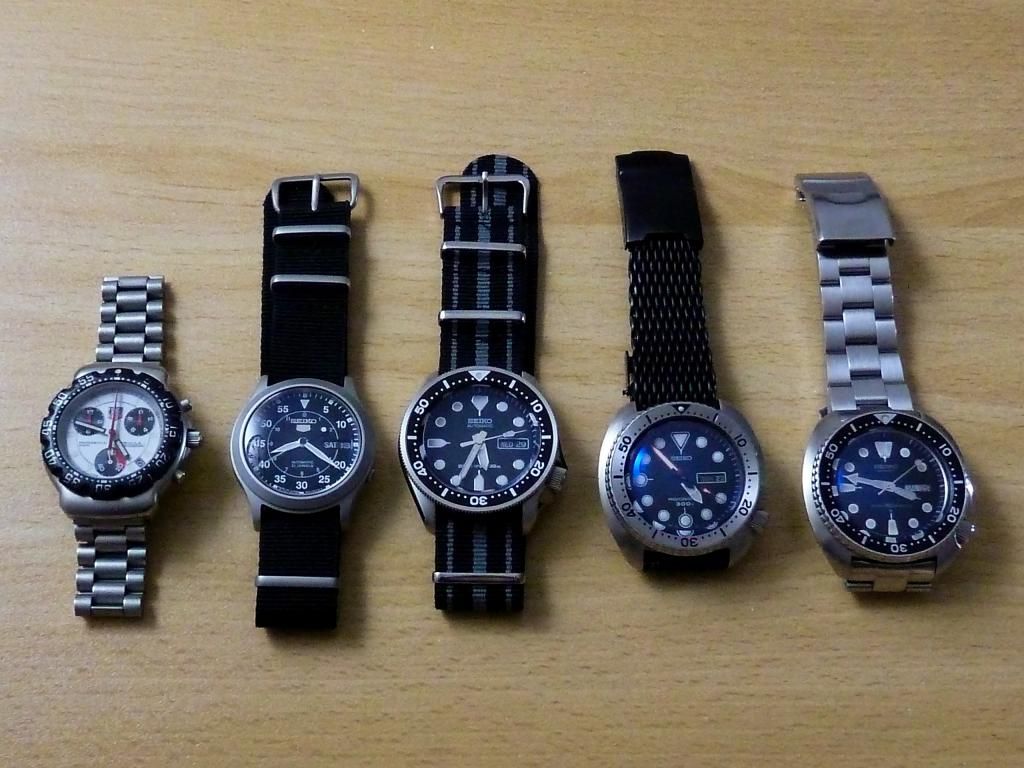 From L-R
Tag Heuer F1 Chronograph, purchased new in 2000 and retired a few years ago. My first 'serious' watch. It was on my wrist for 10 years and many important events in my life and its the only watch here that will never be sold.
Seiko SNKH63. This one is the predecessor to the popular SNK809 and has a slightly larger case (39mm vs 38mm and 20mm lugs vs 18mm) along with subtle differences to the dial and hands. I've had several different hands and dials in this one but its now back in standard guise with the exception of a domed and blue tinted anti-reflective sapphire crystal.
Seiko SKX171. Fitted with a Murphy coin edge bezel, SKX007 insert, Seiko Samurai hands and a domed sapphire. I don't wear this one much but its a great looking watch and only owes me about £200 so why bother selling?
Modified Seiko 6309-7040. The case and movement are original dating to 1981. As for the rest: Seiko SBBN007 Tuna dial, black day & date wheels, Seiko Stargate hands, Yobokies stainless bezel insert, WJean (ebay seller) PVD shark mesh bracelet and a domed AR sapphire. This is another one that has been modified previously and I plan to change the hands again.
Seiko 6306-7001. This one is all original apart from a WJean Oyster bracelet and domed sapphire. I like domed sapphires
. January 1979 serial number and it's probably my most worn watch at the minute.
My next purchase will probably be a Seiko SBBN015 Tuna or the vintage 7549-7010 version. The head says go for vintage because its slightly smaller and I have skinny wrists, but I prefer the looks of the new one and they are both around the same price
.