apache wrote:
£60, got to be worth a punt! Should be here on Thursday
Damn you!
You'll probably like it more on a real NATO strap. Rhinos are the nicest imo and the grey is closest to RAF issue, if that appeals. The 4 ring version has extra strap that makes them bulkier, so I'd recommend a 2-ring. Or a "Bond" NATO/Zulu would look like this: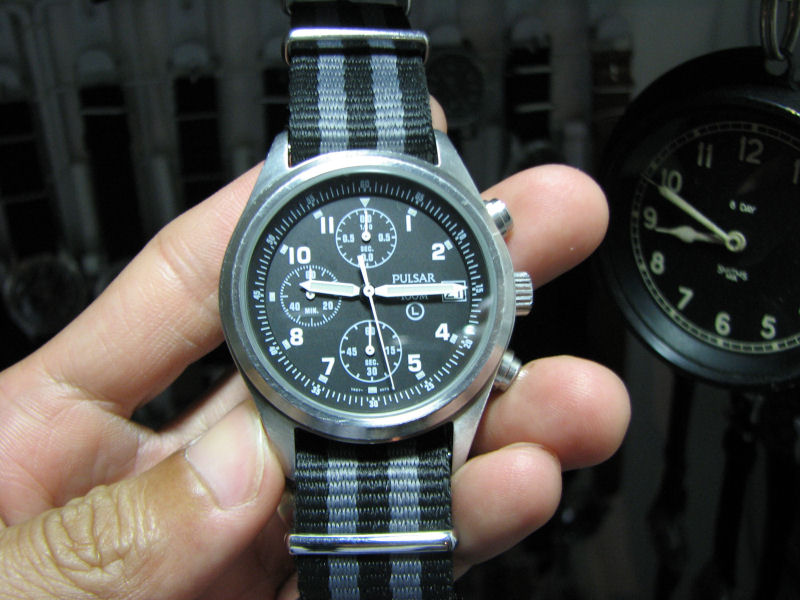 ..Seiko and Pulsar chronographs have a lot of "heritage" - which is supposed to be worth paying extra for, according to watch marketing people... They've been the RAF and Fleet Air Arm's supplier since the Middle Ages; they've flown in space; they shipped the first automatic chrono, and I *think* the first analog quartz chrono... Compared to a Swiss chrono with comparable pedigree, you've probablt saved enough to buy a NOS Xizang, have it gold coated, and pay Missy Giove's bail so that she can ride it for you. I mean, seriously, Breitling are the main Swiss aviation heritage band, and they charge more for a watch clasp than you have paid for a watch. So you should probably be sending me beer and money, or at least let me have a ride on the Xizang and ask Mssy's autograph.
Although now I come to think of it, I'm more of a Jacquie Phelan fan...
Possibly useful tip: watch makers often use have an artificial sapphire "glass" on a watch to justify a jump in price of several hundred dollars. This stuff is harder to scratch, so can stay looking good longer. But it's dirt cheap to order a sapphire watch crystal on line - the tools for fitting it are cheap and it is usually a simple job, or you may find a local watch repairer who will do the job cheaply. So don't bin a watch for a scratched glass!
Other useful tip: if you do open a watch, do so in the cleanest place possible (doh), and have some silicone goop handy to stick on any o-ring seals.