apache wrote:
So the Marantz is in bits now, and I've started on mods. The list is :-
1) secure DAC clock crystal to the board, ground and damp the can. Doing this to my CD67 had a quite significant effect.
2) Separate PSU for the analogue stage. This may have a bigger effect on this player as the stage is currently fed from unregulated 15v rails so noise performance is not optimum. I have built a separate regulated +/- 15v psu with its own transformer as there is space for it in the case.
3) Replace the caps in the signal path with new ones, and match the channels by replacing the carbon resistors with lower noise 1% metal film.
4) Screen the uP with RF absorbing material to prevent radiated digital hash getting into the rest of the circuitry.
5) Replace the audio Op-Amp with an LME xxxx (forget the part number - they're in the shed!)
This is the main board from the CD48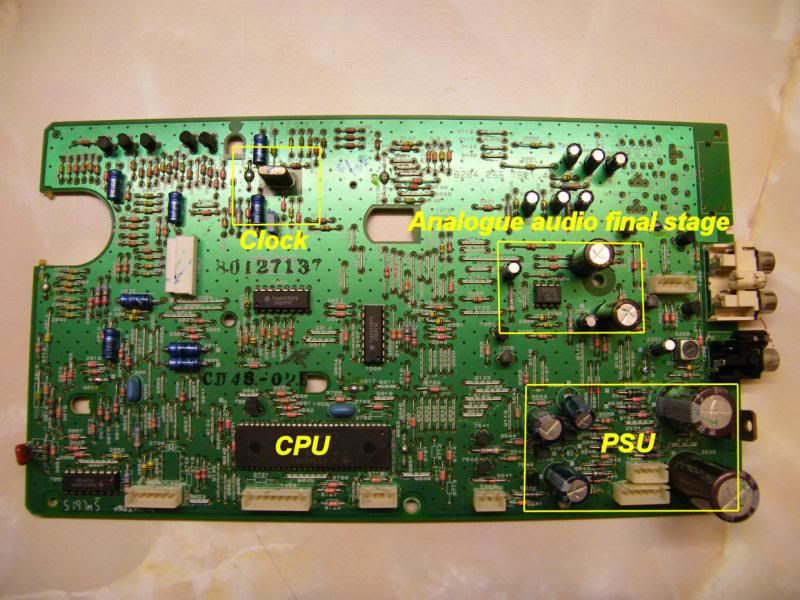 I'm not sure I really understand any of the stuff above, however as the new owner of this machine because I had fond memories of my old marantz cd BITD, I thought I would do a wee review from my living room.
First off I have been away from anything remotely hi-fi in a good number of years and my silver discs had all been transferred to my ipod via itunes (f**k bugger arse apple) so I was quite excited to get my crappy cd collection out and see if the mods above would really deliver an upgrade on the sound I remember and have the musicality that Apache mentions when he compared the marantz to his rega.
I have to say that I am very impressed with the thing- my old B&W speakers and Denon amp fairly sing now- I have on at the moment "dark side of the moon" and the sound-stage is really impressive- sounds very smooth indeed and the music just flows along with a real live sound. Overall I need to tweek the speaker positions and stands are probably a must (however the wife says no!) but without a few changes, straight out of the box it's really amazing and just need to get the house to myself more so that I can crank it up to 11, thanks Apache, I'm over the "Moon".