Chainrings aren't really available, you'll need to find some old stock or ask on here if anyone has some. 5bolts 110BCD is what you're after. Shimano went compact chainring, 94BCD in about 93/94 and then 4 bolts after that.
Those forks would fit, but you'll need to check the steerer length and you'll need an A-head stem and headset, but to be honest i think they are too new for the bike and the Axle-crown length may be too long for your bike and spoil the hadling slightly.
You have the older quill stem on your Tufftrax, basically the stem slides inside the fork steerer and uses a wedge to clamp it tight, and the headset is threaded onto the fork steerer. A-head clamps on the outside of the fork steerer and doesn't use a threaded steerer and will need a different headset.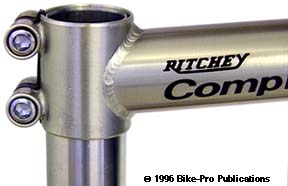 DSP, that catalouge picture features the early '92 bike, for some reason I have never seen one like that, all the ones I have seen have the external cable routing.
Can I ask why you want suspension?